Kendra Kottmeyer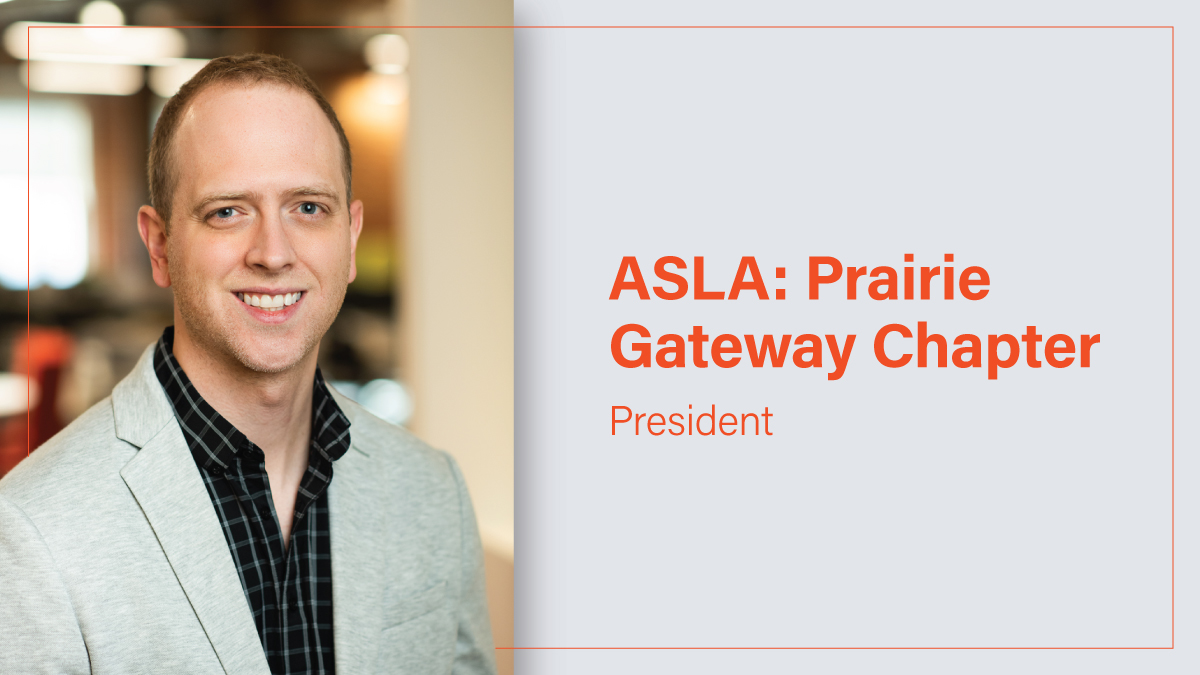 Ray Elected as President of the ASLA Prairie Gateway Chapter
Clark & Enersen is pleased to announce that Associate Principal and Landscape Architect Sean Ray, PLA, ASLA, has been elected as President of the Prairie Gateway Chapter of the American Society for Landscape Architects (PGASLA). The PGASLA represents membership from the states of Kansas and Missouri and works to promote the advancement of the landscape architecture profession through advocacy, education, communication, and fellowship.
Sean was president-elect in 2022 and will now serve a one-year term as president, working with the executive committee to find new ways to meet the chapter's goals and enhance the experience for PGASLA members.
"PGASLA has positively impacted current, former, and future landscape architects throughout Kansas and Missouri for years," says Sean, who has been a member of the organization since 2010. "I am honored to serve as president alongside a number of talented individuals dedicated to enhancing natural and built environments."
During his time at Clark & Enersen, Sean has provided site planning and landscape architecture expertise for projects throughout Kansas and Missouri, including for Kansas State University, Johnson County Parks and Recreation District, City of Olathe, Missouri State University, Johnson County Library, and the Kansas Department of Transportation.
For more information about PGASLA, please visit PGASLA.org. Additional information on Sean, and our firm's expertise in landscape architecture, can be found on our Landscape Architecture page.
About Clark & Enersen: Clark & Enersen is a leading, full-service design firm serving clients across the nation from its offices in Lincoln and Omaha, Nebraska; Kansas City, Missouri; Lawrence, Kansas; Fort Collins, Colorado; Portland, Oregon; and Charleston, South Carolina. Founded in 1946, they offer a comprehensive in-house team with design professionals in the primary disciplines of architecture, interior design, landscape architecture, planning, and mechanical, electrical, structural, and civil engineering, as well as experts in commissioning, community and stakeholder engagement, construction administration, digital experience design, energy modeling, grant assistance, laboratory planning, land development, and sustainable design.