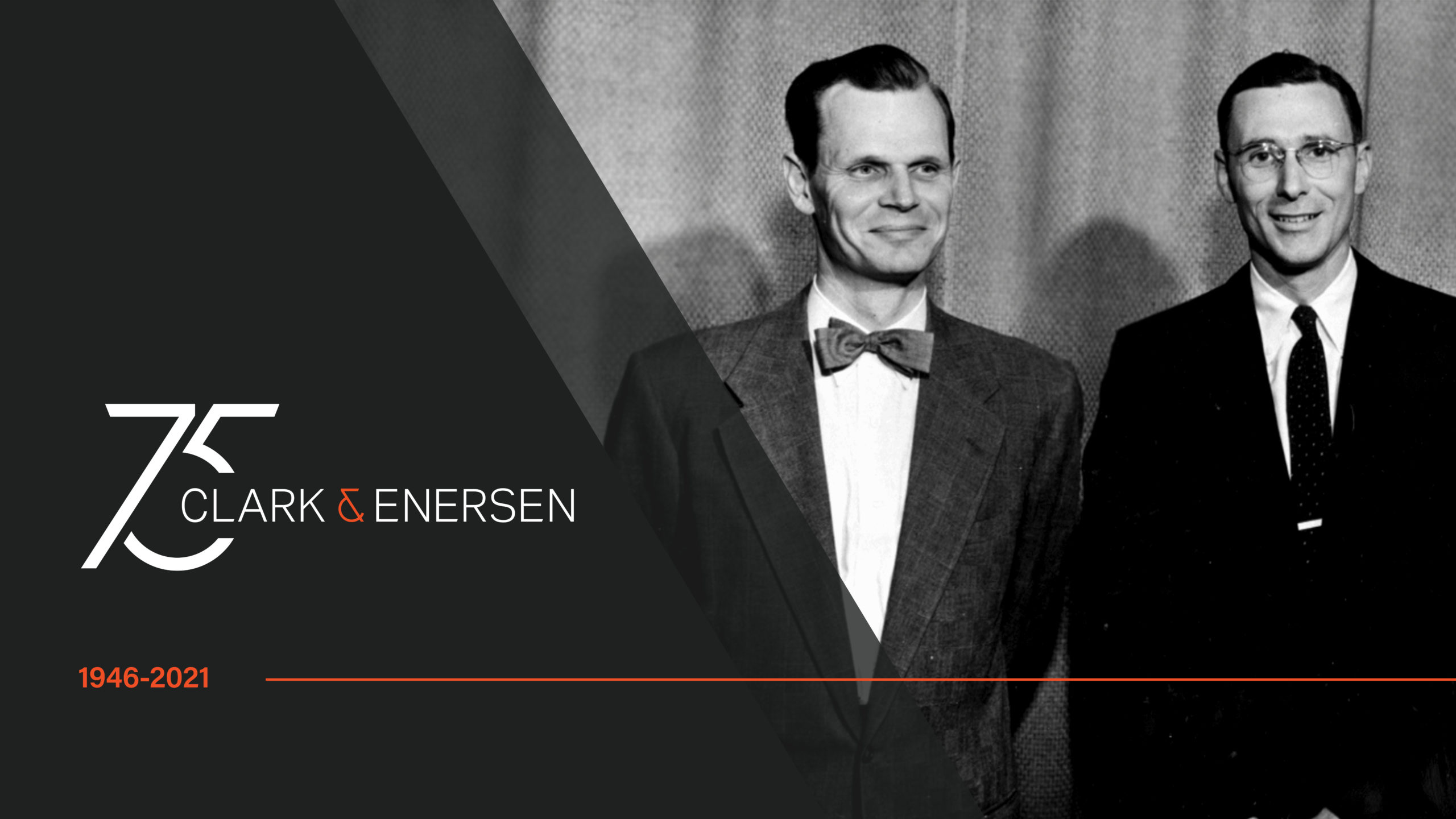 Clark & Enersen was established on February 1, 1946. Now, 75 years later, we have a lot to be thankful for and plenty to look forward to—which we plan to share with you throughout 2021.
Clark & Enersen has always been highly strategic in choosing locations to open offices, market sectors to pursue, and talented professionals to bring onboard. This has led to sustained, long-term growth and has resulted in building relationships with clients across the United States and around the world.
Establishing offices in Kansas, Missouri, Colorado, and Oregon helped to expand our firm's footprint as well as our ability to reach clients in new regions. Through this expansion, we have had success not only in the states where our offices are located but also in nearly a dozen others, including Iowa, South Dakota, North Dakota, Montana, Illinois, Michigan, Ohio, Arkansas, Kentucky, Hawaii, Wyoming, and New Mexico. We even had the opportunity to collaborate on a project in Spain, our first international endeavor.
Some of our farthest-reaching projects include the Ohio Department of Agriculture's New Animal Disease Diagnostic Lab, a master plan for the University of North Dakota's College of Engineering, a Combined Lab Study for the State of Montana, the University of Arkansas for Medical Science's new Molecular and Myeloma Laboratory spaces, a clinical research center in Hawaii, and a peer review of the Hospital Veterinario de la Universidad Europea de Madrid in Spain.
"There are some really good avenues in our market sectors that are going to take us a lot of places as we continue to increase the size of projects and expertise that we bring to the projects. There's a great mix and great potential, but there is a way to do it through smart growth. That's one thing that's going to serve us well as a firm. It's not that we need to double in size overnight. We need to pick the projects that are great projects to work on and staff accordingly."
—Hadley Stolte, AIA, NCARB, Principal
In 2018, Clark & Enersen opened a new office in Fort Collins, Colorado, to support ongoing work with Colorado State University. The office opening was led by Phil Walter, who had worked out of Kansas City from 2006–2018. The new location was specifically selected to expand our firm's reach in one of the fastest-growing regions in the country.
Clark & Enersen had begun working with Colorado State University (CSU) in 2016. The connection was made during a design-build pursuit in which a team comprised of Tetrad Property Group, J.E. Dunn Construction, and Clark & Enersen came together to design the Translational Medicine Institute (TMI), a $77.8 million facility for CSU's College of Veterinary Medicine and Biomedical Sciences (CVMBS). CVMBS consistently ranks in the top three veterinary schools, nationally. Since the completion of this project, our firm has worked with CSU to complete studies, program statements, renovations, and design new building son multiple campuses.
Colorado State University, C. Wayne McIlwraith Translational Medicine Institute
Colorado State University's 130,000-square-foot, $77.8 million, Translational Medical Institute is a state-of-the-art medical facility dedicated to equine and small animal surgery and research. The main floor surgical and equine housing areas were designed with intensive input by the veterinary and surgical staff. One level of the facility contains over 5,000 square feet of innovation space to foster collaboration among varying research groups. The building also features a three-story atrium that spans the entire length of the building and provides visual connectivity to the interior spaces that comprise the building.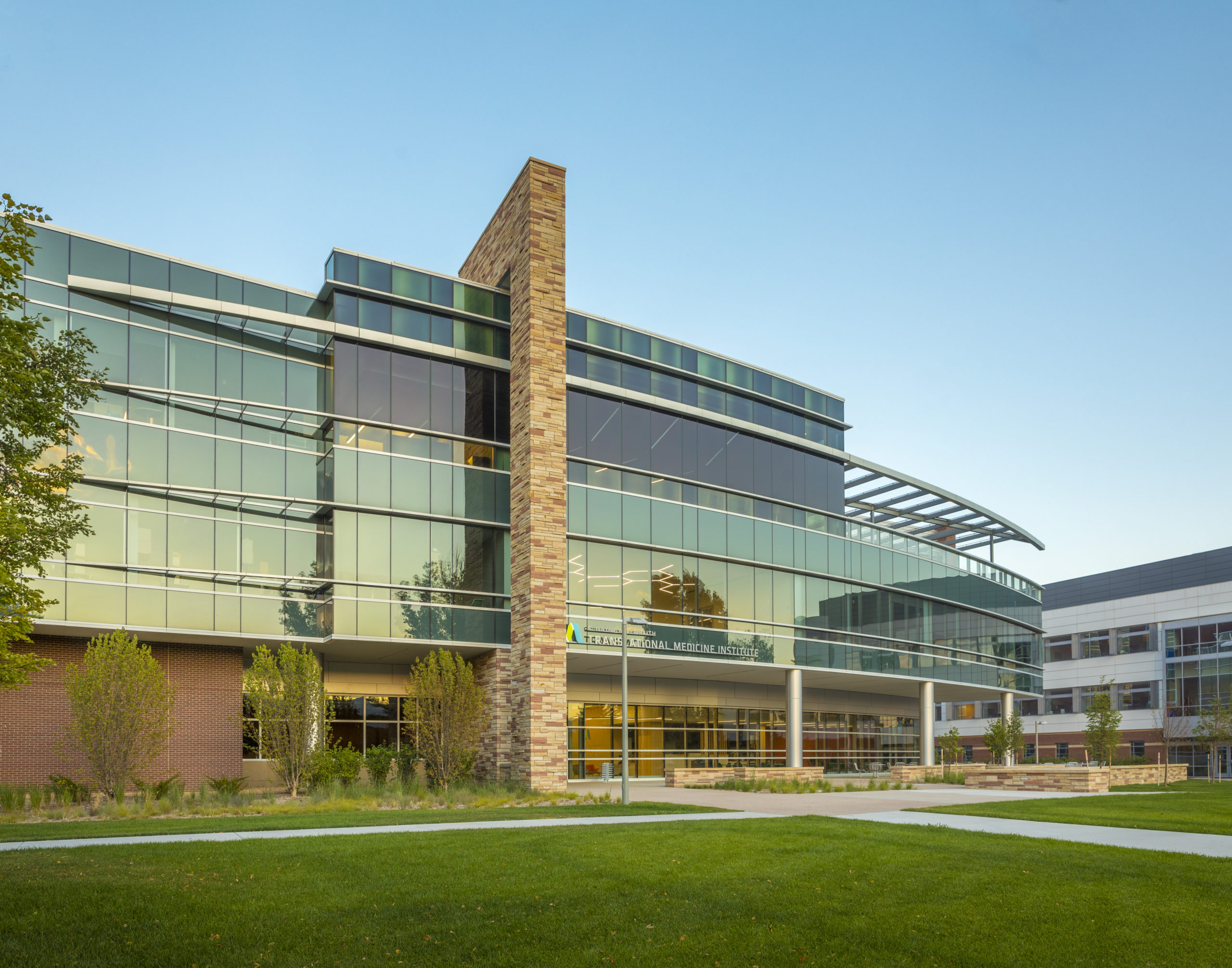 National Western Center, Colorado State University Spur Campus, Vida: A One Health Building
Continuing the theme of advanced, large-scale projects is the Vida facility, an animal health building following the collaborative, multisectoral, transdisciplinary approach called One Health. Developed by the CDC, One Health aims to achieve optimal health outcomes recognizing the interconnection between people, animals, plants, and their shared environment. This 118,364-square-foot, $45.3 million facility was designed to achieve several goals, including connecting rural and urban audiences; elevating conversations around animal and human health; and showcasing the expertise of Colorado State University veterinarians and other facility partners. Vida also offers a home for veterinarians to treat equine athletes; a space for equine-assisted therapies and activities; a clinic for companion animal care; and educational facilities showcasing the connection between people and animals.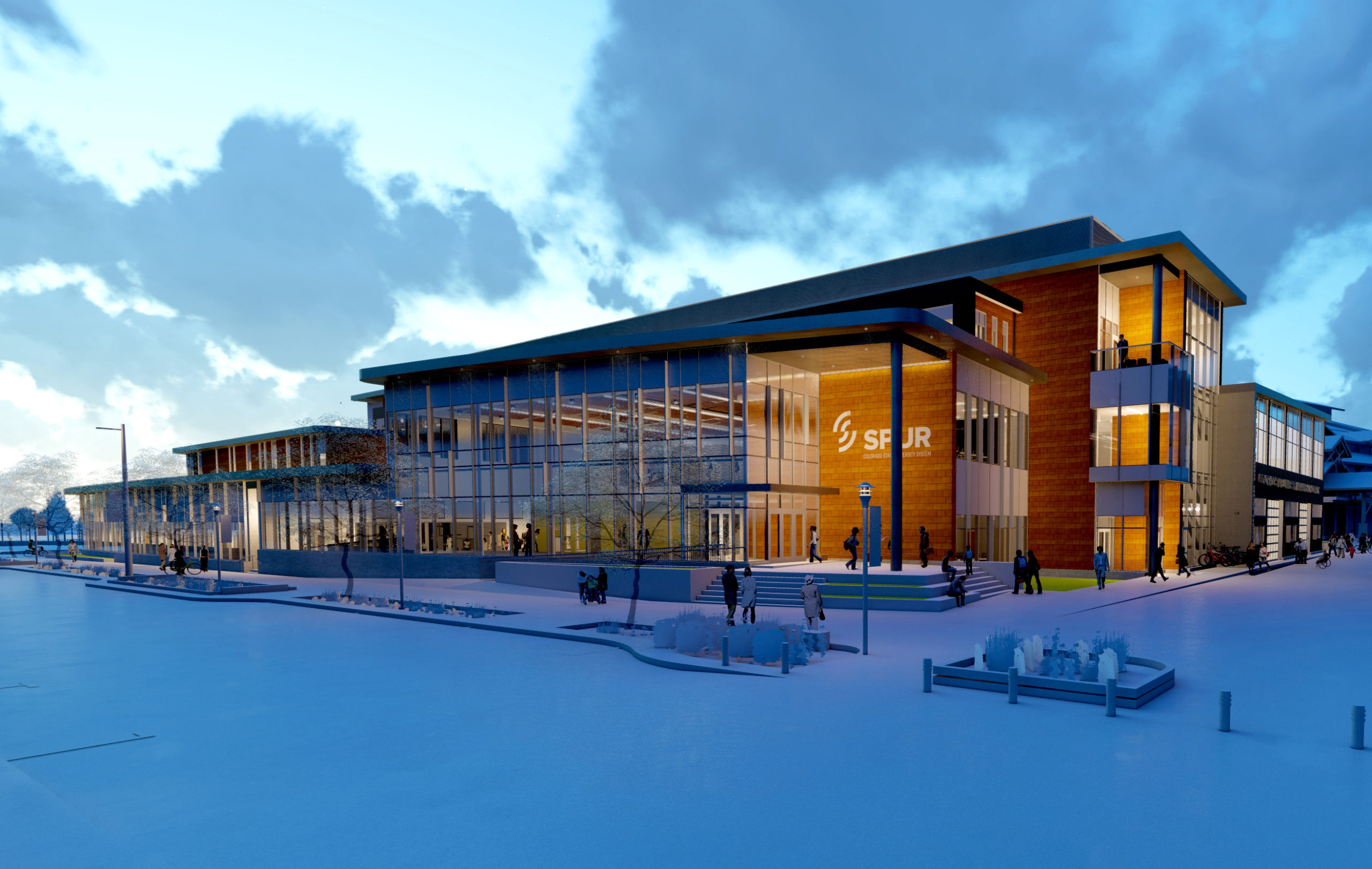 Colorado State University, Johnson Family Equine Hospital
The $85 million Johnson Family Equine Hospital is an 99,000-square-foot equine hospital, marking it as one of the largest facilities of its kind. The building features surgical and imaging suites, as well as extensive rehabilitation and therapeutic facilities. The hospital has the capacity to house a variety of equine patient types, including outpatient care, long-term orthopaedic patients, gastrointestinal critical care cases, as well as a dedicated isolation unit.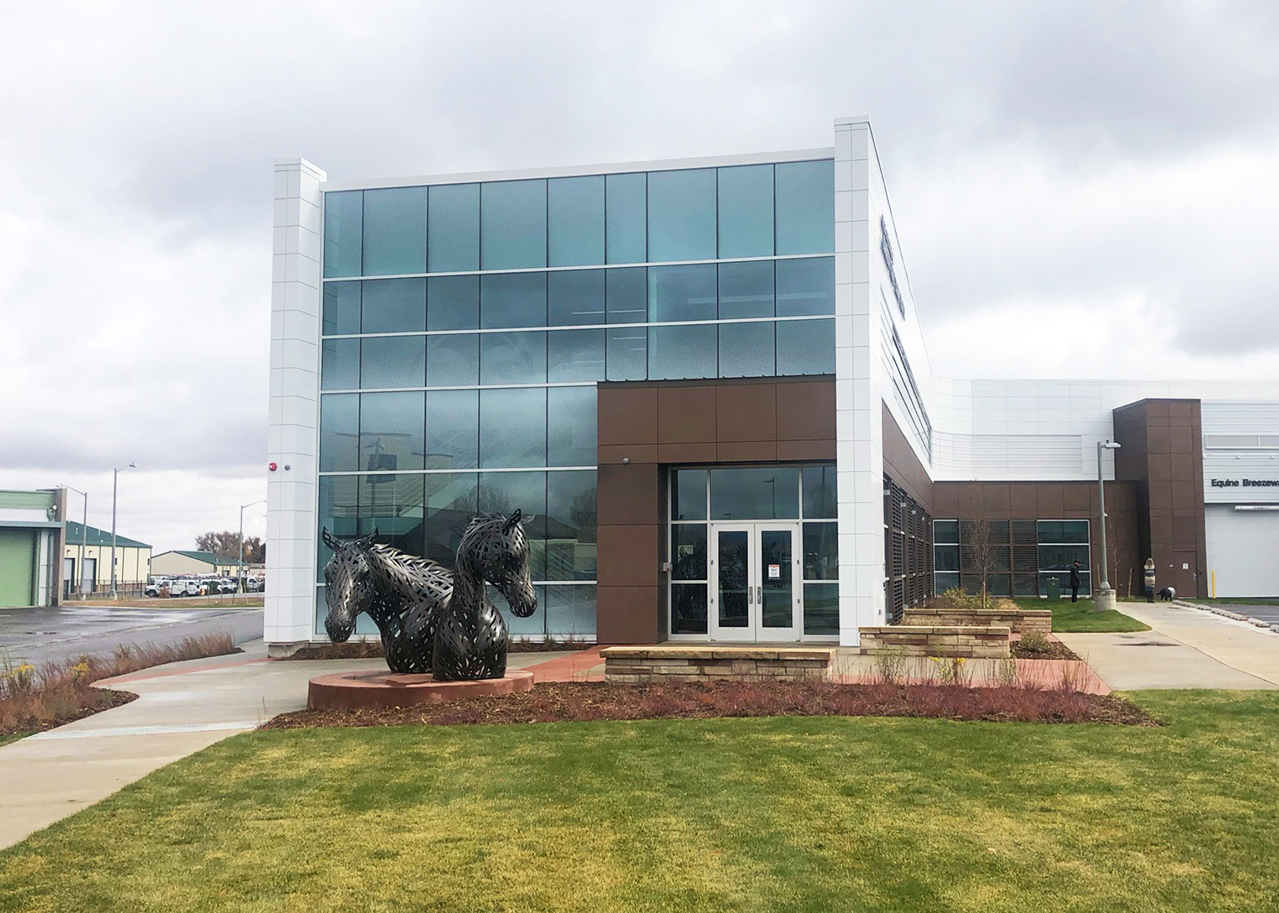 Clark & Enersen has always believed in partnership, especially as it pertains to the relationships between employees. Teamwork is at the heart of every design effort, with different disciplines bringing expertise to the table that elevate a client's vision for the project. As leadership in the firm has changed over the years, so have the approaches to fostering these relationships, but the goal has always remained the same: to provide our clients with the best designs possible, no matter who in the firm is working on the project.
In the early and mid-2010s, Clark & Enersen was deep into the process of creating an identity for our firm that reflected our mission and core values. This involved developing a strategic plan that would guide us through the year 2025. The vision and mission statements and strategic plan, approved by the board of directors in 2017 and 2018, respectively, continue to drive the direction of our firm, although the inception of the idea came much earlier.
Our firm doesn't use the idea of "profit centers," meaning that, from a corporate perspective, all of our offices and departments act as a single entity rather than independent business units. This approach works well because while the offices themselves are driven by regional work, most projects involve a mix of professionals from each location, which provides a natural connection point between them and fosters interoffice collaboration. It also minimizes internal competition because project wins are celebrated by all, and employees share in each other's successes.
Over the course of 75 years, we have broadened our leadership base as the employee body has grown. Our strategic decision-making body includes a board of directors comprised of the senior principals and principals who are listed below. These leaders represent various disciplines and office locations across the firm. Collectively, the board of directors executes our vision, mission, and strategic plan and makes key decisions that safeguard the firm's future.
Greg Lattig AIA
Shawn Diederich PE, LEED AP, WELL AP
T.J. Schirmer PE, LEED AP
Jeff Chadwick AIA, LEED AP
Tim Ripp AIA, LEED AP
Andy Stepp AIA
Rick Wise AIA, LEED AP
James Beecher PE, LEED AP
Tim Gergen PE
Kate Hier AIA, NCARB, WELL AP
Heather Keele AIA, NCARB, IIDA, WELL AP
Adam Kent
Kent Munster
Karen Nalow PLA, ASLA, LEED AP
Hadley Stolte AIA, NCARB
Melanie Stover
Blake Thomas AIA, NCARB, EI
Phil Walter PE, LEED AP
What is more valuable than a loyal partner in a time of crisis? We have asked ourselves that question as a firm many times over the years, as we have been fortunate enough to establish long-lasting client partnerships that withstand even the most trying economic times. In fact, it is these strong partnerships with Assurity, Farm Credit Services of America, the University of Nebraska-Lincoln Athletics Department, and numerous other valued partners that have allowed us to continue moving forward.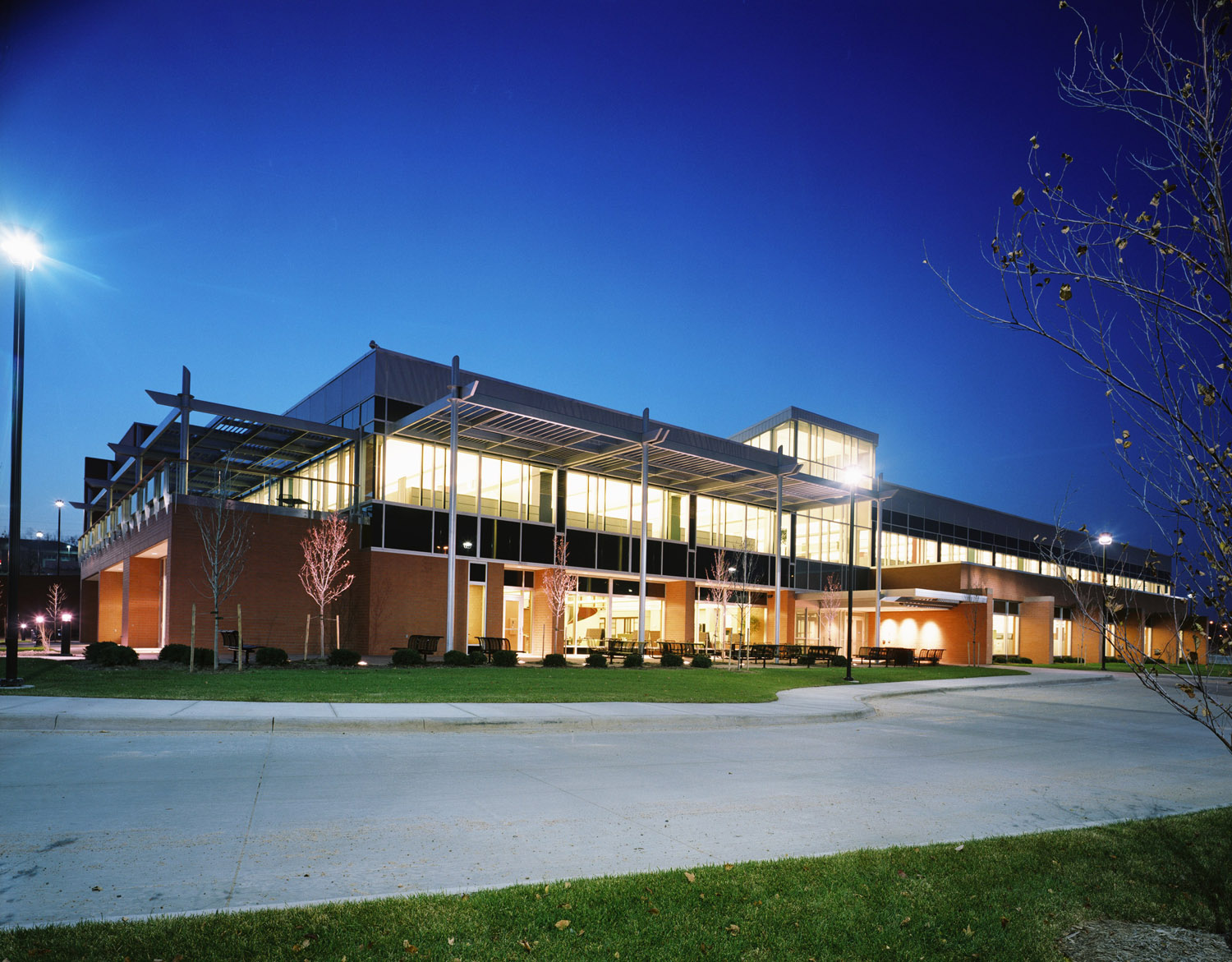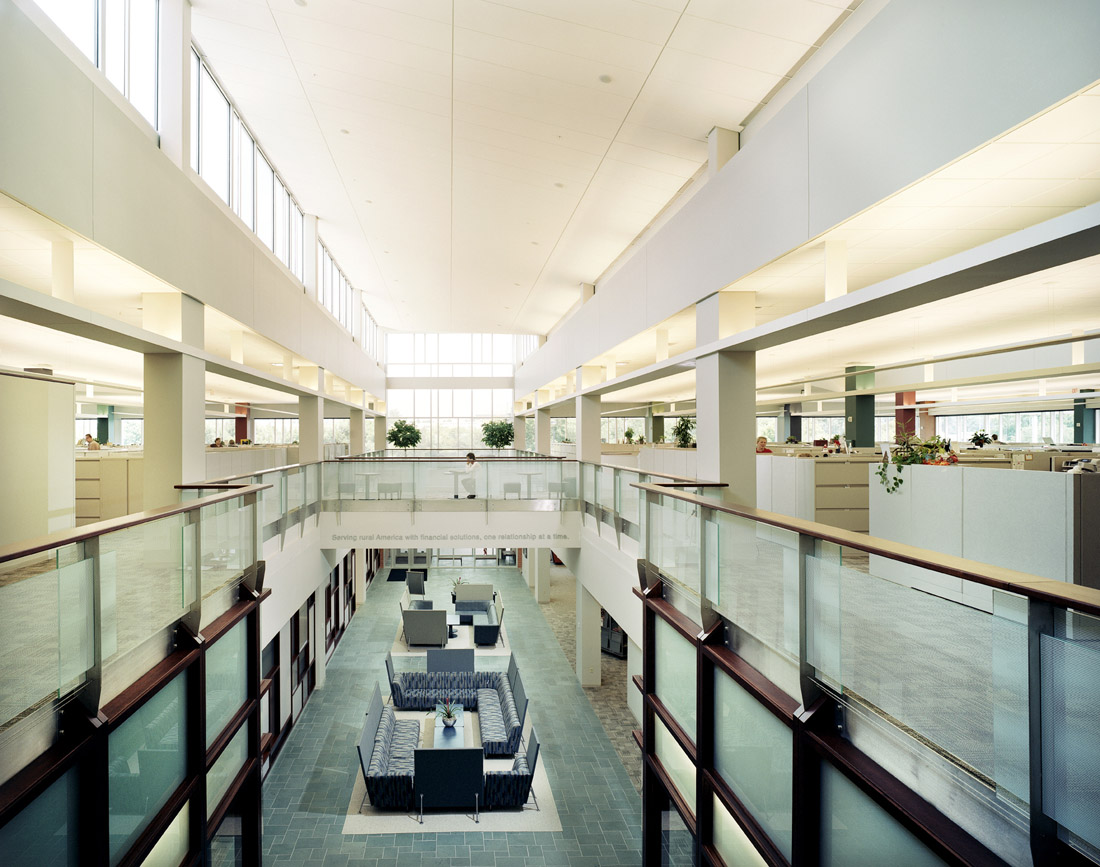 Farm Credit Services of America
Clark & Enersen has been working with Farm Credit Services of America since 1999. As a leading provider of credit and insurance services, Farm Credit serves farmers, ranchers, agribusiness, and rural residents in Iowa, Kansas, Nebraska, South Dakota, and Wyoming. Maintaining such a long-standing relationship requires stepping back and keeping the larger picture of the client's needs, desires, and goals in mind while designing each project. It also requires tailoring the project to who they are, what they do, and their culture. This is how the relationship developed with Farm Credit as the firm integrated into their culture and they became one team.
Some of Clark & Enersen's first work for Farm Credit included the design of a new 104,000-square-foot headquarters in Omaha, Nebraska. The facility offers an improved environment for employees and encourages increased productivity. Designing a new building created the opportunity to create spaces that reflect Farm Credit's identity. It showcases their agricultural heritage and their team-oriented approach to customer service. Brick detailing depicts the evolving cycles of the agricultural calendar, with each segment featuring patterns and colors that depict fields transitioning from dormancy to harvest. Other architectural elements are patterned after aerial photographs of farm land.
In the years that followed, the firm would design two more buildings on the campus, including a 77,000-square-foot headquarters expansion and a 90,000-square-foot office facility. The same architectural and aesthetic care was taken with these new buildings to ensure they blend in seamlessly with the main headquarters building. Large, clerestory windows bring in abundant natural light, while varying brick colors and patterns and other features depict wind blowing through a wheat field. Shadows appear as irrigation system pivot tracks that would be seen from an aerial view of a farm captured by a drone, referencing the precision agriculture technologies used in the industry.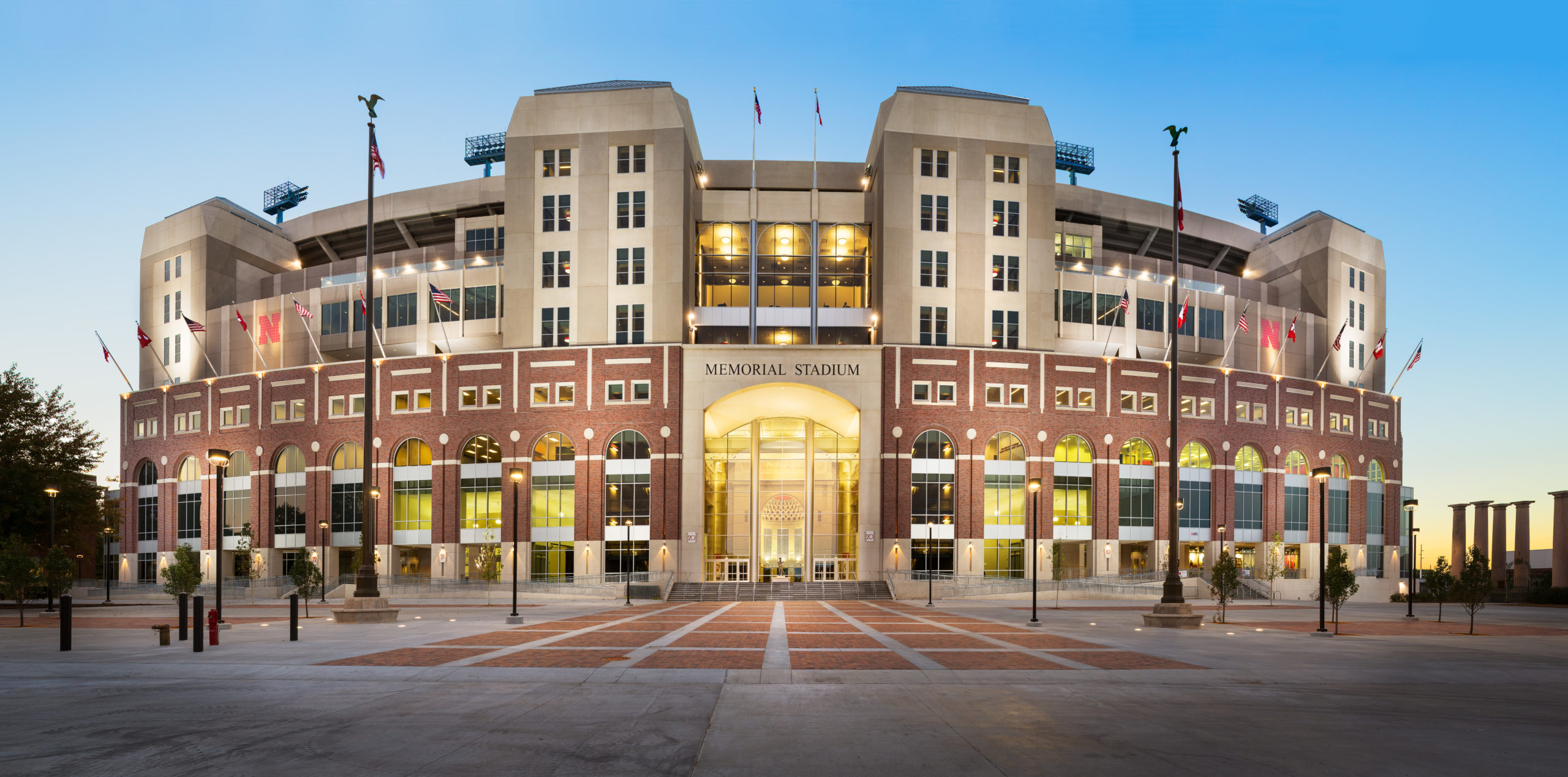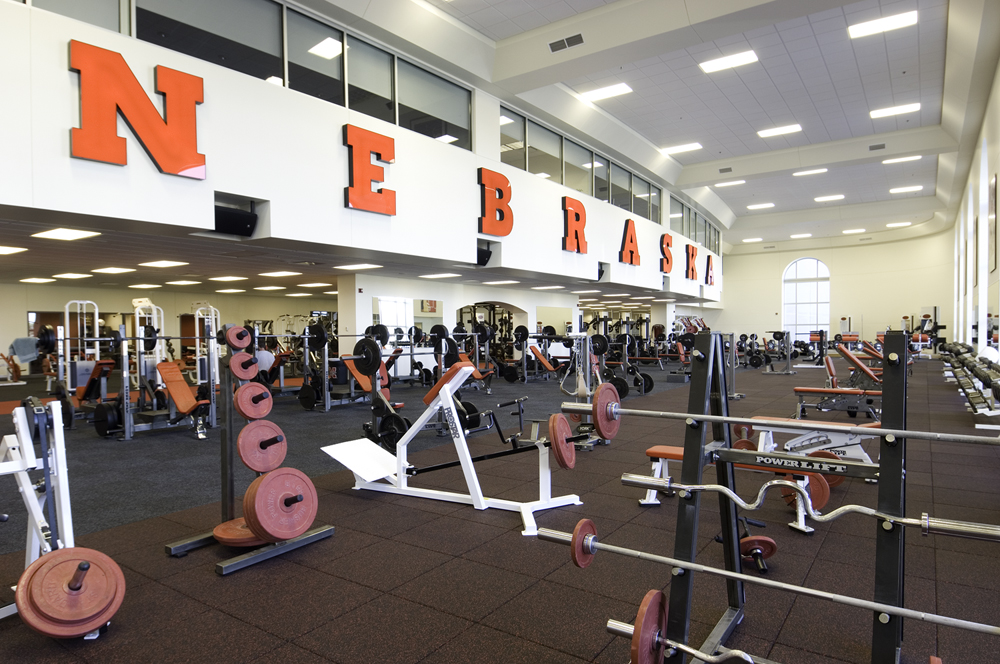 University of Nebraska-Lincoln Athletic Department
Few could have predicted the historic run the University of Nebraska-Lincoln football program would have in the mid-1990s, but its impact on the state and University would be felt for decades to come. From 1994 through 1997, Nebraska had a record of 49-2 while winning three national championships. The 1994 and '95 titles were won outright, while the '97 championship was shared with the University of Michigan. In 1996, the Huskers finished the season with an 11-2 record and were ranked No. 6 nationally. As the winning continued, UNL started a series of projects that would set the tone for the future of athletics at the school, as well as the future for Clark & Enersen. The first of these projects was the expansion and addition to Memorial Stadium's north stadium.
The $50 million project included the addition of 6,460 seats, a skybox expansion, and the Tom and Nancy Osborne Complex. Clark & Enersen was the only team to submit a proposal that met both the seating and budget requirements. An innovative approach was devised that involved tearing down and rebuilding the structure at the base of the stadium. The project increased Memorial Stadium's capacity to more than 80,000 spectators and provided premium seating, new entrances, and a concourse that connects north stadium with the east and west stadiums. The Tom and Nancy Osborne Athletic Complex is a state-of-the-art facility that offers strength training and conditioning, nutrition, athletic medicine, water therapy, rehabilitation, a spacious locker room, equipment room, and administrative offices.
The firm would go on to complete an additional renovation and expansion to the east entryway of Memorial Stadium. Prior to the renovation, this gateway served as an underwhelming "front door" primarily for college students residing on city campus. The project was a 6,000-seat expansion, which included a new separate structure designed in front of the original east façade to structurally support the cantilevered upper balcony.  With the original 1920s architecture on one side and the new state-of-the-art expansion on the other, fans are presented with a balance of past and present as they travel the concourse. The expanded concourse also improves circulation, allows for more fan amenities, and created space for formal events and world class research laboratories to study the effects and prevention of concussions and other sports injuries.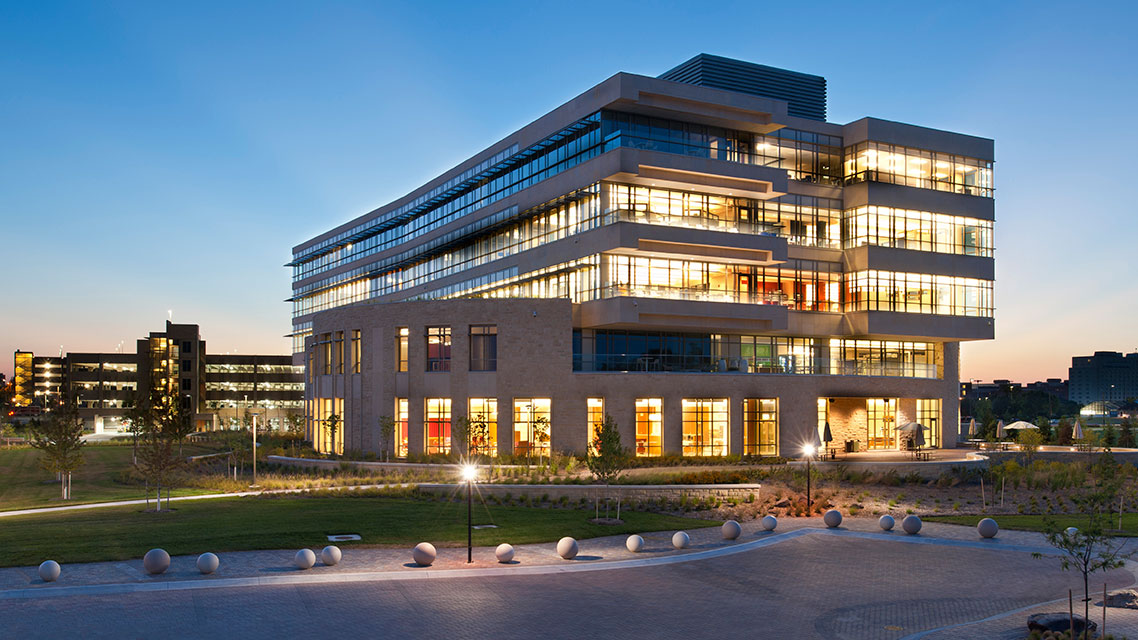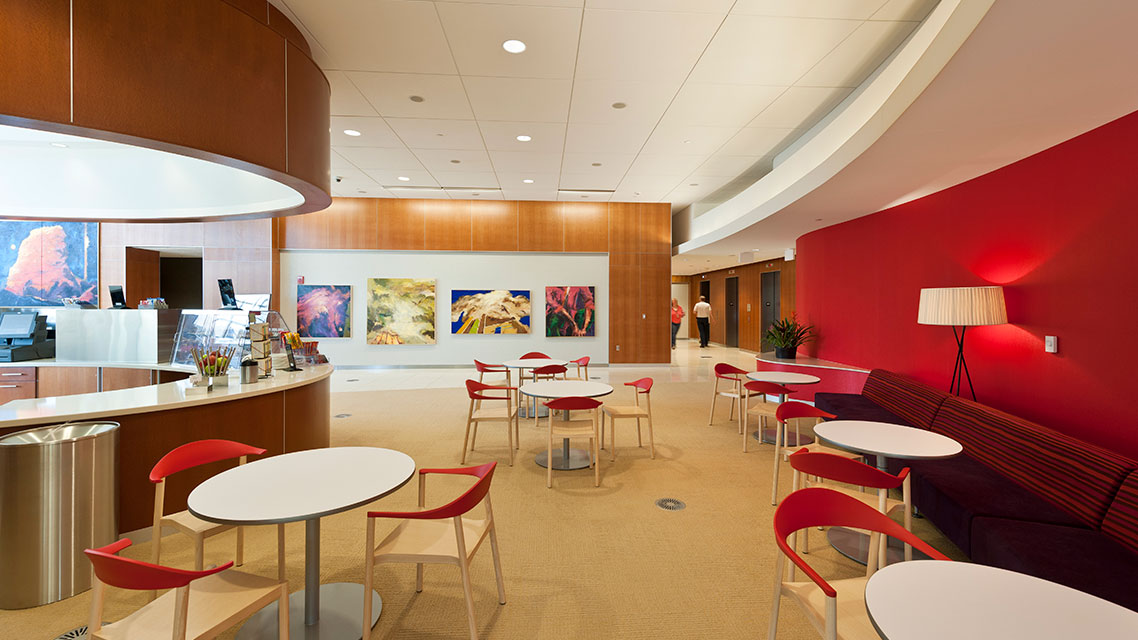 Assurity
While the 2008 financial crisis had an immediate effect in some regions of the United States, it took years for it to fully reach the Midwest, and especially Nebraska. It was a time of uncertainty for many as businesses closed and unemployment rose. Fortunately, in the years leading up to the crisis, Clark & Enersen had built several strong, long-lasting partnerships with a number of clients that allowed the firm to not only survive, but thrive. One of those clients was Assurity.
Jeff Chadwick, who led the design of the corporate headquarters project, recalls early meetings with Assurity where, although the two parties certainly challenged each other, the conversations ultimately led to an inspired design. This included placing the building at the center of the site rather than on the corner, in a move that Jeff says resulted in "a far better project."
The 175,000-square-foot headquarters and 600-vehicle parking garage was the first major investment as part of the Lincoln Antelope Valley project and served as a major catalyst for redevelopment. Clark & Enersen also designed the nearby Union Plaza Park, and the limestone and serpentine shapes used in the Assurity Building's design reflect those found in the waterway that runs through the park. In fact, the two projects fit so seamlessly together that Jeff says "you don't really know where Union Plaza starts and the Assurity property begins."
The Assurity building, which supports 500 employees and has ample building and site capacity for future expansion, further enhances the downtown Lincoln aesthetic with upper floors that reflect into the nearby skyline, a glass perimeter and light shelves that allow for maximum natural light, and views of outdoor landscaping and parks from more than 90% of work spaces. It was also designed to meet LEED Gold standards and features several sustainable water-conserving and energy efficiency features, including green roofs and a partial ice storage cooling system.
Clark & Enersen was founded by an architect and a landscape architect, which set the foundation for our firm's multidisciplinary approach. The diversity of thought within our firm contributed to an interest and ability to pursue a diverse array of project types over the years. This focus on diversification has served us well, allowing market sectors to ebb and flow within the industry while our flexible portfolio has allowed us to respond gracefully to movements within the marketplace.
In the early years, like most new startup firms, Clark & Enersen eagerly pursued any work that was available, most of which was residential. As our firm grew and evolved, we designed a significant number of projects in the PK–12 public school sector in the early 1950s, a direct result of the postwar baby boom. The public-school market was a primary driver through the early 1960s as we began to complete more postsecondary education, government, civic, and planning projects.
In the 1970s and 1980s, no single market dominated Clark & Enersen's portfolio and, as always, landscape architecture and engineering groups touched almost every project type. Our firm remained relatively balanced into the 1990s but began to add more science and technology and corporate work into the mix. In the 20 years since the turn of the century, science and technology has emerged as a major project focus, and PK–12 has also re-emerged as a significant project contributor. We now have 10 market sectors, seven of which are considered "primary," including civic, corporate, government, higher education, PK-12, science and technology, and sports and recreation.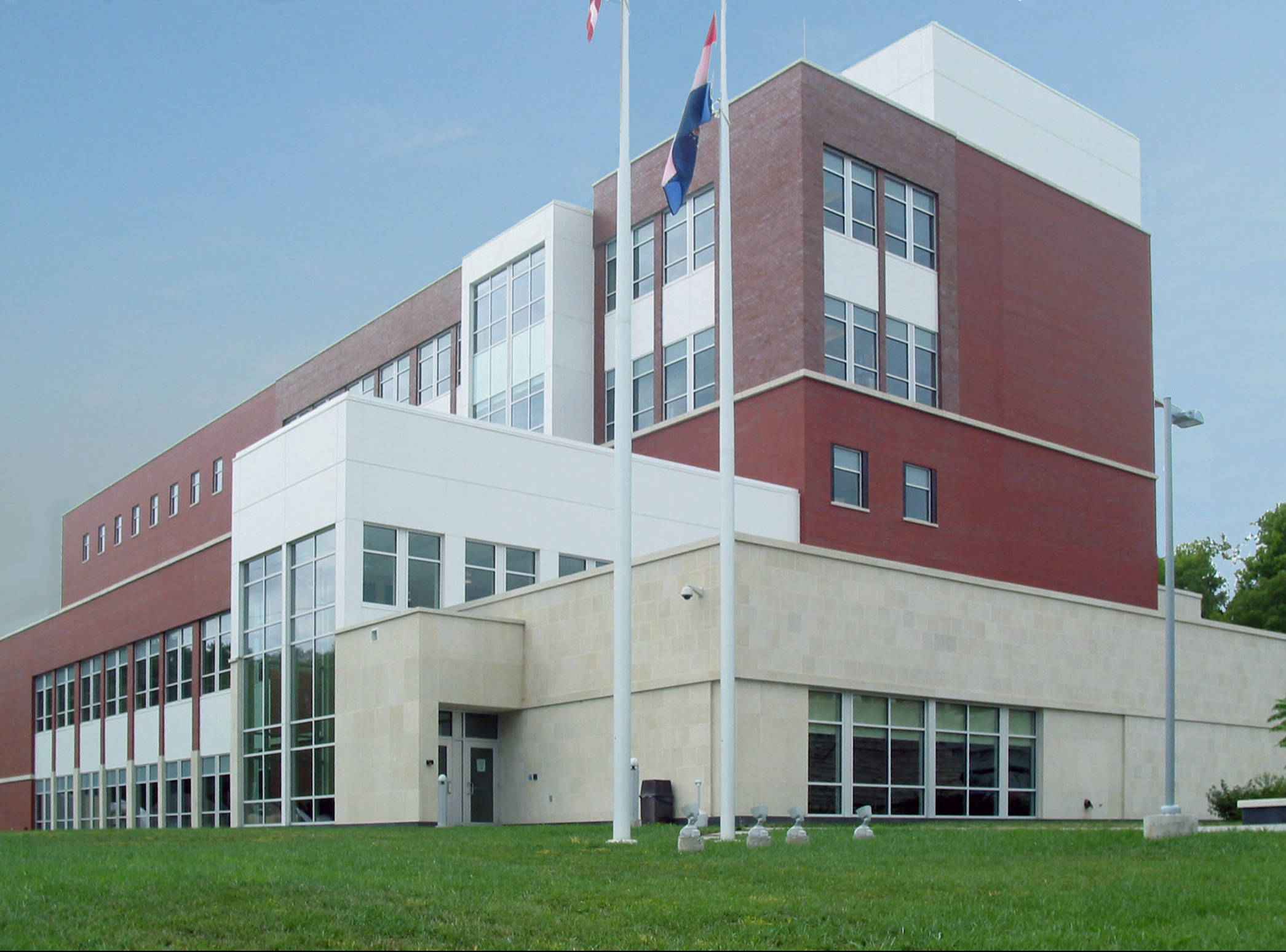 While charitable contributions and volunteerism have been a part of our firm's bedrock from the beginning, those efforts increased significantly with the introduction of Clark & Enersen's Foundations program, a year-long class that focuses on leadership and community involvement.
HR Director Peggy Merkel explains, "Leadership programs, like Foundations, really allow for employees to walk through a lot of information while learning about themselves, learning about teamwork and interpersonal skills, and also learning about how our firm operates and its history — just a lot of different aspects. Foundations gives employees the opportunity to have a better understanding of our disciplines and processes. It also connects those individuals with coworkers from other offices. You have to break down the walls between disciplines and office locations, so we're all one. That's what will help us succeed going forward."
Clark & Enersen Foundations is an example of how empowering employees has powerful and long-lasting secondary benefits. Fostering internal growth and providing team members with pathways to success has proven to energize them in regard to charitable acts and volunteerism. In fact, those who took part in Foundations classes over the years had opportunities to select projects that addressed significant community needs as well as ones that reflected the core values of Clark & Enersen.
One Foundations class designed a pollinator garden for the Arbor Day Farm in Nebraska City, which focused on educating visitors and advocating for the adoption of these types of gardens. It features a new trail, public seating, educational kiosks, native plants, a bee box, and more. Another class worked with Habitat for Humanity to repair a home in Fremont, Nebraska, that was badly damaged by record flooding that occurred in 2019. Participants also helped Habitat for Humanity on other projects, including building homes for those affected by the tornado that hit Joplin, Missouri, in May 2011.
Foundations Community Projects
| | |
| --- | --- |
| 2010 | Lincoln Community Book Drive |
| 2011 | Lincoln Parks and Recreation, mulching of trees in memory of Landscape Architect Les McDonald |
| 2012 | Habitat for Humanity, rebuilding after Tornado Disaster in Joplin, Missouri |
| 2013 | Camp Catron, general maintenance and upkeep of the grounds and buildings |
| 2014 | Little Free Library, built and installed one little library each in Lincoln and Kansas City |
| 2015 | Lincoln Parks and Recreation, new plantings and trimming of existing landscape at a local park |
| 2016 | North Kansas City Parks and Recreation, Roadway and Trail Cleanup |
| 2017 | Veterans Community Project, Mobile Tiny House Competition |
| 2018 | Arbor Day, Pollinator Garden |
| 2019 | Habitat for Humanity, Nebraska Flood Restore in Fremont, Nebraska |
| 2020 | Learning Environments Design Competition, Middle and High School Students in Nebraska and Missouri |
As Albert Hamersky's career began to wind to a close, the future of the firm seemed uncertain. In the years following Enersen's death and Clark's retirement, leadership responsibility fell solely on Hamersky's shoulders. He served as president from 1977–89 and chaired the board from 1979–92. His impending retirement posed an open-ended question for the firm's new generation of leaders: What was next?
Planning for a leadership shift began four years before Hamersky's retirement. In 1988, Lowell Berg and fellow senior principals Bernie Rempe and Dennis Scheer started discussing and documenting how they would navigate the transition. When Greg Lattig was hired as a senior principal in 1991, he joined the deliberations as well. All of their thoughts were distilled into Design 1993, an 8,000-word document outlining the objectives, strategies, and tactics that would help to achieve eight distinct goals:
Perpetuate Clark & Enersen as an architectural firm.
Be perceived as a design firm with quality service.
Be a firm with a broad base of select ownership.
Set priorities for equity before distribution of profit.
Look ahead with technology.
Facilitate staff growth.
Grow through bigger projects.
Continue to be involved in our local community.
The effort put into strategically managing the change was time well spent. What happened in the decades that followed was a tectonic shift in how Clark & Enersen would be managed and operated. It set the stage for more aggressive project pursuits, geographic growth, diversified expertise, and commitment to fostering talent within the firm. By the end of the 1990s, the firm landed a number of significant projects and opened an office in Kearney, Nebraska, to support several projects for Kearney Public Schools. In 1999, Clark & Enersen opened its first official office outside of the Nebraska in Kansas City, Missouri.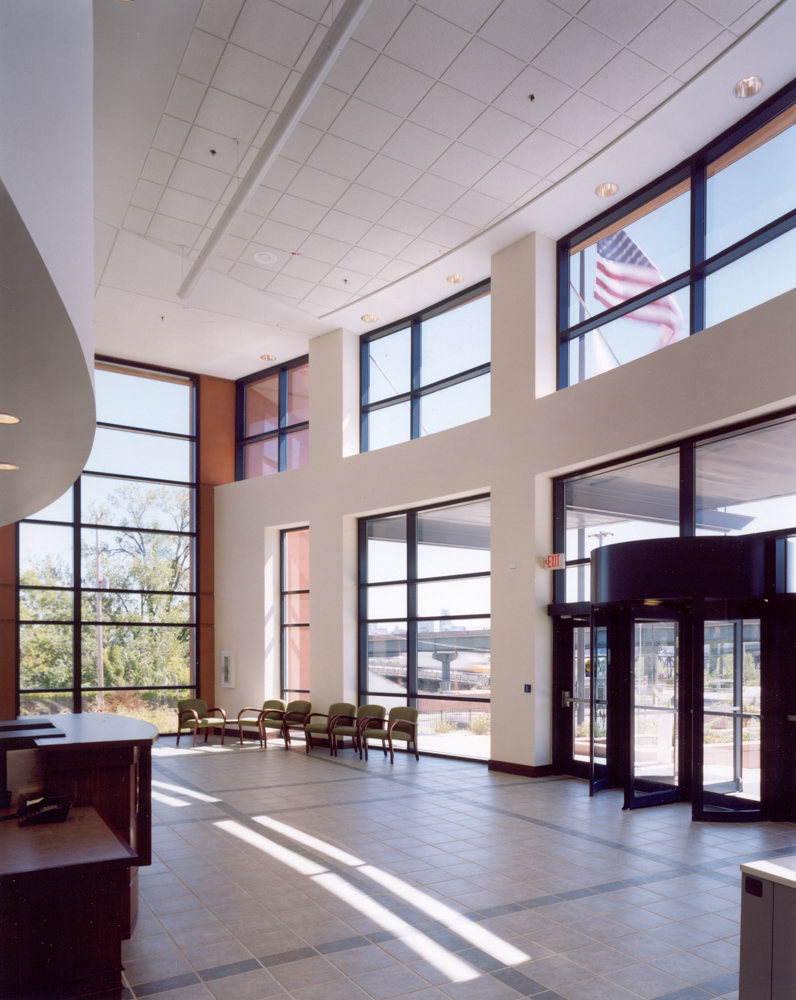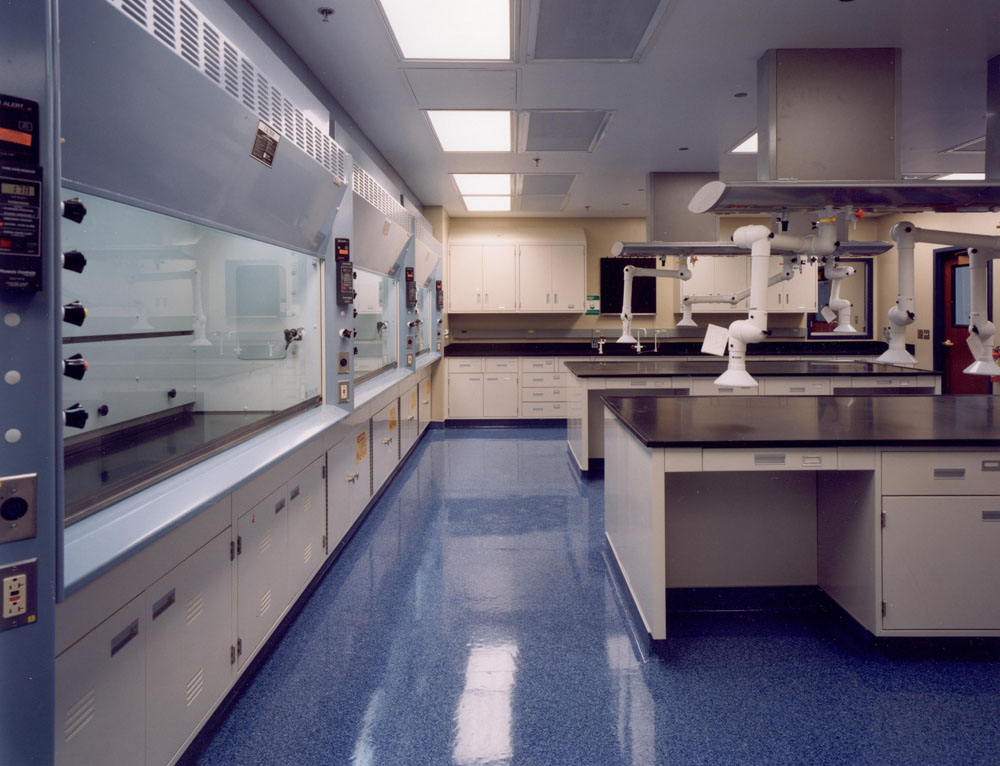 As the turn of the century approached, Clark & Enersen had grown to a point where it was becoming difficult to support the number of talented professionals assembled through the amount of available work in Nebraska. A decision had to be made to either slow the rate of growth or expand into other geographical areas. In November of 1998, Greg Lattig made a proposal to the Board of Directors to open an office in Kansas City with the goal to take a firm that was "one of the premiere design firms in Nebraska" and make it "one of the premiere design firms in the Midwest."
Following the approval of the proposal, the firm opened an office in the Garment District of downtown Kansas City in 1999. Over the course of a few months through the summer of 1999, the new office came to be occupied by four arrivals from the Lincoln office who had agreed to relocate. Greg, along with Dave Niemann, were the first to arrive, followed by Aaron Clay and Andy Stepp.
One of the first major projects completed by the firm following the opening of the office was the Environmental Protection Agency Region 7 Science and Technology Center, a state-of-the-art laboratory facility that was responsive to the EPA's environmentally conscious mission statement and identity. The stringent requirements for air changes, temperature, and humidity control in a laboratory facility made it difficult to create energy efficient mechanical and electrical systems. However, through the use of several innovative building systems, the facility achieved a LEED Gold certification. At the time of its completion, it was only the third laboratory building in the United States to achieve the gold rating.
"The work we did for the EPA was the result of a long pursuit with a design/build partner. The groundwork for it was being laid as the Kansas City office was opening its doors. It is a significant project because, in my opinion, it was the most complex and varied laboratory planning and integrated engineering project we had attempted up to that time."
– Andy Stepp, Senior Principal, Architect, Laboratory Planner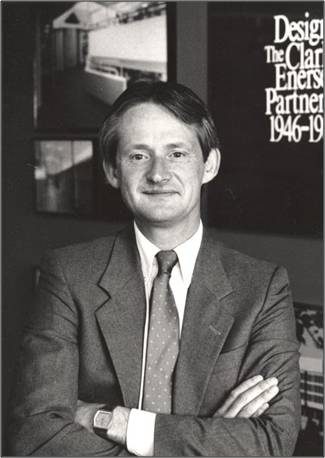 Lowell Berg, AIA, NCARB
Following six years in the United States Navy, Lowell graduated from the University of Nebraska College of Architecture in 1975 and began his professional career at Clark & Enersen, Hamersky, Schlaebitz Burroughs and Thomsen. He started his tenure at the firm as a designer under the guidance of Albert Hamersky and was fortunate to have also collaborated with Founders K.B. Clark & Larry Enersen.
Lowell's talent and leadership abilities allowed him to become a principal and board member, and eventually president in 1989, succeeding Albert, his mentor. As president of The Clark Enersen Partners from 1989 to 2008, Lowell helped transformed the firm and positioned it for unprecedented growth and excellence in design. He helped lead the effort to re-establish engineering disciplines in 1993, after a 15-year absence of mechanical, electrical, and structural engineering services. This fulfilled his vision for the firm to provide a holistic approach to design. Lowell also played a pivotal role in opening additional offices in Nebraska, Missouri, and Kansas.
In 2020, Lowell was the recipient of the Harry F. Cunningham Gold Medal award, the highest honor given by AIA Nebraska. Throughout his career, he viewed an architect's education, expertise, and social awareness as components of a unique "tool-kit," which should be shared with others to assist in problem solving on a wide array of applications. Lowell was a leader with a broad vision of sharing his professional knowledge and expertise with other architects, design professionals, and those who are seeking the services of an architect (and those who are not), because he believed in the value of architecture in society, communities, and individual lives.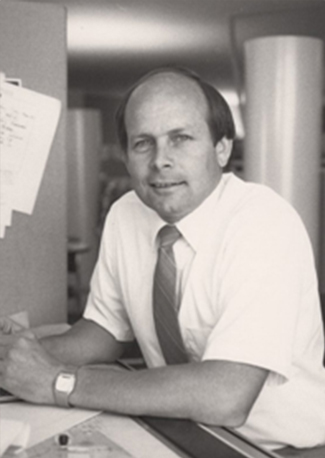 Bernie Rempe, AIA
Following his third year in the College of Architecture at the University of Nebraska-Lincoln, Bernie went to meet with Albert Hamersky to talk about a job at Clark & Enersen. With six 30×42 boards in his hands, he interviewed with Albert and was given a job on the spot as an intern. After a two-year internship, Bernie graduated and quickly boarded an airplane for San Francisco to join the Marine Crops. With a draft lottery number of 69, Bernie's only options following college were to be drafted into the Vietnam War or join the Reserves. He chose the latter.
Bernie returned to the firm full time in 1970 and began expanding his role. He worked closely with Albert and formed a number of relationships with key community members. When Albert retired, Bernie cultivated these relationships, which led to some of the firm's largest projects. This includes work with Pius X High School, which is a strong partnership that continues to this day.
In 1982, Bernie was elected to the board of directors. He then became the treasurer of the board in 1989, and was named chairman of the board in 1992. Bernie worked closely with Lowell, Dennis, and Greg to keep the firm moving forward during the leadership transition, as well as the good and challenging times that followed in the years after.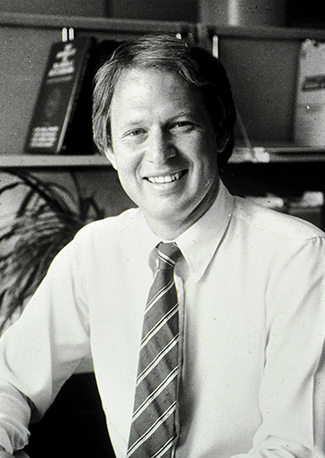 Dennis Scheer, PLA, ASLA
While a student at the University of Nebraska-Lincoln in 1972, Dennis saw firsthand the work that Clark & Enersen had completed, being particularly impressed with the efforts on Centennial Mall. While he did not go to work for the firm right after college, he viewed it as a dream job.
Dennis finished his degree at UNL and then attended Kansas State University for his masters. Following graduation, he moved to Omaha and worked at Leo A Daly as a landscape architect. While there, he completed master plans in the Omaha area and worked on several others in Germany. In the early 80s, Charles Nelson approached Dennis's wife and asked if he would be interested in moving back to Lincoln. Before he was hired, Dennis met with Larry several times at his house. At the time, Dennis was still visiting Germany frequently for work and, since Larry was a world traveler, the two instantly connected.
Dennis was officially hired full time in 1983 to lead the firm's site team. By the late 80s, he became a partner stockholder and developed a close partnership with Lowell, Greg, and Bernie. The partnership helped lead to what Dennis describes as the Golden Age for landscape architecture at Clark & Enersen. From the mid-2000s to 2015, the number of large projects the firm designed rapidly accelerated. From the Sunken Gardens to Union Plaza, and streetscapes throughout Lincoln, the firm's landscape architecture team played a major role in shaping the city.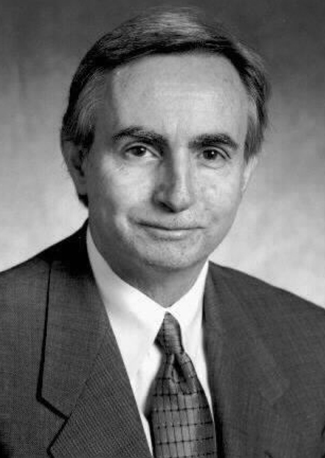 Greg Lattig, AIA
Greg began his career in architecture with another firm in Lincoln, Nebraska. After 13 years, he was offered a job in San Diego by Research Facilities Design. After nine months in California, Greg knew he needed to come back to Lincoln. Upon his return in 1991, Greg met with Lowell about a job opening. Following a meeting with the firm's board of directors, Greg was hired and named a principal, joining Lowell, Dennis Scheer, and Bernie Rempe.
During his early years with the firm, Greg focused on structural engineering, taking over for Alfons Hamersky. He was also involved in the firm's early science projects through laboratory planning. In 1998, Greg met with the board of directors and pitched the idea of opening an office in Kansas City, Missouri. The goal of opening the new office was to take Clark & Enersen from being one of the premiere design firms in Nebraska and turn it into one of the premiere design firms in the Midwest. The move was approved, and in 1999, Greg and three other members of the firm moved to Kansas City. Greg's initiative for geographic expansion and his pivotal role in building the Firm's expertise in Science & Technology have both been critical components of the firm's success.
Greg's career has been built on the premise that you must treat every client the same, regardless of the project size. He wants to be better tomorrow than today, and believes this is something the entire firm has adopted over the years. For more than 30 years, Greg has pushed the firm to be more than average, to be the best it can be, accept new challenges and new projects, and take risks.
Design firms are often known by their most senior people, and when those leaders are no longer at the helm and new leadership emerges, it may appear to some as an entirely new entity. As future-forward thinkers, Clark and Enersen hoped to disprove this presumption by continuing the firm's legacy under new leadership.
Discussions within the office about who would succeed Clark as president ultimately led to hiring a management consulting firm. In 1975, Enion Associates of Philadelphia began their work by observing the people and the workflow in the office. They looked carefully at projects, financial data, and personnel information. They spoke with all staff members and met, at length, with owners of the firm.
Based on Enion's recommendations, Albert Hamersky was to be named successor to K.B. Clark as president in 1979. In anticipation of that move, Albert became assistant managing partner in 1975. Each principal and associate principal was given firm-wide responsibility with a different focus: Enersen, business management; Clark, marketing and new business development/client relations; Hamersky, design; Schlaebitz, production; Burroughs, structural/civil engineering; Thomsen, mechanical/electrical engineering; Nelson, project management; and Tarr, construction administration/specifications.
By 1979, Clark and Enersen had both retired from their leadership roles, and the remaining owners dedicated themselves to their respective areas of focus. Hamersky was elected chairman of the board, in addition to being president and managing partner. During the leadership transition, the firm changed its name to The Clark Enersen Partners and moved into a new office. These changes set the firm on a new course, one that was focused on an individual leader as compared to sharing top-line leadership across several individuals.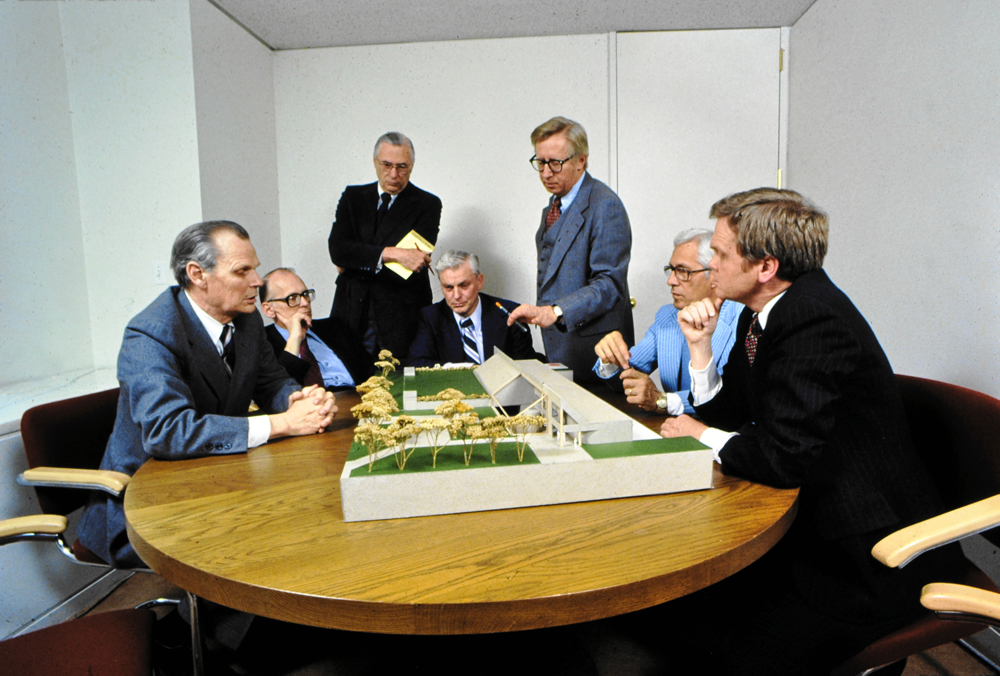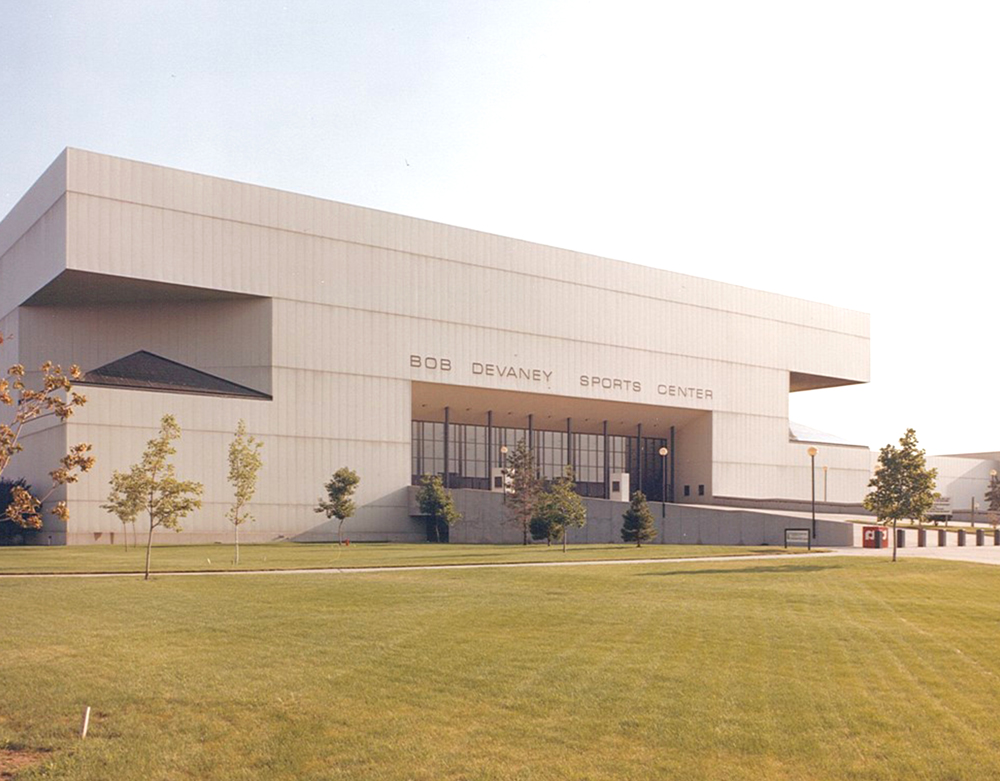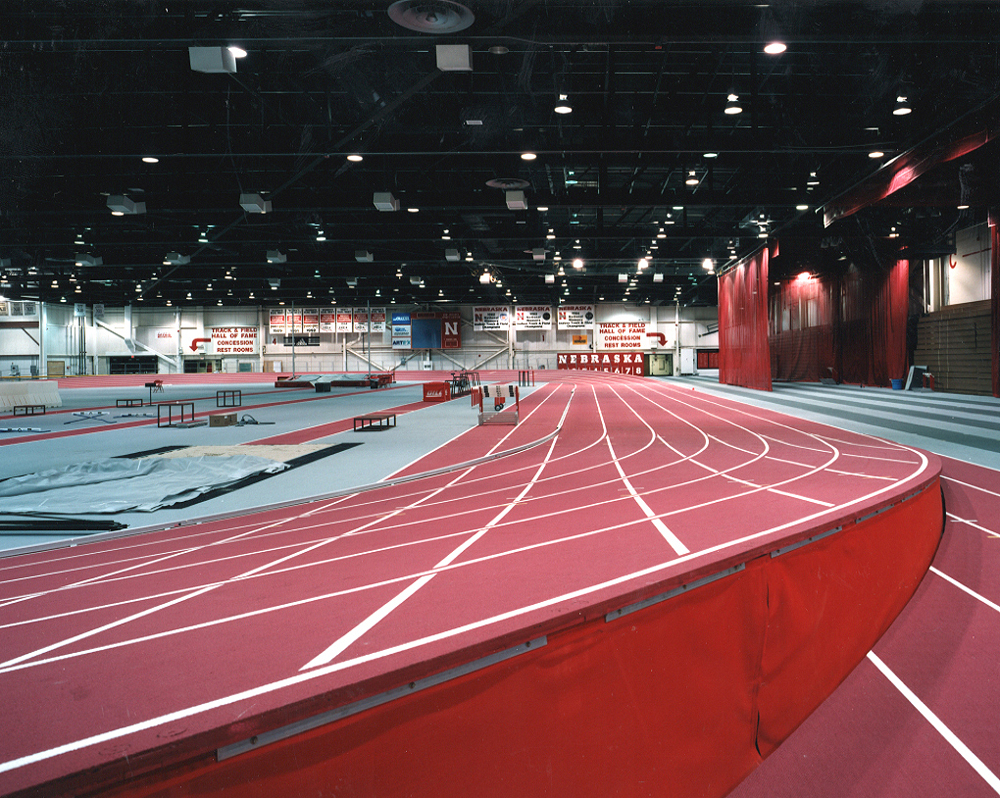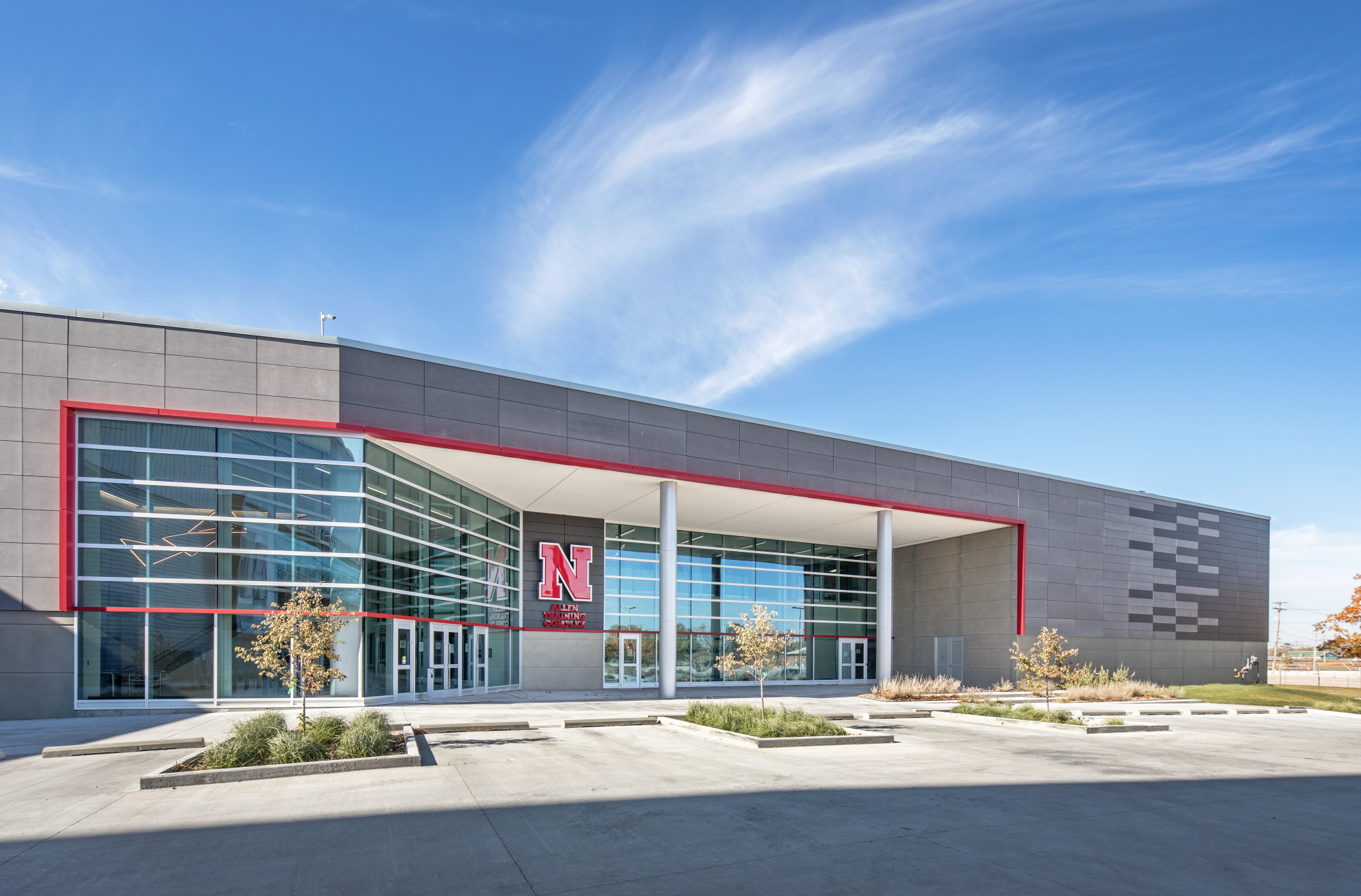 The University of Nebraska Sports Complex, known today as the Bob Devaney Sports Center, set the standard for indoor athletic facilities when it opened in 1976 and was one of the largest, most diverse projects completed by the firm up until that point. The facility was designed by Clark & Enersen, Hamersky, Schlaebitz, Burroughs & Thomsen and Davis/Fenton/Stange/Darling, in an association known as Davis-Clark. The four-acre facility had an indoor arena, swimming and diving complex, indoor track, and exhibition areas for the Nebraska State Fair. It also featured entrance ramps that were twice the width of the interstate.
Arena
While the arena is where the University of Nebraska's championship volleyball team plays, it originally served as the home of the Nebraska Men's and Women's basketball teams for more than 30 years. The arena could hold 15,000 spectators and hosted first- and second- round games in the 1980, 1984, and 1988 men's NCAA basketball tournaments; first-round games in the 1993 women's tournament; and was home to the Nebraska High School Boys and Girls State Basketball Tournament until 2013.
Additionally, the arena welcomed some of the largest music artists in the world, including Fleetwood Mac in 1977 and 1982, Elton John in 1980, Billy Joel and Bruce Springsteen in 1984, The Beach Boys in 1990, and Garth Brooks in 1997.
Swimming and Diving Complex
The main pool measured 50 yards in one direction and 50 meters in the other, which allowed it to accommodate intercollegiate swimming as well as Olympic competitions. A separate diving pool with 1 and 3-meter boards was also included. The natatorium had capacity for 1,000 spectators with additional seating available in the gymnastics area, which was adjacent to the pool and separated by a removable partition.
Indoor Track and Exhibit Areas
The track and exhibit area were designed as one of the few one-eighth mile indoor tracks in the Big Eight Conference. The running track was a permanent, resilient surface with eight lanes. Inside the track were five tennis courts that could also be used for exhibition space during the Nebraska State Fair.
Since its original design, the firm has worked on numerous additions to the facility, including the Hendricks Training Complex, which is where the Nebraska basketball teams practice; the Francis Allen Training Complex, which is home to the Nebraska Gymnastics team; and space for the Nebraska Wrestling program.
Charles Thomsen, known affectionately as Charlie or "Chas" to most, was a member of the United States Navy and a WWII veteran. Charlie joined the firm in 1962, when Olsson, Burroughs, & Thomsen merged with Clark & Enersen. He had long been interested in alternative energy sources, starting with his exploration of active solar heating systems in residential design in the 1960s.
As the average price of a barrel of OPEC oil climbed from $1.80 in January 1971 up to $20.00 by the end of the decade, Thomsen and the rest of the firm's leadership saw the evolving energy crisis as an opportunity to establish a firm-wide commitment to energy-conscious design and place Clark & Enersen at the forefront of the movement.
Throughout the 1970s, the firm implemented such sustainable measures as passive and active solar systems, bermed structures, and building envelope improvements on countless projects. This included the Kearney Public Library and Hyde Memorial Observatory, as well as the Lincoln Housing Authority, which was the first building in Lincoln to utilize solar heating.
Charlie moved to the Southwest in 1980 because of his strong interest in solar engineering, and lived in a passive solar house for 27 years. His decades of work on civic, educational, medical, and military buildings across the Midwest and Southwest earned him yet another nickname as the "doctor" of heating and cooling.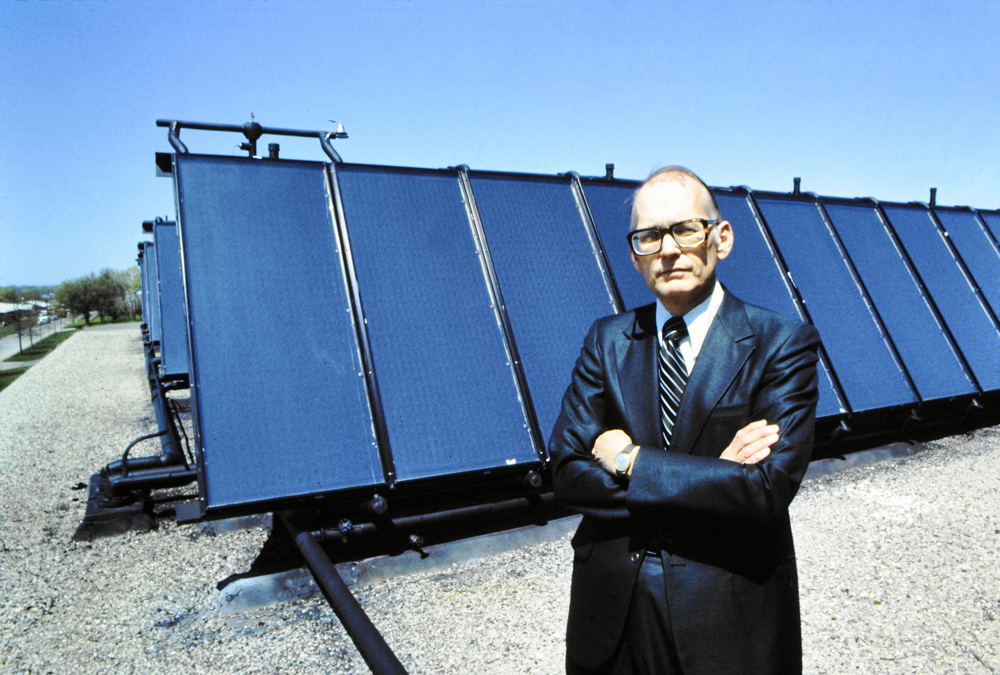 The 1960s were a period of enormous social change. America was in the middle of the Vietnam War, President Kennedy was assassinated, and the Civil Rights Act of 1964 was passed. The decade began with a nation in recession, but gave way to one of the longest sustained economic booms on record. This boom affected the firm in several ways.
In the early 60s, Clark & Enersen began receiving work in new states and branching into new areas of specialization. With more work being done, our team of architects noticed communication with engineers from other firms was becoming challenging. To provide better service to clients, the firm added mechanical and electrical engineers to go along with structural engineering, which had been offered since 1952.
Luckily, engineers John Olsson, Max Burroughs, and Charlie Thomsen were located just down the hall from Clark & Enersen in the Sharp Building, and by 1962, the two firms had agreed to a merger. The name of the firm became Clark & Enersen, Olsson, Burroughs & Thomsen.
The job list for that era included numerous municipal engineering projects, including sewage treatment plants, water and sewer system studies, and swimming pools. Engineering played a vital role in the growth of the firm during the 1960s, with projects such as the Woods Park swimming pool and the St. Elizabeth Community Health Center, which featured a state-of-the-art total energy plant. "The system ran for 18 years straight with the power never going out once," said John Olsson.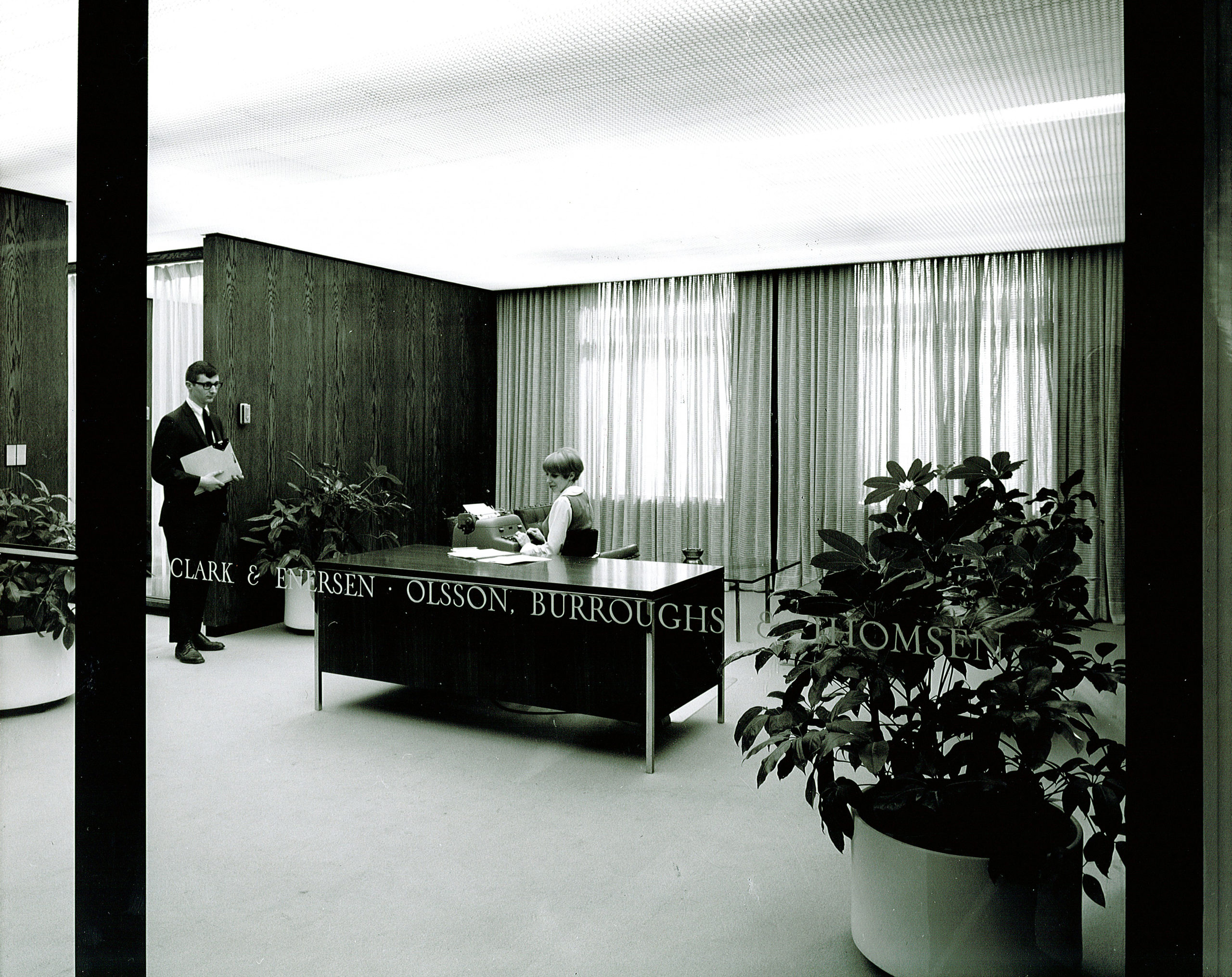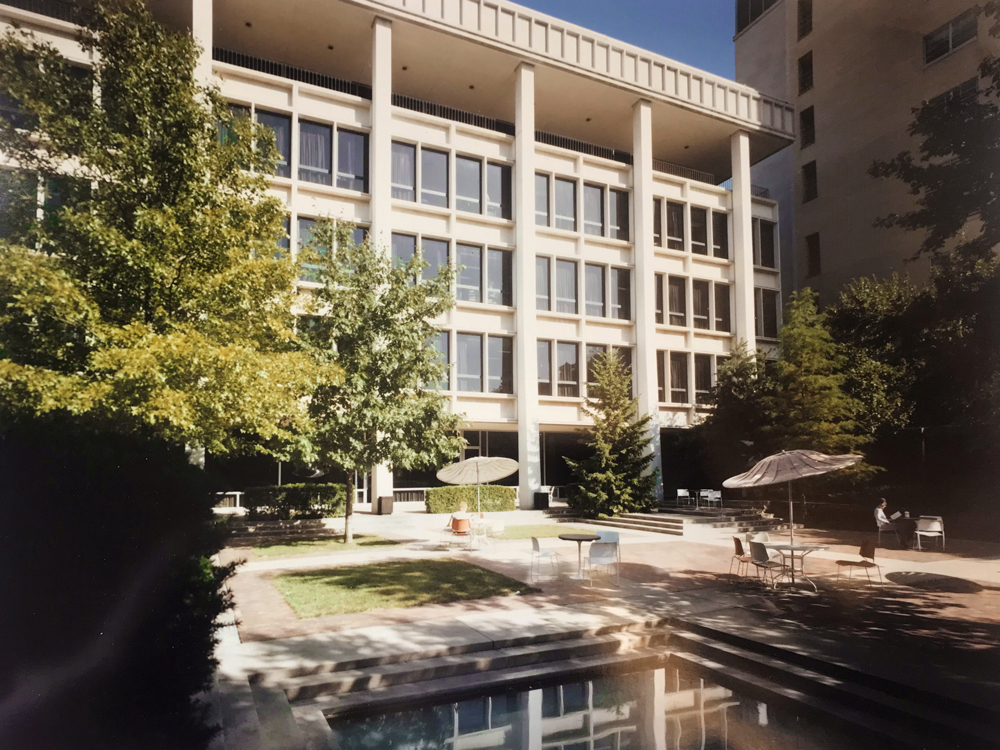 With the firm's reputation growing throughout Nebraska, larger projects continued to roll in, many of which had a major impact on the City of Lincoln. Following are the stories around a number of these projects and how they helped to transform the city and the community.
1964: Lincoln Center for Community Services and Foundation Garden
With the top story reserved for a column-free, 200-seat auditorium and meeting rooms for 10 to 75 people, the Lincoln Center for Community Services offered an innovative building that was home to more than 20 charitable organizations. The building also included "one of the most significant architectural features in the city," according to engineer Charlie Nelson. This feature was a 17,000-square-foot mini-park that is still used to this day by workers in downtown Lincoln as a spot where they can eat lunch, hangout, and listen to live music.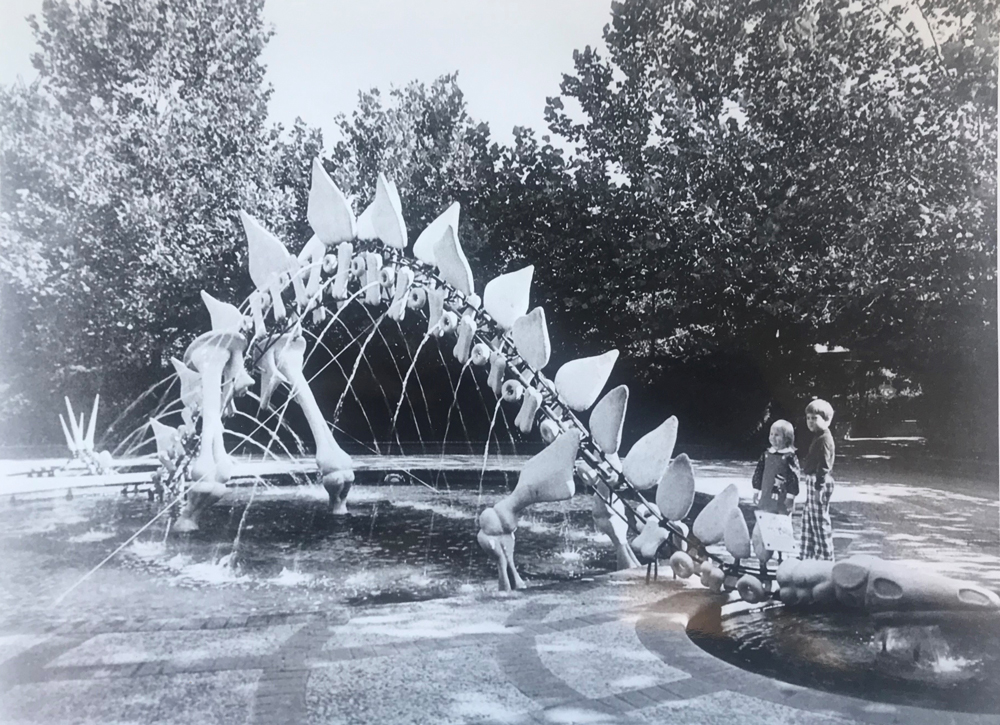 1965: The Folsom Children's Zoo and Botanical Garden
In 1959, Arnott Folsom had a vision to create a family destination where thousands of children and adults could interact with nature. With a donation from himself and his wife, as well as the help from community leaders, Lincoln Children's Zoo was founded. Larry Enersen worked closely with Arnott to create a zoo that ditched the oft-used concept of a "storybook land" and instead designed a place with walking paths, nature courtyards, and opportunities for anyone and everyone to contribute. They believed in order for children to have an understanding of nature, they needed to first recognize and appreciate the relationships that exist between animals, plants, air, water, and humans.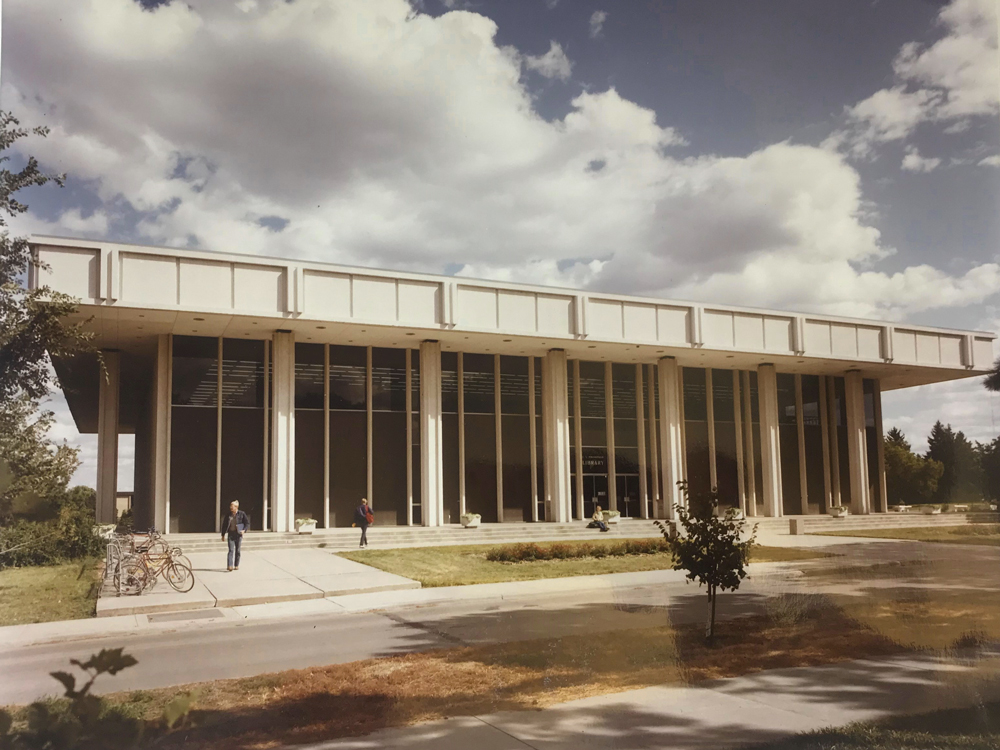 1966: C.Y. Thompson Library
In 1961, the Board of Regents at the University of Nebraska-Lincoln hired Clark & Enersen to design a new library on the agricultural campus. Chief designer Albert Hamersky developed a free-standing library building that would be described as "a modern representation of a classic Greek temple." Three stories arranged around a central atrium provided over 50,000 square feet of space for a projected 265,000 volumes. Exterior walls were topped by 13-foot eaves and acted as a dominant design element. Walls were primarily steel and glass, allowing library patrons to view the "lush, peaceful setting of the campus."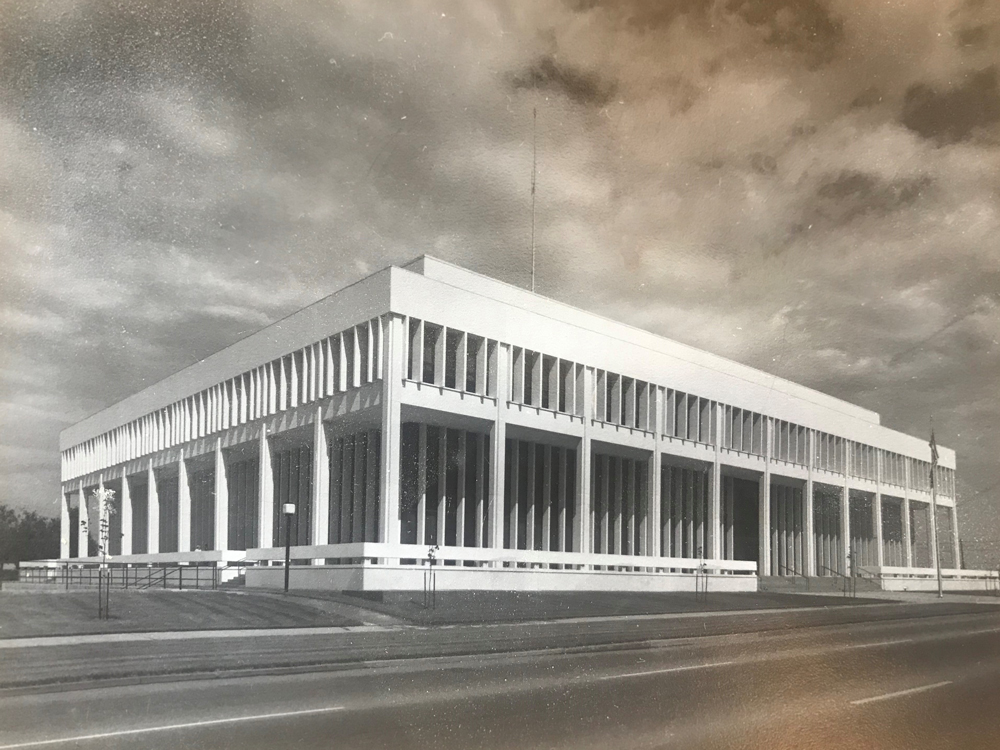 1967: City-County Building
In the mid-1960s, the firm was hired to design a new County-City Building that would replace the existing jail and Lancaster County Courthouse that were built in the late 1800s. The building brought multiple agencies together under one roof, including the courthouse, jail, and the Lancaster County Sheriff's Office.
The project was unique in that Clark & Enersen was hired by the city to complete the design for their side of the building, while another firm was hired by the county to design their side. The building was laid out so that if the city and the county ever parted ways, a partition could be constructed to create two buildings separated by a wall.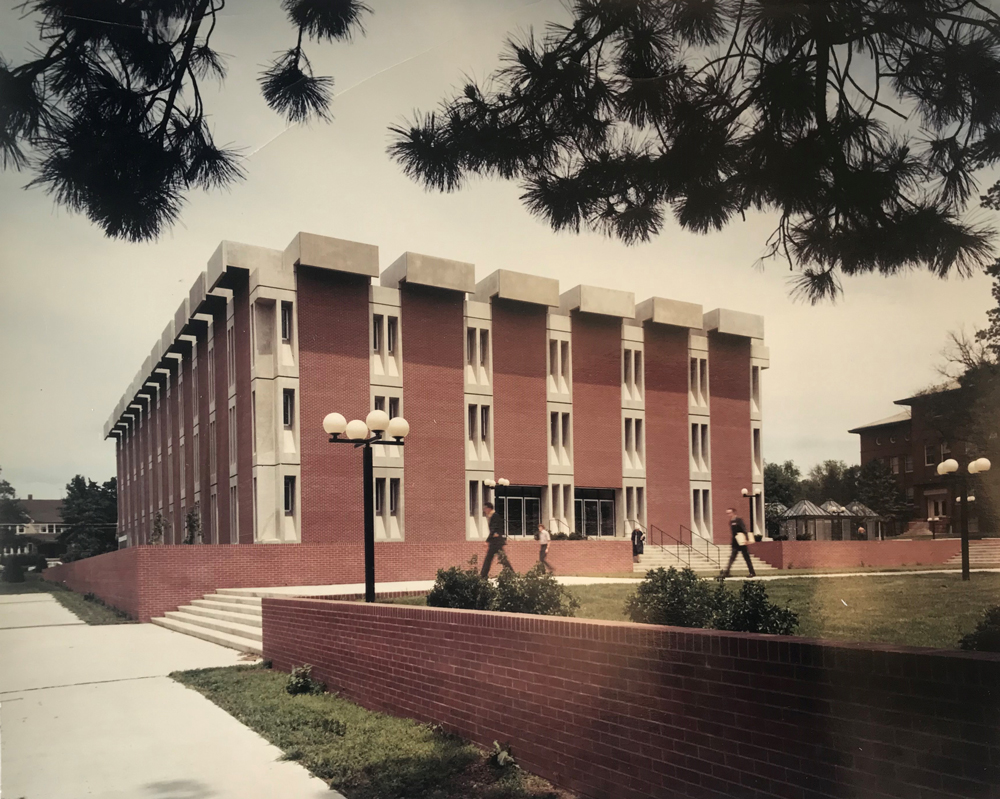 1969: Olin Hall of Science
The Olin Hall of Science on the Nebraska Wesleyan University campus was a state-of-the-art facility that was completed with no change orders, something that would be nearly impossible even with today's advanced tools. The window units, which became load bearing, were prefabricated. This innovative idea freed up the brick shafts of the building, allowing them to be used as chimneys for the science laboratories. The structure became a mechanical, electrical, and architectural expression of the building.
Clark & Enersen put its name on the map with the completion of the new Hastings High School and auditorium, proving the firm was more than capable of successfully completing large, full-scale projects.
"Getting the Hastings project established us immediately as being capable of doing major work, and resulted in a substantial number of school and college commissions," Clark said. "In the late 1950s, at one time in one day, we had 31 school projects in the office in various stages of development and construction!"
The firm's education projects in the 1950s took them to every corner of Nebraska, from the Sandhills to the bluffs of the Missouri River. Clark & Enersen completed PK-12 or college projects in the communities of Alliance, Bridgeport, Broken Bow, Chadron, Gordon, Harvard, Lexington, Norfolk, Oshkosh, Peru, and Scottsbluff. In Lincoln, the firm's reputation in education design helped them win projects for Lincoln Public Schools and the University of Nebraska-Lincoln.
"New schools were needed everywhere in the post-World Word II era and more than 250 separate school projects were designed by the firm across the state in the late 1940s and 1950s." Clark said.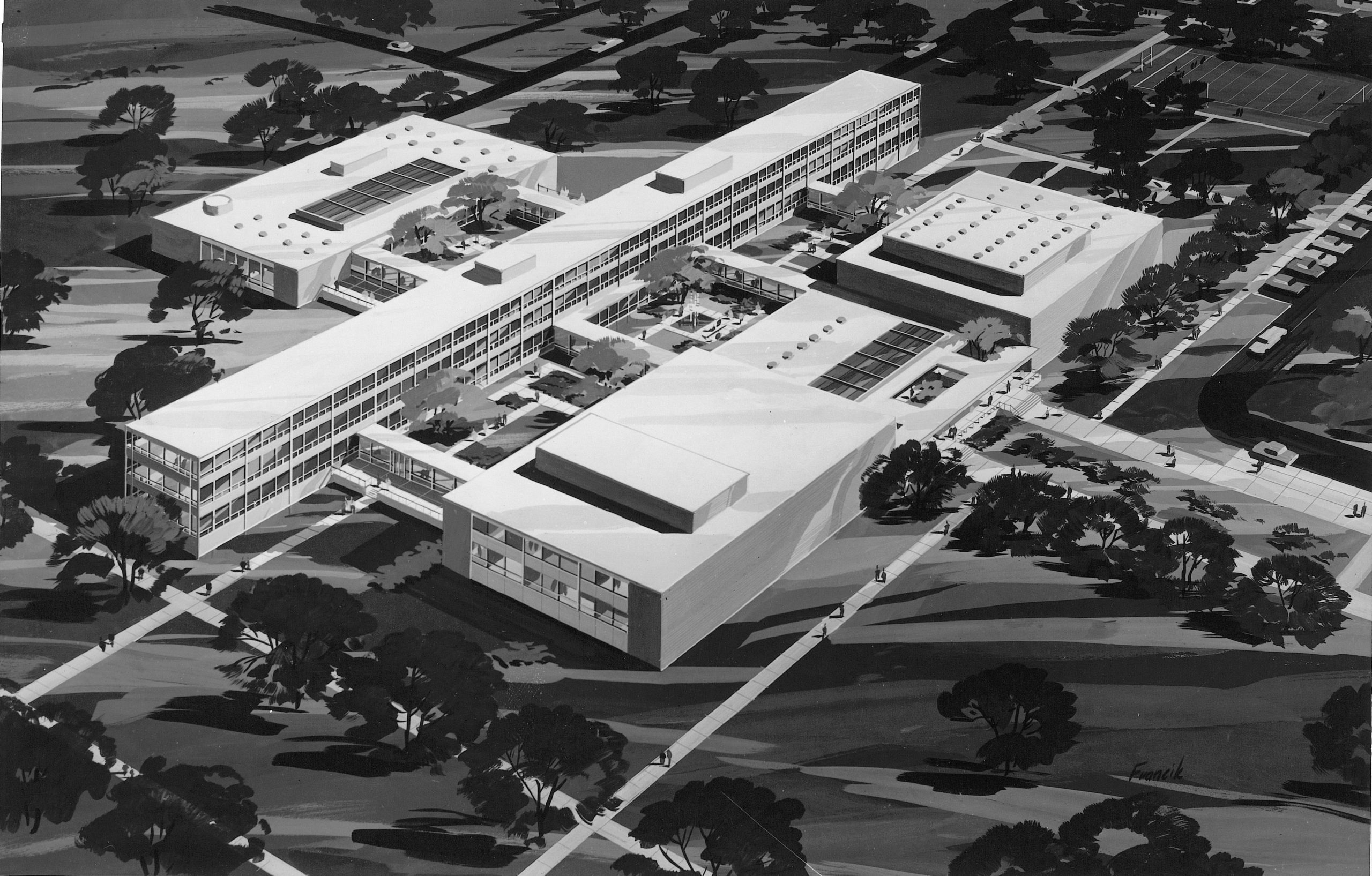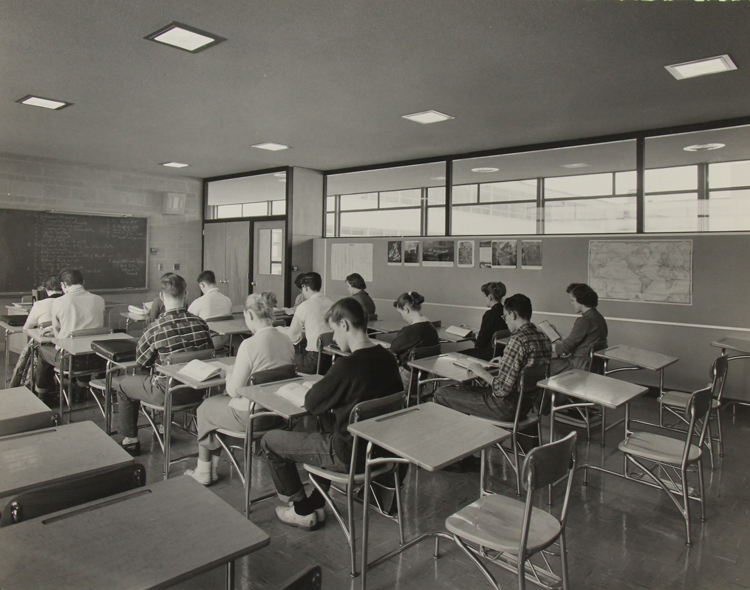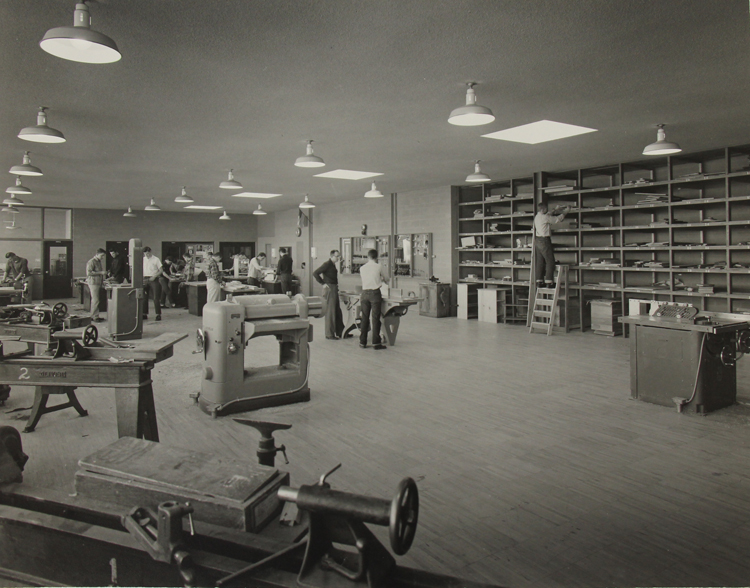 As our school portfolio continued to grow in the early 1950s, business truly picked up when Clark and Enersen were awarded a $2 million dollar project for a new high school in Hastings, Nebraska.
The project included 25 classrooms, science/laboratory classrooms, physical education and athletic facilities, an auditorium, industrial arts shops, a kitchen, cafeteria, administrative offices, and a host of other functional-type rooms. The campus's 800-seat gymnasium was the home court for legendary Husker Football coach Tom Osborne and his high school basketball teammates, who promptly won the 1954 Class A state championship.
The high school's design incorporated an ample amount of windows and glass, introducing an early energy-saving innovation in the form of natural day-lighting that took into consideration heat gain and heat loss.
"The engineering consultant suggested that he could reduce the size of the boiler by half if we would put in insulated glass," said Clark, adding that they approved the idea. "That was one of the first times anyone paid attention to energy conservation in design, as energy in those days was relatively inexpensive and seemingly in abundant supply."
The auditorium building was connected to the principal wing by an enclosed bridge and an underground tunnel. Even without an acoustical consultant, the auditorium achieved excellent acoustics, so much so that the facility received enthusiastic praise from the Dallas Symphony, Harry Belafonte, and several other performers.
The son of Czech immigrants, Albert Hamersky was born in 1924. He began his college education at the University of Nebraska-Lincoln (UNL) but left during World War II when he was called into service in March 1943 and assigned to the U.S. Army Corps of Engineers in the Pacific. In this role, he prepared maps and surveys for the construction of beach installations during and after invasions of the islands of New Guinea, New Britain, the Philippines, and Japan. The maps are stored at the Library of Congress in Washington, D.C.
When he returned from the war, Hamersky finished his bachelor's at UNL and pursued his master's through an MIT program that crossed over with Harvard. After graduation, he accepted a design position with Chicago firm Skidmore, Owings & Merrill.
In 1952, Clark convinced him to return to Nebraska and he was hired as the head of the firm's design department. He brought with him 'Post World War II Architecture' of the highest quality to the Midwest and served as one of the primary forces behind the introduction and implementation of the 'Modern Movement' of architecture in Nebraska.
Hamersky spent the next 40 years with the firm, serving as president from 1977-89 and chairing the board from 1989-92. Some of his most notable work includes the C.Y. Thompson Library on UNL's East Campus and the St. Elizabeth Community Health Center. In 2010, he was awarded the Harry F. Cunningham Gold Medal for Architectural Excellence in the State of Nebraska. The Gold Medal is the highest honor that AIA Nebraska can bestow and is awarded in recognition of the most distinguished achievement in architecture or service to the profession of architecture in the State of Nebraska.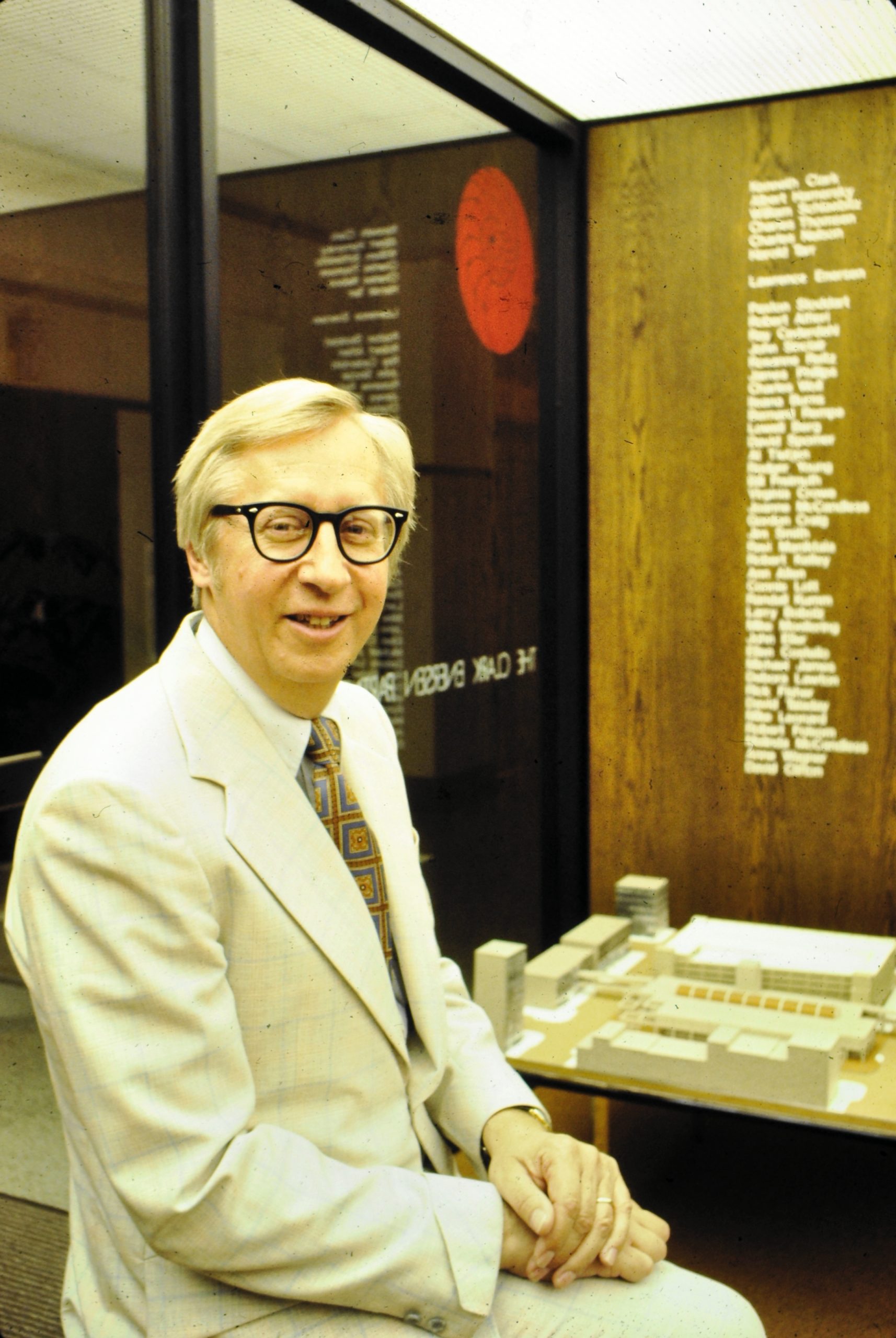 Although Clark & Enersen's first project was considered a success, it didn't lead to an immediate boom for the firm.
"We were young and naive enough not to realize that one project was 'not a going firm to make,'" Clark said. "Although we had some residential projects, including largely the making of open porches into enclosed dens or libraries, the recession of 1947 resulted in our clients being extremely slow in paying our fees."
Needing guaranteed income, Enersen moved to Raleigh, North Carolina, in 1948 after accepting a teaching position at the University of North Carolina. However, each summer between his teaching obligations, Enersen and his family would drive more than 1,200 miles to Lincoln, rent a house, and help Clark, who remained in Nebraska year-round and kept their practice going.
It wasn't until 1952 that Enersen and his family moved back to Lincoln for good after the firm landed its first multimillion-dollar project.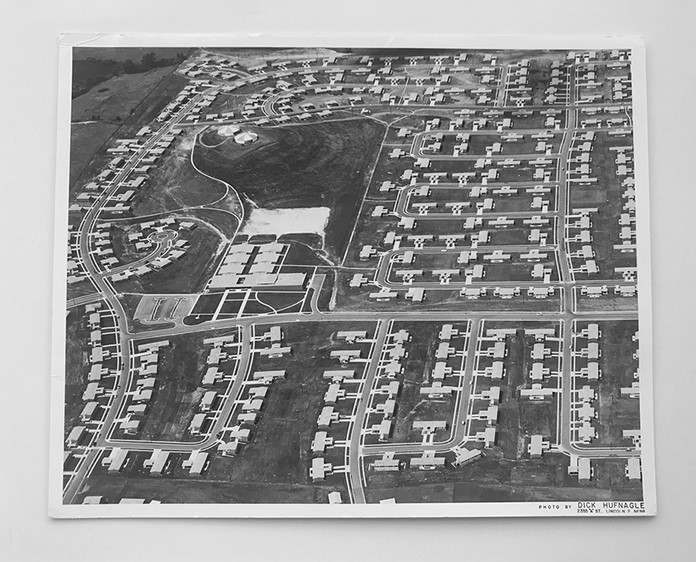 Following World War II, the Lincoln Air Force Base (LAFB) faced a housing crisis. The Lincoln Jet Scoop newspaper said "Lincoln realtors often ran ads to help those (enlisted men) find housing in the city. Of course, the commute was long and the temporary nature of airmen and officers meant that long term purchased housing was much less attractive than rental properties."
In order for the LAFB to be a proper, permanent base, it needed closer housing that could be managed by the Air Force. In the early 1950s, a 400-unit development was designed by Lincoln architect Selmer Solheim to help meet the growing demand.
These homes were filled instantly and the need for on-base housing remained. Clark and Enersen were then hired to design another 600 units, establishing a 1,000-unit housing area for the base. The houses were made up of eight basic designs, each with a red-brick exterior and either carports or garages. Most of the homes were duplexes, but a small number of 4-plex units were also included. The connected pedestrian walkways throughout the development reflected Enersen's special interest in landscape design.
Work on the project not only helped keep the firm afloat in the early years, it also led to additional projects. Following its completion, architects from Skidmore, Owings & Merrill asked Clark and Enersen to work with them on a 1,000-home project for the Air Force Academy in Colorado.
Kenneth Clark and Lawrence Enersen's journeys to Harvard University were similar, both were born and raised in the Midwest, received their undergraduate degrees at in-state schools, and attended the Ivy League's most prestigious school.
Enersen, five years Clark's senior, studied landscape architecture in Harvard's School of Design and graduated with his master's in 1935. During his graduate study, he worked part time in the office of Frederick Law Olmsted Sr., widely regarded as the founder of American landscape architecture and known for designing the grounds of New York City's Central Park and the U.S. Capitol in Washington, D.C.
Upon graduation, Enersen was awarded the Charles Eliot Traveling Fellowship in Landscape Architecture—the highest honor Harvard's landscape architecture program bestows on its graduates—and embarked on a 10-month tour of Europe. The study-travel stint took him throughout the continent, from the Mediterranean to Scandinavia to England.
The two first met through Harvard and, according to files obtained from the Nebraska Board of Engineers and Architects—first collaborated when Clark the student worked with Enersen the teacher via his private practice 1939-40. After graduating from Harvard, Clark returned to Nebraska and resumed designing for Davis & Wilson. In just a few short years, he got the itch to open his own practice.
The timing could not have been better. Enersen, back from his naval service and looking for work in December 1945, couldn't resume teaching since the academic year was in full swing. That worked in Clark's favor—with an upcoming housing project in hand, he convinced his friend to move to Nebraska from Wellesley, Massachusetts, and strike up a partnership.
"In late 1945, I was with Davis and Wilson and was given full and complete responsibility for part of a floor of the Stuart Building, which was to be devoted to a radio broadcast station," Clark recalled in Issue No. 1 of The Clark Enersen Partners' 50 Years of Design (1996). "When the project was completed, my employer was invited to attend the celebration dinner, and I was not. I asked myself then, if I was going to do the work why didn't I also get the credit? More than anything else, that incident probably convinced me to try it on my own."
As Ken Clark set out on his own, he was asked to help plan a dozen small houses in Lincoln, Nebraska. This project, which became known as the Lindale Subdivision, was the firms first job and was used by Clark as a way to persuade Larry Enersen to leave Wellesley, Massachusetts and join him in Lincoln.
Located next to a small city park, a shopping center, and the planned Lefler Middle School, prices for the 1,550-square-foot homes were set between $9,500 and $11,000. The homes were based on three floor plans that featured modern, open layouts with basements and garages. Each plan could be rotated to place principal rooms on the east and south making it possible to obtain privacy on the lots that were 50 to 70 feet wide. Sales in the subdivision started slowly but gained momentum, with over 30 additional homes completed through the 1950s.
The subdivision was featured in several magazines, including American Home and Progressive Architecture, while the Inspiration House inside the subdivision was named the "House of the Year – 1948" by House Beautiful magazine.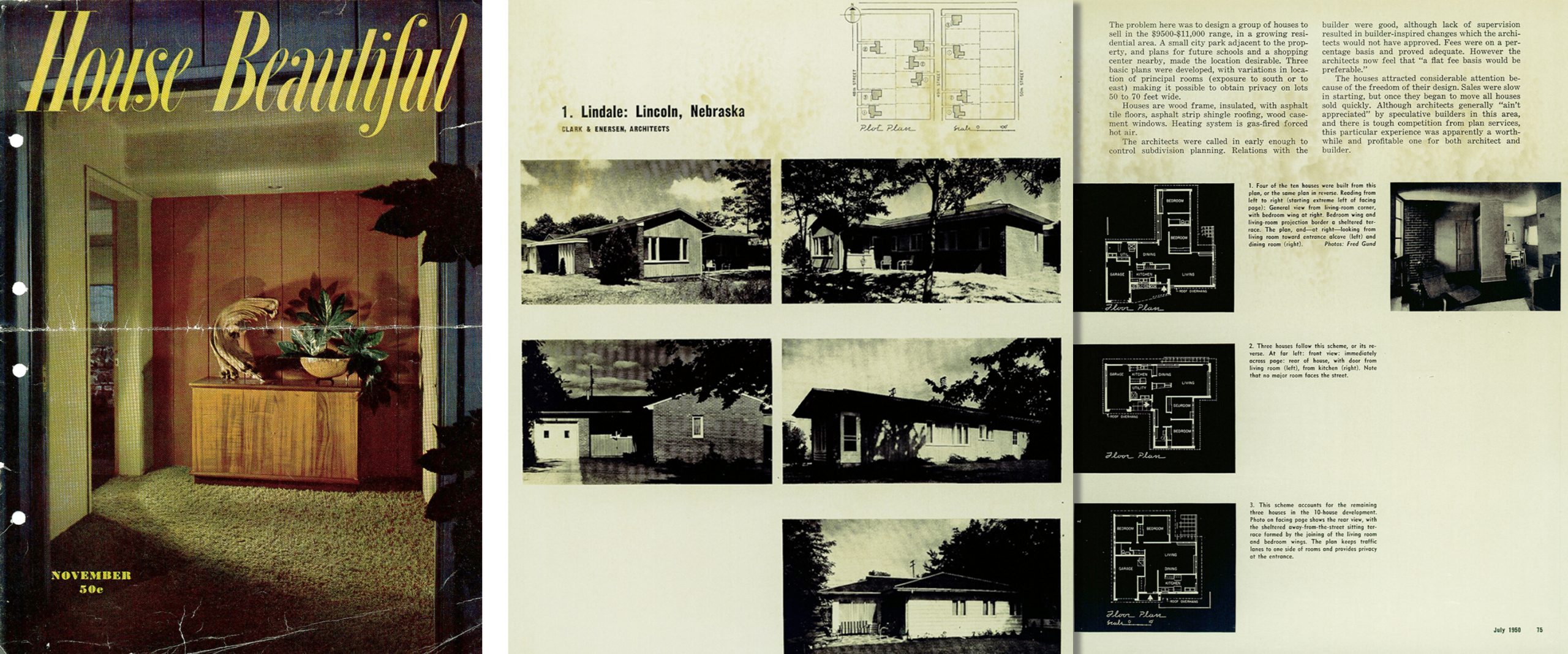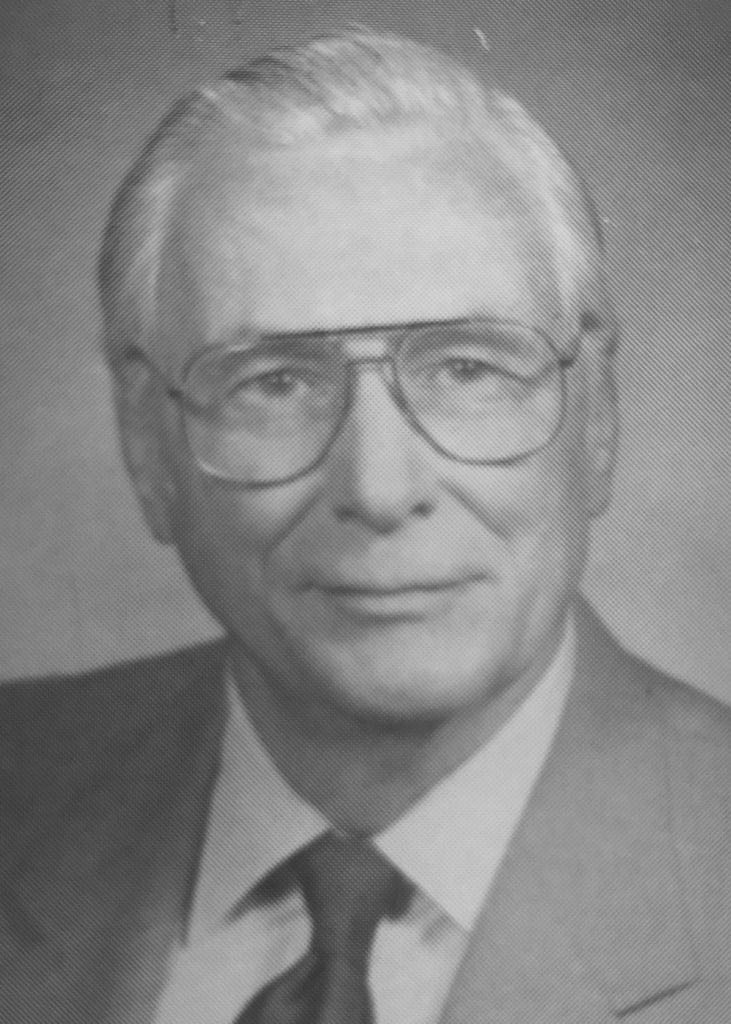 KENNETH BOWHAY CLARK (1914-91)
Founder, Architect
Ken Clark was born in the tiny village of Liberty, located 90 minutes south of Lincoln, NE. He completed his education in the Lincoln area, first attending Capitol School and then finishing his education in Havelock, Nebraska.
Clark enrolled at the University of Nebraska-Lincoln (UNL) in 1932. By chance, he sat with three architecture students in his freshmen year French class and was drawn to their books. The students invited him to meet the head of the architecture department, Harry Francis Cunningham. Known for his work on the construction of the Nebraska State Capitol, Cunningham established UNL's first school of architecture and became an AIA Fellow.
Just moments after meeting Cunningham, Clark changed majors: "He said, 'Can you draw?', and I said, 'Well, I'm not too bad at drawing, I guess.' He said, 'Let's find out,'" Clark recalled in Issue No. 1 of The Clark Enersen Partners' 50 Years of Design (1996). "When I got out of there I was registered for architecture."
Clark graduated with his bachelor's in architecture in 1936 but continued taking classes in UNL's College of Engineering through 1937. He then enrolled at Harvard in 1939. After graduating with his master's in architecture in 1941, Clark returned to Lincoln and worked with Davis & Wilson, serving as a draftsman from 1942-45 before becoming a registered architect in 1945-46.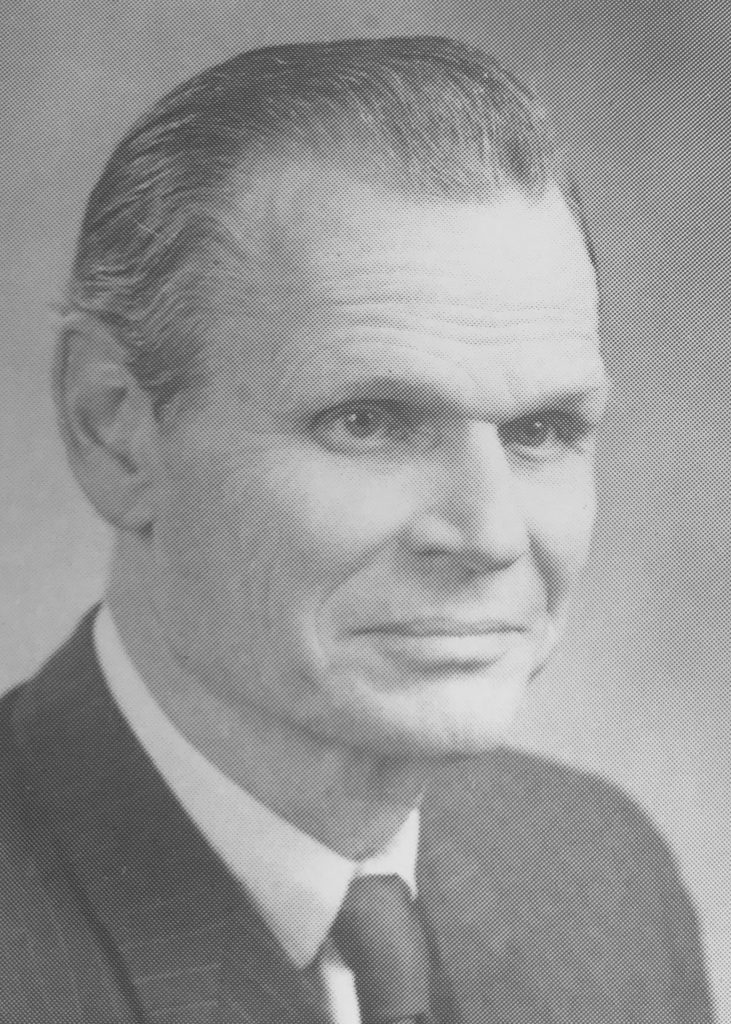 LAWRENCE ALBERT ENERSEN (1909-83)
Founder, Landscape Architect
Enersen was the grandson of Norwegian immigrants, who, after the end of the U.S. Civil War, moved from Oslo, Norway, to southern Minnesota. His father was a lawyer, and eventually a judge, while his mother worked in the community. In a 1993 interview with the University of California, Berkley's Bancroft Library, Enersen's older brother Burnham recounted childhood family trips every summer, taken to ease their father's allergies: Isle Royale on Lake Superior, Yellowstone National Park, Pikes Peak, and a road trip down the West Coast from Seattle to San Francisco.
Enersen attended Carleton College, a private school in Northfield, Minnesota, before studying at Harvard from 1931-35. After graduating, Enersen participated in study-travel throughout Europe from 1936-37 and spent the rest of the 1930s working for various design groups in Massachusetts, New York, and Virginia. Enersen briefly returned to academia as an instructor at Harvard, during which time he met Clark, who was pursuing his master's. However, when the U.S. entered World War II, Enersen joined the U.S. Navy and served as an officer from 1942-45.