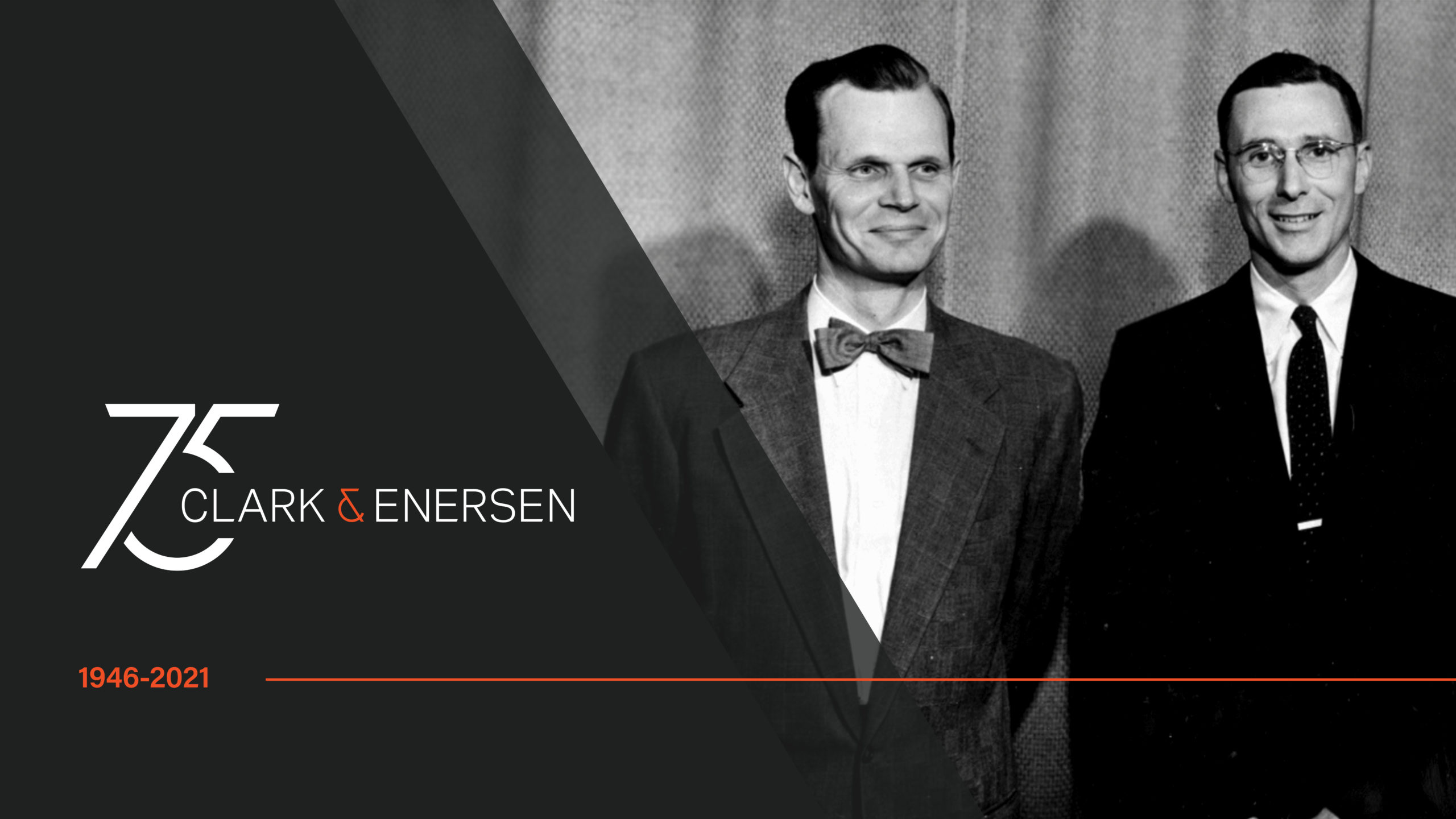 Clark & Enersen was established on February 1, 1946. Now, 75 years later, we have a lot to be thankful for and plenty to look forward to—which we plan to share with you throughout 2021.
Kenneth Clark and Lawrence Enersen's journeys to Harvard University were similar, both were born and raised in the Midwest, received their undergraduate degrees at in-state schools, and attended the Ivy League's most prestigious school.
Enersen, five years Clark's senior, studied landscape architecture in Harvard's School of Design and graduated with his master's in 1935. During his graduate study, he worked part time in the office of Frederick Law Olmsted Sr., widely regarded as the founder of American landscape architecture and known for designing the grounds of New York City's Central Park and the U.S. Capitol in Washington, D.C.
Upon graduation, Enersen was awarded the Charles Eliot Traveling Fellowship in Landscape Architecture—the highest honor Harvard's landscape architecture program bestows on its graduates—and embarked on a 10-month tour of Europe. The study-travel stint took him throughout the continent, from the Mediterranean to Scandinavia to England.
The two first met through Harvard and, according to files obtained from the Nebraska Board of Engineers and Architects—first collaborated when Clark the student worked with Enersen the teacher via his private practice 1939-40. After graduating from Harvard, Clark returned to Nebraska and resumed designing for Davis & Wilson. In just a few short years, he got the itch to open his own practice.
The timing could not have been better. Enersen, back from his naval service and looking for work in December 1945, couldn't resume teaching since the academic year was in full swing. That worked in Clark's favor—with an upcoming housing project in hand, he convinced his friend to move to Nebraska from Wellesley, Massachusetts, and strike up a partnership.
"In late 1945, I was with Davis and Wilson and was given full and complete responsibility for part of a floor of the Stuart Building, which was to be devoted to a radio broadcast station," Clark recalled in Issue No. 1 of The Clark Enersen Partners' 50 Years of Design (1996). "When the project was completed, my employer was invited to attend the celebration dinner, and I was not. I asked myself then, if I was going to do the work why didn't I also get the credit? More than anything else, that incident probably convinced me to try it on my own."
As Ken Clark set out on his own, he was asked to help plan a dozen small houses in Lincoln, Nebraska. This project, which became known as the Lindale Subdivision, was the firms first job and was used by Clark as a way to persuade Larry Enersen to leave Wellesley, Massachusetts and join him in Lincoln.
Located next to a small city park, a shopping center, and the planned Lefler Middle School, prices for the 1,550-square-foot homes were set between $9,500 and $11,000. The homes were based on three floor plans that featured modern, open layouts with basements and garages. Each plan could be rotated to place principal rooms on the east and south making it possible to obtain privacy on the lots that were 50 to 70 feet wide. Sales in the subdivision started slowly but gained momentum, with over 30 additional homes completed through the 1950s.
The subdivision was featured in several magazines, including American Home and Progressive Architecture, while the Inspiration House inside the subdivision was named the "House of the Year – 1948" by House Beautiful magazine.