Kendra Kottmeyer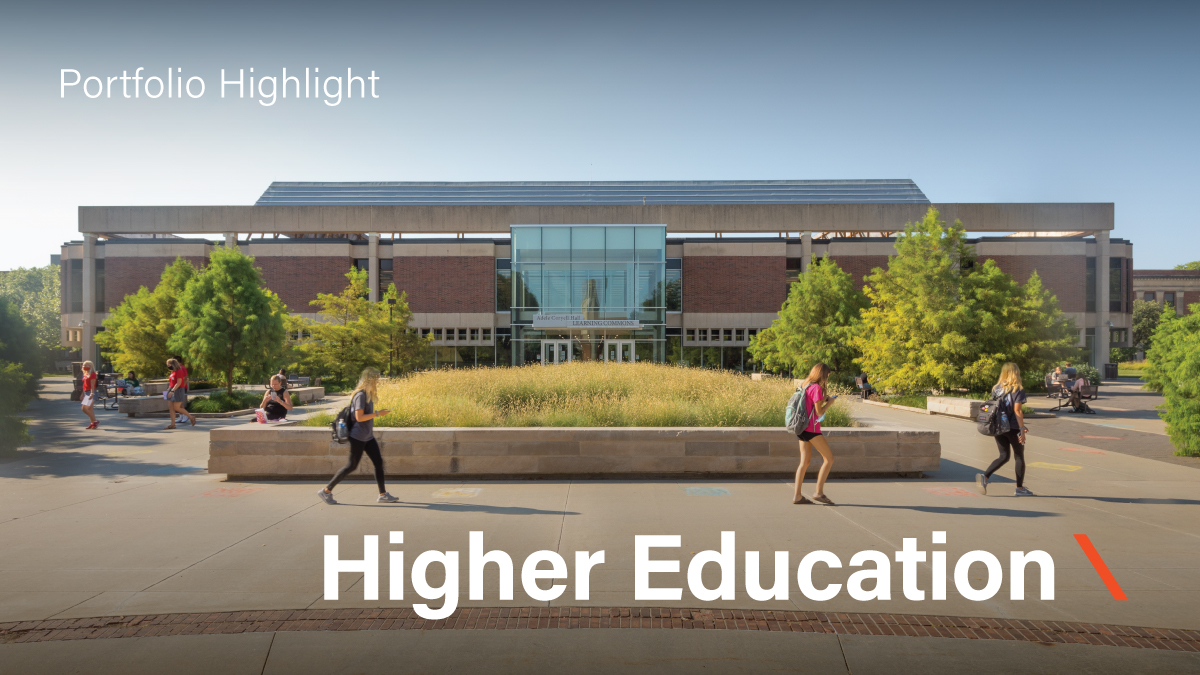 Portfolio Highlight: Higher Education
For this month's portfolio highlight, we are focusing on higher education and sharing about some of the meaningful and impactful projects our firm has completed. Please check in over the next few months as we cover Civic, Sports and Recreation, PK-12, Science and Technology, Housing, Government, and Planning.
Clark & Enersen has a dedicated team of talented professional who specialize in higher education projects and believe thoughtful design should reflect the vision of each institution while also meeting goals determined by administrators, faculty, and students. This team has contributed to over $3 billion worth of higher education teaching and learning environments for 46 universities and colleges in 15 states over the past decade.
Our firm has a 76-year history of successfully completing higher education projects for universities, community colleges, and technical/trade schools across the country. Our experience ranges from traditional classrooms and residence halls to experiential learning classrooms, state-of-the-art research laboratories, and athletic facilities. Regardless of scope, our team collaborates closely with clients to create design solutions that meet long-term needs.
Our team is passionate about education, and although we bring a wealth of experience, we approach each project with an open mind, as our philosophy is to work closely with clients to design facilities that are tailored and stand the test of time.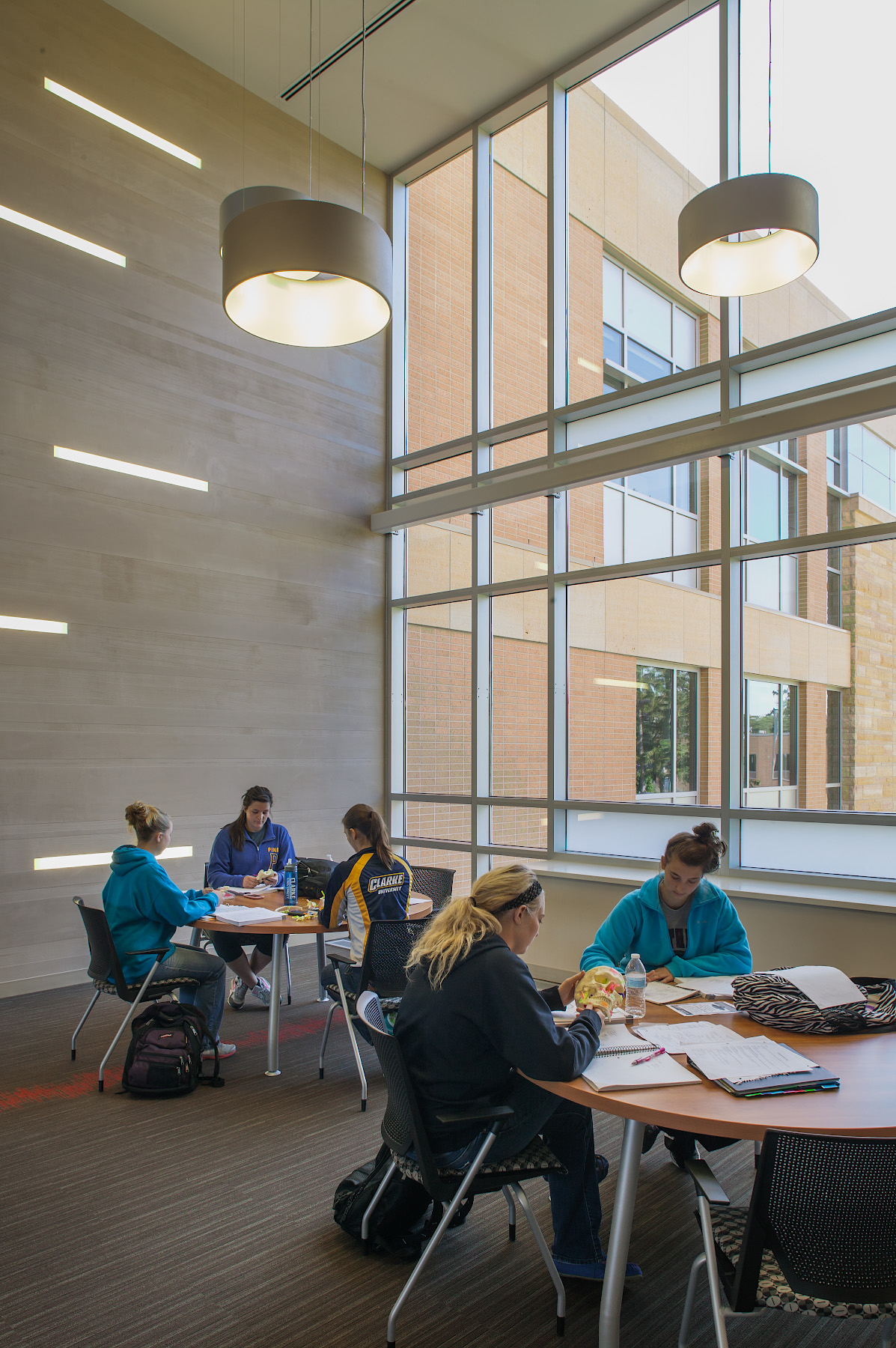 Higher Education Spaces
Athletic Competition and Training Venues
Bridges
Campus Gateways and Entryways
Chapels
Courtyards, Plazas, and Green Spaces
Culinary Education Facilities
Dining Halls
Experiential Learning Spaces
Fine Arts Studios
General Academia Classrooms
Lecture Halls
Libraries
Residence Halls
Science and Research Laboratories
Student Unions
Theaters and Auditoriums
Walking Paths
Small-Scale Projects Ensure Facility Longevity
Clark & Enersen operates on the philosophy that each project we design, regardless of size or scope, deserves the same level of care and attention. Whether it is a small HVAC renovation to improve heating and cooling or building a new College of Engineering facility, our talented in-house professionals strive for design excellence because every project has the power to make a difference in people's lives.
This philosophy shines through more especially when fulfilling on-call contracts. Our firm has completed more than 500 projects as part of open-ended professional services agreements with colleges and universities, state governments, municipalities, and other clients. Projects have ranged from feasibility studies, master plans, and facility assessments to renovation design for roof repairs, life safety upgrades, ADA improvements, code compliance, and new construction, among numerous other projects. These endeavors have not only helped to update, repair, and maintain important campus spaces and environments, but they have also led to the firm being awarded back-to-back on-call contracts as well as larger-scale projects.
Higher Education On-Call Clients
Colorado State University
Fort Hays State University
Johnson County Community College
Kansas State University
Metro Community College-Kansas City
Southeast Community College
University of Arkansas for Medical Sciences
University of Central Missouri
University of Colorado Boulder
University of Kansas System
University of Missouri System
University of Nebraska System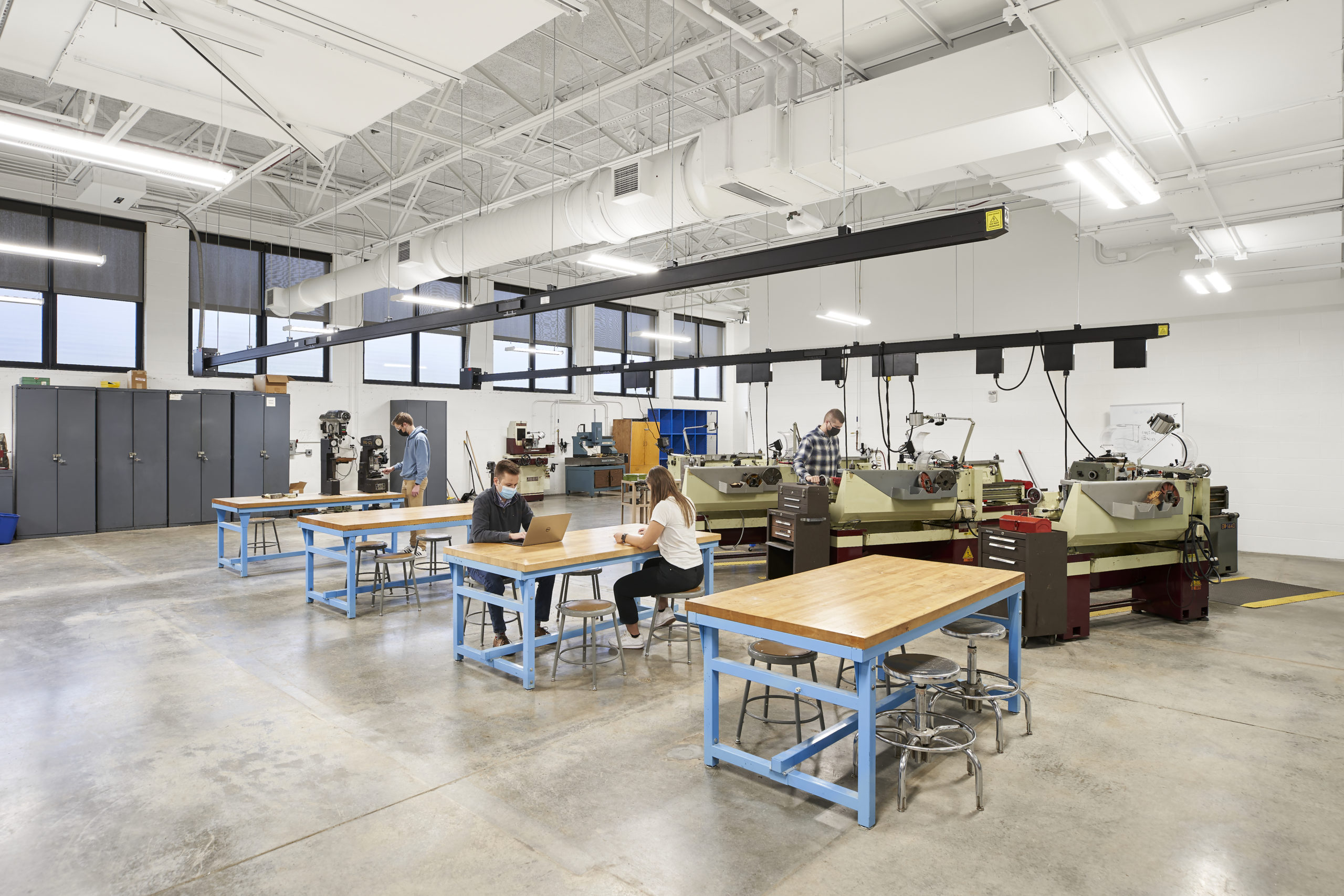 "From an engineering perspective, projects that are part of higher education on-call contracts are important for ensuring that campus facilities are running as effectively and efficiently as possible," says Principal and Electrical Engineer Brent Adams, PE. "With electrical engineering, for example, we look at features that improve functionality and comfort, such as power distribution and lighting, but we also work on critical fire and life safety systems. This really allows you to become familiar with a school's infrastructure and make sure all of these systems are working together to provide the safest and best possible experience for faculty, students, and other users."
Reaching Consensus
Every project requires some level of coordination between various stakeholders, but for some higher education projects, balancing the wants, needs, and ideas of each party involved can be particularly challenging. For example, aside from a traditional steering committee, a higher education project may involve any of the following stakeholders: facilities, maintenance, and IT staff; college or program deans, directors, and professors; student representatives; donors; and/or federal, state, and municipal government institutions and representatives.
Clark & Enersen doesn't shy away from this challenge, but rather embraces the complexity of stakeholder engagement utilizing a proven, highly-collaborative approach developed through decades of higher education design experience. Our firm has long emphasized the importance of regular, in-person meetings, but we also have the flexibility to host virtual meetings or use other technologies to facilitate stakeholder engagement. Our team creates conceptual designs, 3D models, and other design assets that can be viewed and adjusted in real-time to reflect ideas introduced during meetings. The goal is to provide a forum where anybody who will be impacted by a project will have the opportunity to share their thoughts and be actively involved in the design process.
Supporting a School's Mission
Each university or college has its own unique vision for what it hopes to achieve for its staff and students, and they also share universal goals such as faculty recruitment and retention or increasing student enrollment. Clark & Enersen is honored to have helped so many higher education institutions to achieve their goals through projects both large and small, and we look forward to continuing to collaborate with our clients for years to come.
To learn more about our proven approach to designing higher education spaces, please contact Tom McVey or Steve Miller, our directors of business development. Visit our dedicated Higher Education page to see examples of Clark & Enersen projects.
About Clark & Enersen: Clark & Enersen is a leading, full-service design firm serving clients across the nation from its offices in Lincoln and Omaha, Nebraska; Kansas City, Missouri; Fairway, Kansas; Fort Collins, Colorado; Portland, Oregon; and Charleston, South Carolina. Founded in 1946, they offer a comprehensive in-house team with design professionals in the primary disciplines of architecture, interior design, landscape architecture, planning, and mechanical, electrical, structural, and civil engineering, as well as experts in commissioning, community and stakeholder engagement, construction administration, digital experience design, energy modeling, grant assistance, laboratory planning, land development, and sustainable design.