Kendra Kottmeyer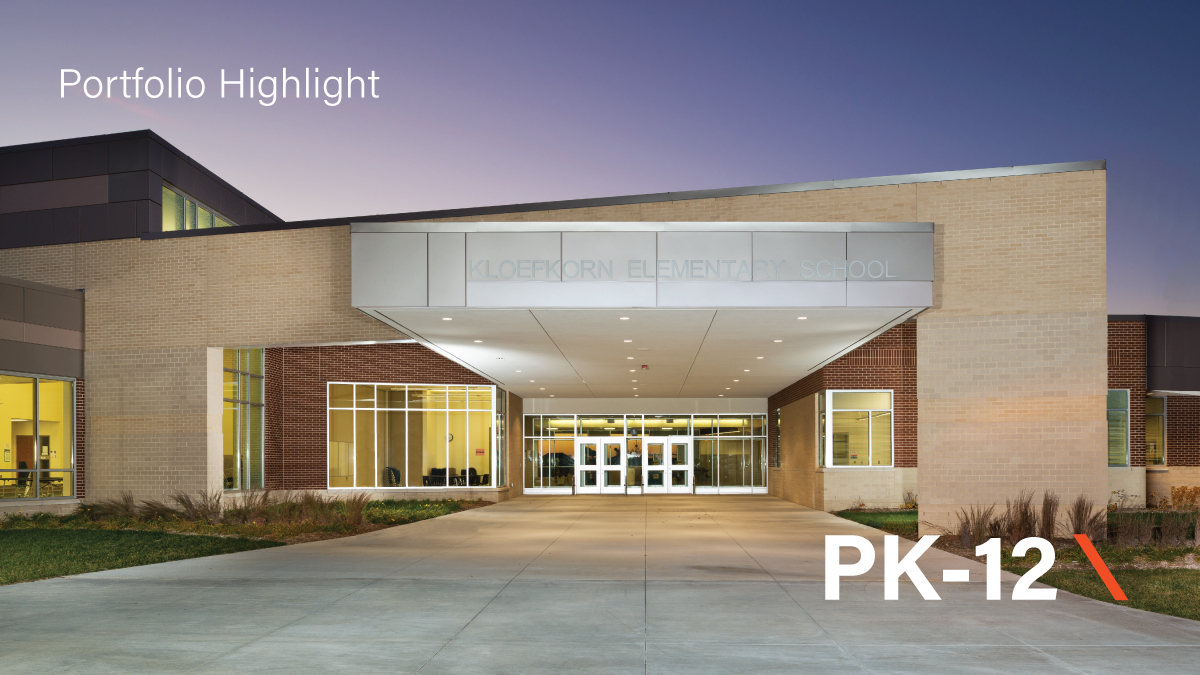 Portfolio Highlight: PK-12
As a new school year approaches, during the month of August we are focusing on PK-12 design and sharing about some of the meaningful and impactful projects our firm has completed. Please check in over the next few months as we highlight Science and Technology, Housing, Government, and Planning.
Improving education, and our communities, with better school design has been a focus of our firm since our founding in 1946. We have a dedicated team of professionals who specialize in PK-12 design. Members of this team are involved in industry-related organizations such as the Association for Learning Environments and regularly attend regional and national conferences to ensure they remain current in understanding the evolving needs of preferred teaching methods and learning styles, and how facility design can contribute to academic and athletic success.
We believe thoughtful design should reflect the goals of each school district and the community. In the past 12 years alone, we have completed more than 65 projects for 25 school districts, including over $450 million worth of new buildings, additions, and renovations for elementary, middle, and high schools. We attribute our success to our team's ability to innovate, collaborate, and provide quality design solutions.
With our expertise in the primary design services required for PK-12 schools, we bring a wealth of experience to every project, but also an open mind. Our philosophy is to work closely with clients to design facilities that meet their needs and stand the test of time. Schools inspire learning, growth, and discovery, and our team is passionate about improving environments to enhance teaching and learning.
Clark & Enersen has a long and successful history of completing PK-12 projects, and all of the education-based spaces we design place a strong emphasis on functionality as well as security. In addition to new builds, renovations, and additions, we also offer master planning and specialized pre-bond planning to win funding for projects. Regardless of scope, our team takes the same approach by working closely with clients to find design solutions that will meet their long-term needs.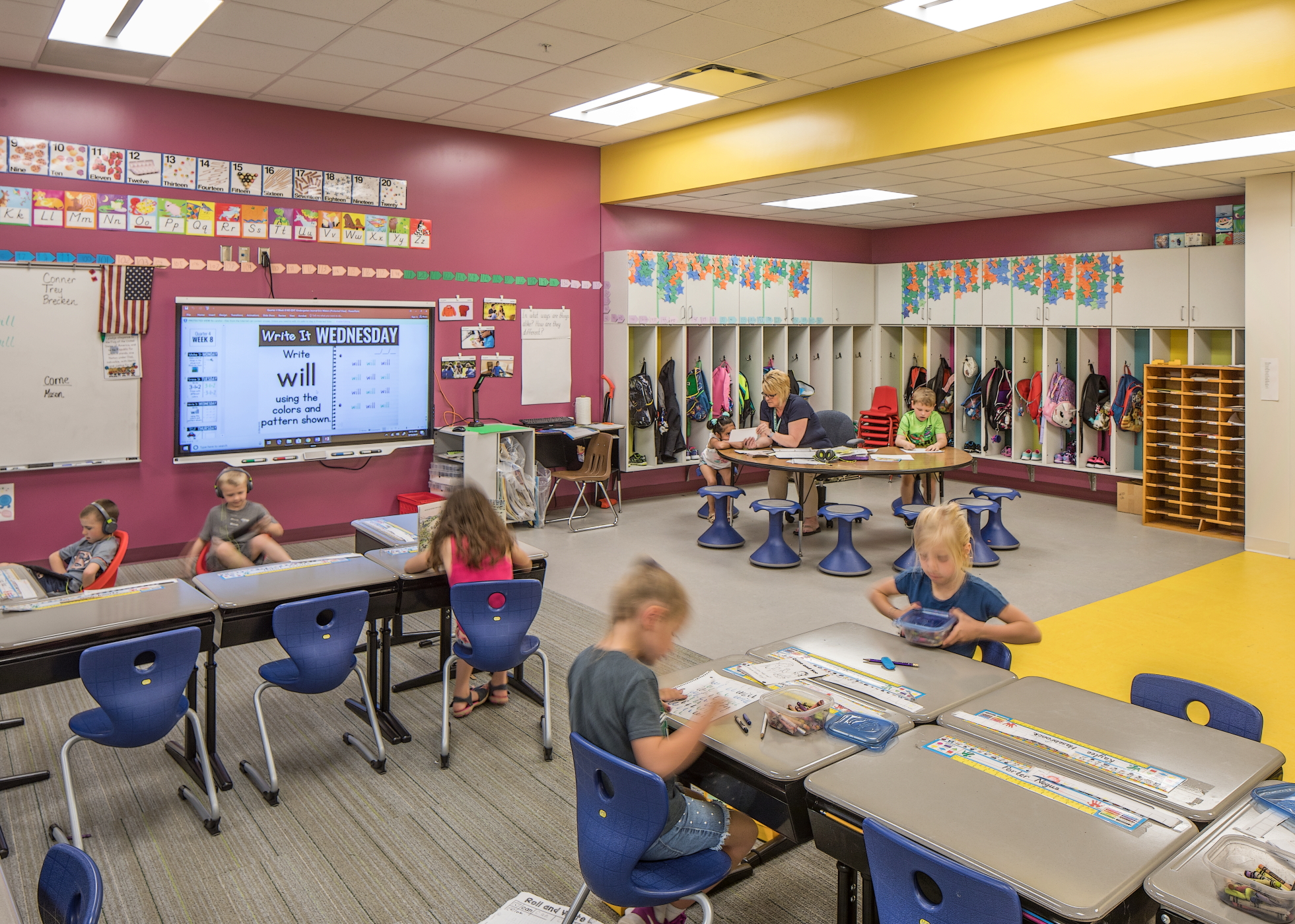 PK-12 Spaces
Secure Entrances
Classrooms
Innovative Learning Spaces
Libraries
Career and Technology Pathway Modules
Lobbies and Commons Areas
Performing Arts Theaters
Music Rooms
Fine Arts Classrooms
Industrial Arts Classrooms
Kitchens and Cafeterias
Administrative Offices
Teacher Breakrooms
Gymnasiums
Locker Rooms
Weight Rooms
Athletic Facilities
Playgrounds and Courtyards
Preparing for a Bond Campaign
Securing funding for school projects requires careful planning and crafting a message that will resonate with voters in the community. Our architects, interior designers, engineers, landscape architects, and community engagements specialists are highly skilled at helping clients create narratives that not only explain why a renovation, addition, or new build is necessary, but also how it will impact and benefit the community. We are also able to create conceptual designs and floor plans, provide graphic design services, and offer in-person guidance for how to run a successful bond campaign.
"It truly takes a grassroots effort with support from district administration, teachers, parents, and other key stakeholders," says Steve Miller, AICP, director of business development and community engagement specialist at Clark & Enersen. "We can provide our knowledge and lessons learned, but, ultimately, our role is to give the school district or bond campaign committee the tools and resources required to secure enough 'Yes' votes on election day to fund these critical projects."
Master Planning
In addition to programming and design, our specialized PK-12 team also has extensive experience in providing master planning services that help outline the future for school districts of varying sizes. We begin by meeting with the steering committee to understand the scope of the project. We then conduct existing facilities assessments, site analysis, and future needs analysis before developing a space program and completing the final master plan. This highly-interactive process is designed to ensure that the mission and values of the school or district are always kept at the forefront of decision making.
"The master planning process is an opportunity for schools and districts to look at where they are now and where they hope to be in the next two decades or more," says Tim Ripp, AIA, LEED AP, who has led the vast majority of Clark & Enersen's school work since 2003. "We employ a collaborative approach to design that ensures the needs and wants of each user is addressed while also providing our clients with options. Once consensus is achieved and the master plan is finalized, our clients have a roadmap with specific projects identified for the future."
To learn more about our proven approach to designing PK-12 facilities and environments, please contact Tom McVey or Steve Miller, our directors of business development. Visit our dedicated PK-12 Education page to see examples of Clark & Enersen projects.
About Clark & Enersen: Clark & Enersen is a leading, full-service design firm serving clients across the nation from its offices in Lincoln and Omaha, Nebraska; Kansas City, Missouri; Fairway, Kansas; Fort Collins, Colorado; Portland, Oregon; and Charleston, South Carolina. Founded in 1946, they offer a comprehensive in-house team with design professionals in the primary disciplines of architecture, interior design, landscape architecture, planning, and mechanical, electrical, structural, and civil engineering, as well as experts in commissioning, community and stakeholder engagement, construction administration, digital experience design, energy modeling, grant assistance, laboratory planning, land development, and sustainable design.