Kendra Kottmeyer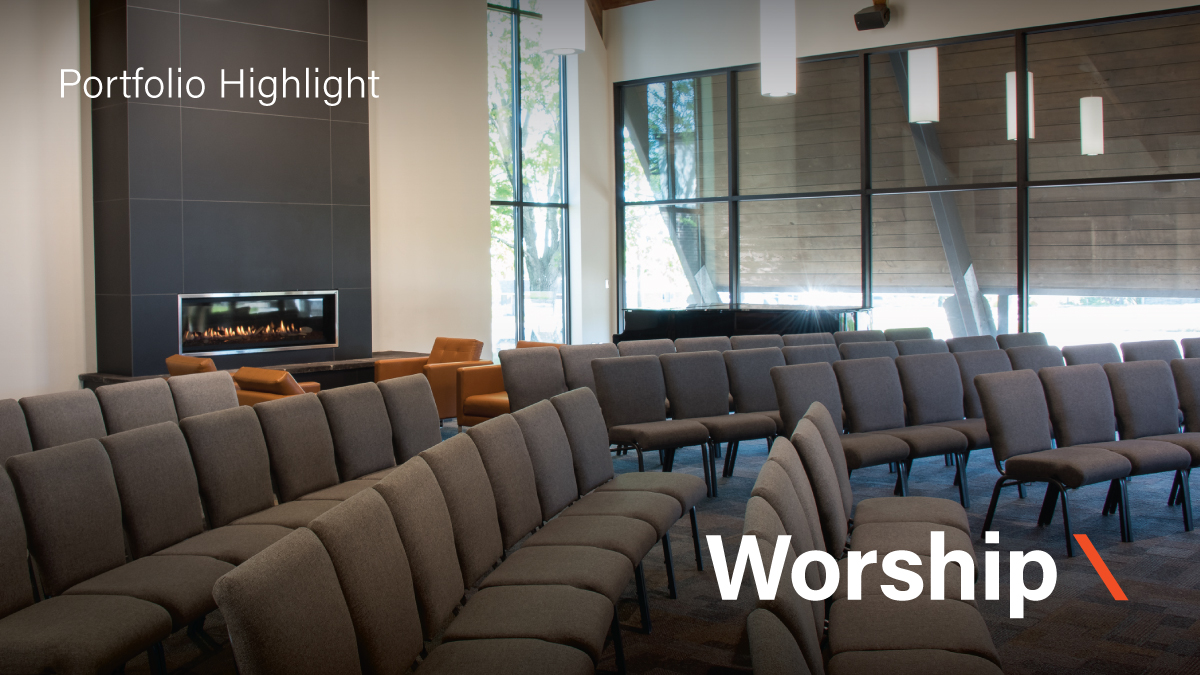 Portfolio Highlight: Worship
For this month's portfolio highlight, we are focusing on Worship and sharing about the meaningful and impactful projects our firm has completed. Please check in over the next few months as we cover Higher Education, Civic, Sports and Recreation, PK-12, Science and Technology, Housing, Government, and Planning.
Modern-day churches are not simply buildings with multi-functional spaces. They are places where people are inspired, ministries flourish, and communities grow. They foster worship and create a sense of belonging for members of the church and visitors alike. Churches with schools are also where children's core values are shaped and teachers help start them on a path toward an enriching and rewarding future.
Our firm has a long and successful history of completing churches and other similar facilities for clients of all denominations. These endeavors have ranged from studies and small renovations to large additions and new builds. Although each project is unique, the overarching goal remains the same: to design flexible spaces that meets the needs of church members but can also accommodate future growth.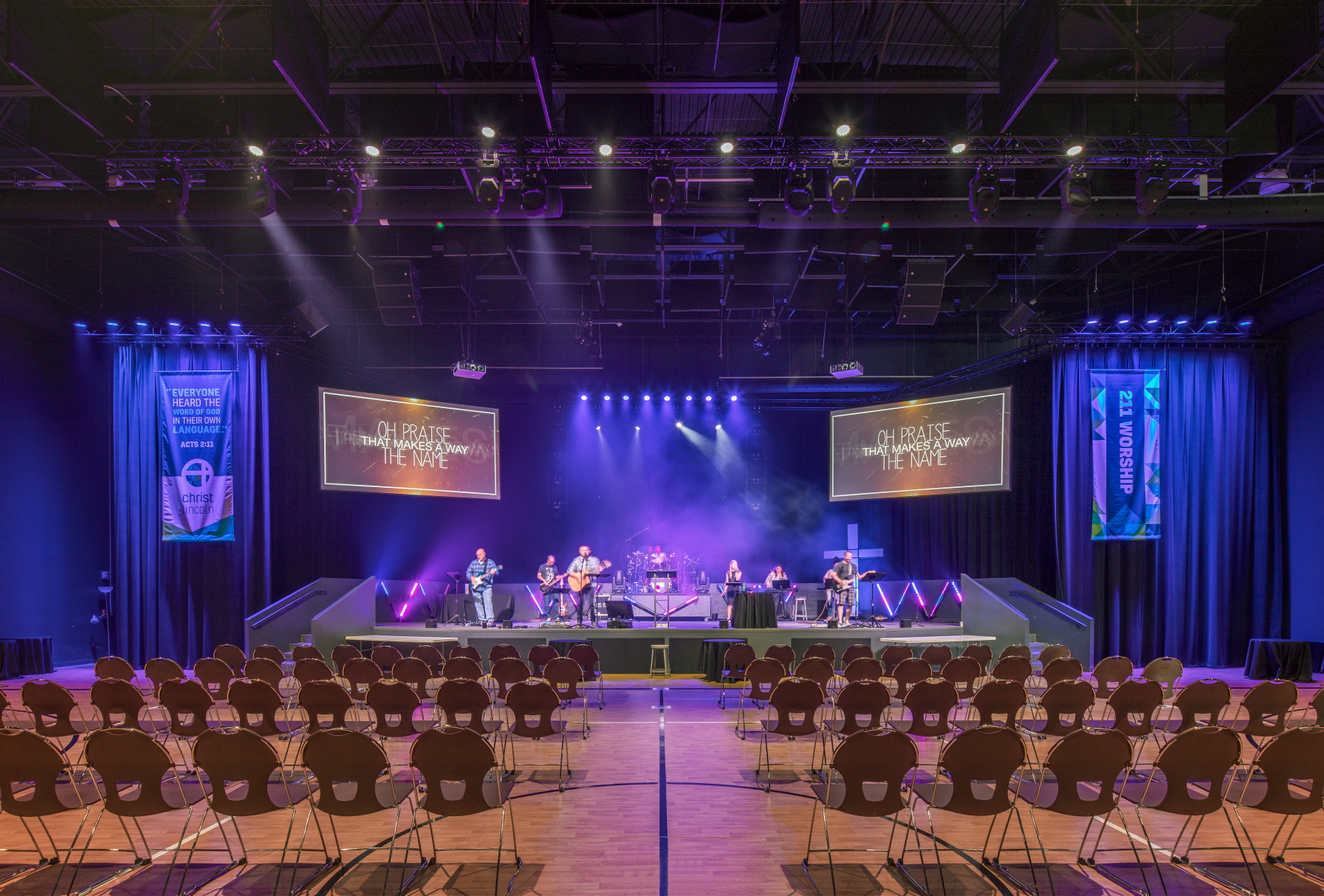 Worship Spaces
Sanctuaries
Worship Centers
Choir Lofts
Vestibules
Naves
Vestries
Narthexes
Confession Rooms
Administrative Areas
Kitchens
Offices
Classrooms
Gymnasiums
Fellowship Halls
Community Gathering Spaces
Courtyards
Playgrounds
Working Together to Realize a Vision
Our dedicated worship-focused design team approaches each project with the same open process that first and foremost takes into consideration the unique mission and vision of the client. We foster a mindful approach, paying special attention to budget, philosophical and doctrinal beliefs, needs, preferences, and heritage. This involves meeting with church leaders and members to gain a deeper understanding of what is working currently, what could be improved, and what the church ultimately hopes to achieve with the project.
Our architects, interior designers, landscape architects, and engineers are well-versed in guiding these conversations and helping all parties involved reach a consensus. We often develop several potential design options and provide conceptual drawings, models, and other materials that allow stakeholders to truly visualize these spaces well before the construction process begins. This not only helps to create a full-formed vision for the project, but can also lead to reduced costs and change orders later in the project.
Creating Places for All to Gather Together
By virtue of our in-house capabilities, we are able to also ensure cohesiveness between indoor and outdoor spaces. This not only includes incorporating courtyards, green spaces, or playgrounds, but providing safe and efficient circulation for pedestrians and vehicles. We emphasize proper wayfinding in our designs, which helps to usher members and visitors to a parking space, up to the building, and into the church pew in a way that feels seamless and natural. This allows the focus of the churchgoer experience to be on worship and fellowship.
Additionally, because worship-focused facilities are meant to be welcoming for all, access is a key consideration when designing these spaces. This means ensuring ramps, doorways, entryways, railings, spacing, and other elements are ADA-compliant. Whether it is a renovation, addition, or new build, finding opportunities to improve access will provide a safe and welcoming environment for people of all ages and abilities.
"Designing churches is challenging, because you need to find a balance between traditional elements and modern amenities, all while making sure the facility is up to code and accessible," said Architect Travis Barrett, AIA, NCARB, an associate at Clark & Enersen who specializes in designing worship-focused facilities. "At the same time, there is this opportunity to remove the barriers to worship and place the central focus on the churchgoing experience. It's very rewarding to work through the visioning process, develop a design, and then see these spaces filled with people and truly serving their purpose."
To learn more about our proven approach to designing worship-focused spaces, please contact Tom McVey or Steve Miller, our directors of business development. Visit our dedicated Worship page to see examples of Clark & Enersen projects.
About Clark & Enersen: Clark & Enersen is a leading, full-service design firm serving clients across the nation from its offices in Lincoln and Omaha, Nebraska; Kansas City, Missouri; Fairway, Kansas; Fort Collins, Colorado; Portland, Oregon; and Charleston, South Carolina. Founded in 1946, they offer a comprehensive in-house team with design professionals in the primary disciplines of architecture, interior design, landscape architecture, planning, and mechanical, electrical, structural, and civil engineering as well as experts in commissioning, community and stakeholder engagement, construction administration, digital experience design, energy modeling, grant assistance, laboratory planning, land development, and sustainable design.