Kendra Kottmeyer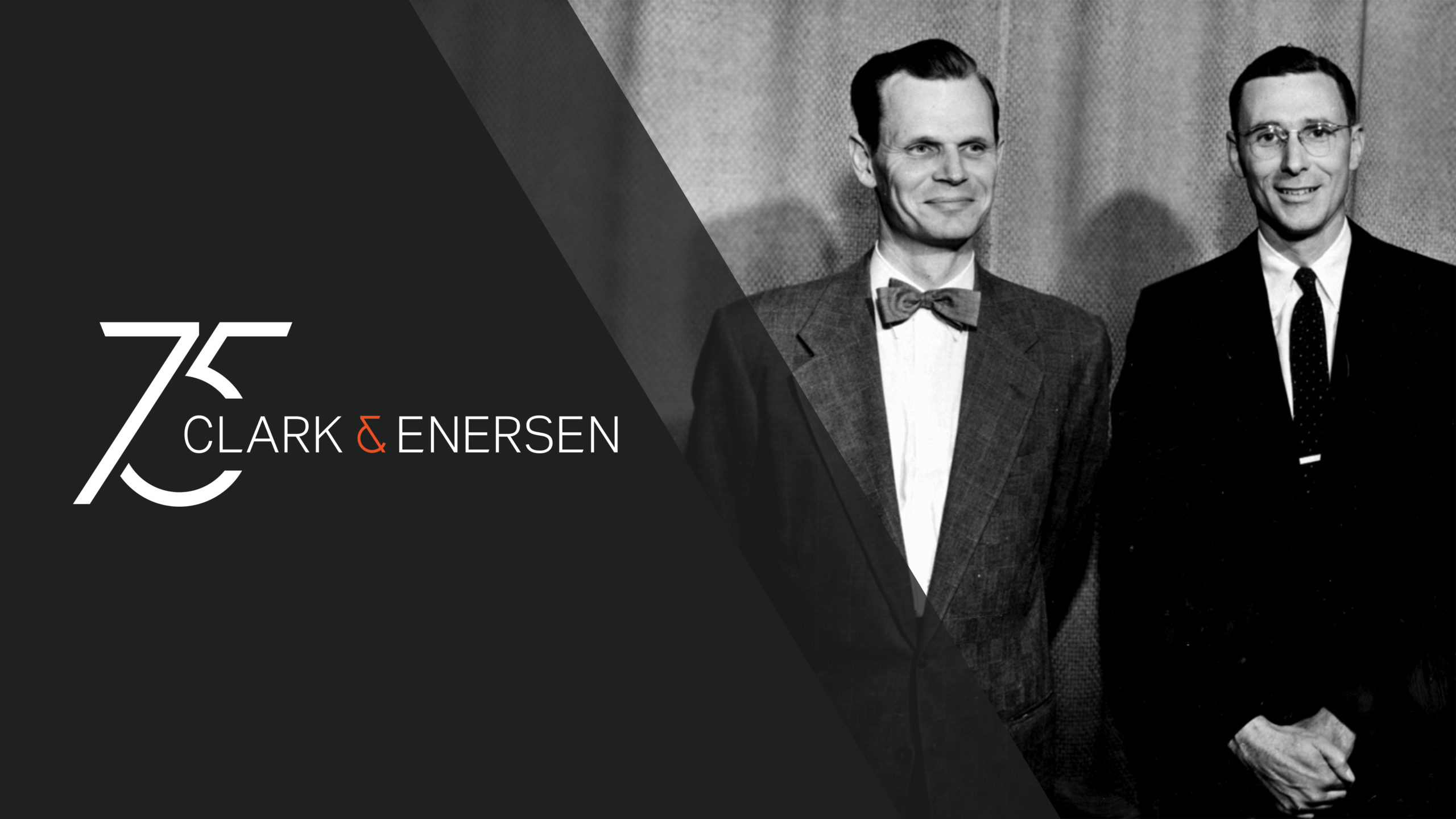 Celebrating Our 75th Anniversary
In honor of reaching this major milestone, we'll be sharing the inside story of our history with the public this year.
After recently unveiling our new brand and restoring the firm's original name, we're planning to share our history throughout the year in honor of 75 years in business. Through our revamped website and social media channels, the public can learn about the firm behind some of the area's best design projects and the talented people who helped create them.
On Feb. 1, 1946, two Harvard graduates—Architect Kenneth B. Clark, FAIA, and Landscape Architect Lawrence A. Enersen, FAIA, FASLA—established their partnership in Lincoln, Nebraska. Seventy-five years later, what began as a firm bringing together architecture and landscape architecture has grown into one of the region's most accomplished design firms with a continued focus on elevating design for our clients across the nation.
"Our focus has always been on elevating our clients and enhancing the communities they serve," said Senior Principal Jeff Chadwick, AIA, NCARB, vice president of the firm and an architect. "Whether it's designing a facility that fulfills a client's vision or creating a space that improves the quality of life for those it serves, we design with impact in mind."
Our firm has grown steadily over the years. Clark & Enersen had exclusively worked from its Nebraska offices before opening its first out-of-state location in 1999 in Kansas City, Missouri. After successfully branching out and working on high-profile projects across the Midwest, the firm expanded again, opening an office on the Front Range of the Rocky Mountains in Fort Collins, Colorado, in 2018. The firm also has smaller satellite locations in the Kansas City metro (Fairway, Kansas) and on the West Coast (Portland, Oregon).
Nebraska
For the entirety of our history, Clark & Enersen has had a presence in Nebraska—we were established in Lincoln and, in the 1990s, briefly had an office in Kearney. We're proud to have designed some of the most iconic projects in the state.
Our firm has left a major mark in Lincoln including the North and East Stadium Expansions at the University of Nebraska-Lincoln's Memorial Stadium, Assurity Center, Centennial Mall, the Sunken Gardens, Antelope Valley Union Plaza Park, multiple facilities on Nebraska Innovation Campus, several buildings on the historic Lincoln Mall, and streetscape improvements for the West Haymarket/Arena area and P Street Retail Corridor.
"Lincoln has been touched by this firm, in so many ways," said Senior Principal Dennis Scheer, ASLA, retired chairman of the board and landscape architect. "We've designed projects for 75 years here—it's an amazing thing to look around the city and state and see how we have made a positive impact in so many different communities."
In Omaha, we were instrumental in the design of the University of Nebraska Medical Center's new Davis Global Center for Advanced Interprofessional Learning, Farm Credit Service of America's corporate campus, the master plan for Tranquility Park, and UBT's newest corporate office.
Across Nebraska, we've worked for virtually all of the state's colleges and universities and designed libraries and K-12 schools in several communities.
Kansas City Metro, Kansas, and Missouri
Since 1999, Clark & Enersen has designed many high-profile civic, government, science and technology, and higher education spaces in the Kansas City metro, Kansas, and Missouri.
"When we opened our Kansas City office, we were hopeful it would be a catalyst for our firm," said Senior Principal Greg Lattig, AIA, president of the firm and an architect and laboratory planner. "Now, as we celebrate 75 years as a firm and over 20 in Kansas City, we are so grateful for all of the relationships we've forged in the area and our clients' visions we've brought to life."
Our civic and government work in the area includes community centers and multiple projects for the Johnson County Library; the current renovation and addition at the Harry S. Truman Presidential Library and Museum in Independence; and diverse municipal service facility types for the cities of Merriam, Olathe, Overland Park, Prairie Village, and Shawnee.
Clark & Enersen was instrumental in the design of critical science and technology facilities including the Environmental Protection Agency's Region 7 Science and Technology Center (the first EPA lab to achieve LEED Gold Certification) in Kansas City, Kansas; the University of Missouri's National Swine Resource and Research Center in Columbia, Missouri; and the State of Missouri's Public Health Laboratory in Jefferson City, Missouri.
Across both Kansas and Missouri, the firm has worked for many of the states' colleges and universities including the Missouri University of Science & Technology, University of Missouri, University of Missouri-Kansas City, University of Kansas, University of Kansas Medical Center, Kansas State University, and Johnson County Community College.
"Our firm is committed to improving the quality of life for communities through design," said Senior Principal Rick Wise, AIA, NCARB, LEED AP, director of architecture and construction administration for Clark & Enersen's Kansas City office. "Between our work for government agencies, civic spaces, and higher education institutions, we are proud of the impact we have made. We have a talented team focused on helping our clients realize their vision."
Colorado
Building off of our success and growth in the Midwest, our firm opened a new office in Fort Collins, Colorado, in 2018.
Since opening our Colorado office, we have concentrated our efforts on civic, government, higher education, K-12 school, and science and technology projects. Clark & Enersen has worked with Colorado State University on several high-profile facilities, including the C. Wayne McIlwraith Translational Medicine Institute, Johnson Family Equine Hospital, Vida: A One Health Building on the Spur Campus at the National Western Center, Temple Grandin Equine Center, and the facilities assessment and master plan for the College of Engineering. The firm has also been working with the University of Colorado Boulder, including several projects for its College of Arts and Sciences. We're continuing to grow through civic projects with the City of Fort Collins Civic Center Master Plan Update and the High Plains Library District Kersey Branch Renovation.
"Fort Collins has been a great new home for Clark & Enersen, and we believe we're just getting started here," said Principal Phil Walter, PE, LEED AP, the leader of the firm's Colorado office and an architectural engineer. "Our team is thankful for the relationships and projects that brought us to the Front Range, and we're excited to see what the future holds."
National Impact
Together as one firm across five offices, we've become nationally recognized for our award-winning design projects. The Clark & Enersen Science & Technology team features a growing roster of experts dedicated to the programming, planning, and design of science and technology facilities. In 2020, we were ranked 15th nationally among architecture/engineering firms in Building Design + Construction's Giants 400 Report of the nation's best science and technology facility design groups.
"We have a strong depth of talent, diversity of expertise, and approach process that pays dividends for our clients," Principal James Beecher, PE, a board member and mechanical engineer. "As we move forward, I'm excited to see how we can keep making a difference."
The firm has continued to solidify itself as an established thought leader in sports and recreation, civic, government, library, K-12 school, higher education, and corporate facility planning and design.
"As our firm evolves, we hope our legacy continues through designing spaces that improve the places they serve," said Senior Principal T.J. Schirmer, PE, LEED AP, the firm's treasurer and director of engineering. "We want to design places that empower people, facilitate positive interactions, and impact communities through the spaces where citizens live, work, and play."
What's Next
Throughout the year, we'll be sharing historical and behind-the-scenes content from our last 75 years. Visit our history page and follow Clark & Enersen on Facebook, Instagram, and LinkedIn to follow along as we reveal our unique story.