Kendra Kottmeyer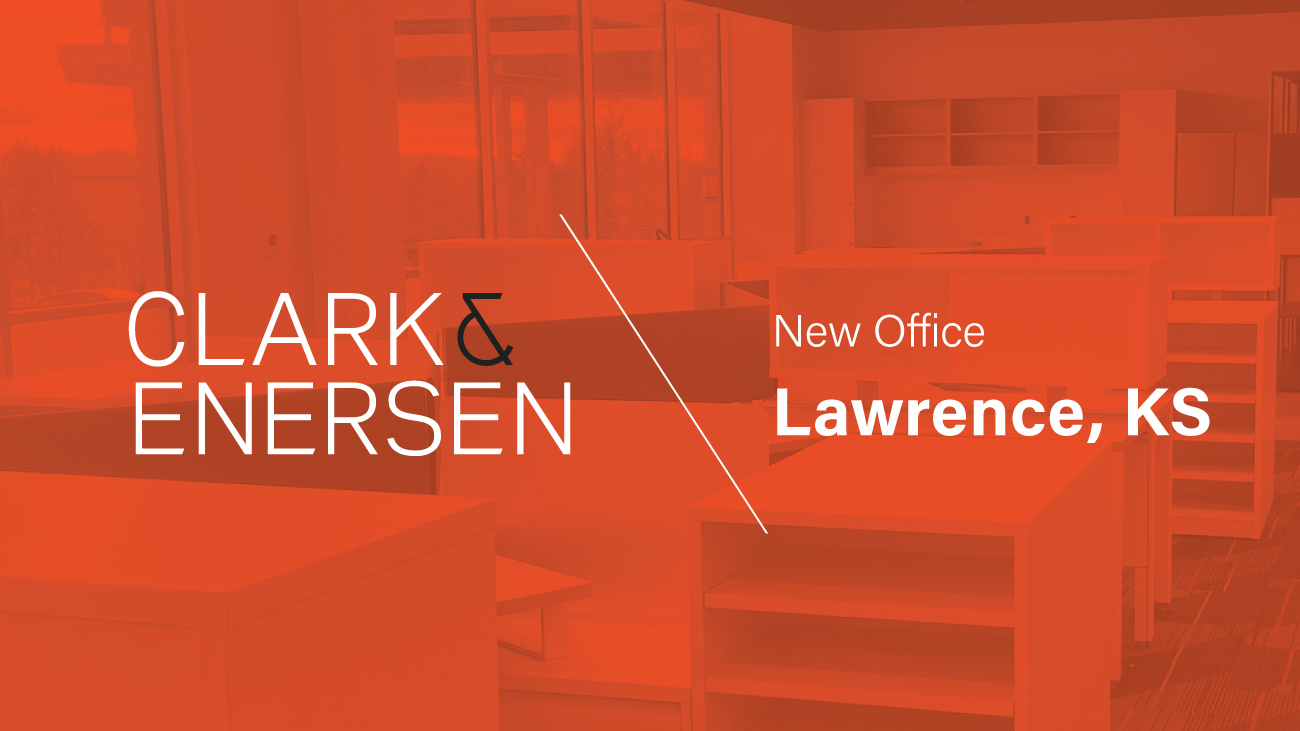 Clark & Enersen Opens New Office in Lawrence, Kansas
With continued growth and new clients throughout Kansas, Clark & Enersen has opened a new office at the University of Kansas Innovation Park.
We are proud to announce that we recently opened a new office in Lawrence, Kan. to respond to our growing client base in the state. The new office is located at the University of Kansas (KU) Innovation Park, which is directly adjacent and west of the KU main campus. It is home to a team of design professionals who reside in or near Lawrence and allows the firm to be closer to some of its largest clients, enabling quicker onsite response times.
"We are excited to open an office in Lawrence to better support our clients in Kansas," said Shawn Diederich, PE, LEED AP, WELL AP, who is a senior principal and serves as chairman of the board at Clark & Enersen. "Our firm has a long and successful history of design in the state, including work with KU, and we look forward to strengthening our connection with the community."
Our most recent work in the state of Kansas includes projects for the University of Kansas, Kansas State University, Johnson County, Johnson County Community College, and Kansas Department of Transportation, as well as the cities of Shawnee, Olathe, Merriam, and Prairie Village. Our diverse portfolio includes work for higher education, PK-12, science and technology, athletics and recreation, libraries, healthcare, corporate and commercial, and civic/government entities.
"Our new office location in Lawrence is ideal for our firm's current work and growth commitment in the state," said Jerome Ratzlaff, AIA, NCARB, who serves as an associate principal and architectural manager for the firm in the Lawrence office. "The KU Innovation Park is a new, growing area that we're excited to be a part of and we look forward to opportunities where we can collaborate with some of the most innovative companies in the state."
About Clark & Enersen: Clark & Enersen is a leading, full-service design firm serving clients across the nation from its offices in Lincoln and Omaha, Nebraska; Kansas City, Missouri; Lawrence, Kansas; Fort Collins, Colorado; Portland, Oregon; and Charleston, South Carolina. Founded in 1946, they offer a comprehensive in-house team with design professionals in the primary disciplines of architecture, interior design, landscape architecture, planning, and mechanical, electrical, structural, and civil engineering, as well as experts in commissioning, community and stakeholder engagement, construction administration, digital experience design, energy modeling, grant assistance, laboratory planning, land development, and sustainable design.