Kendra Kottmeyer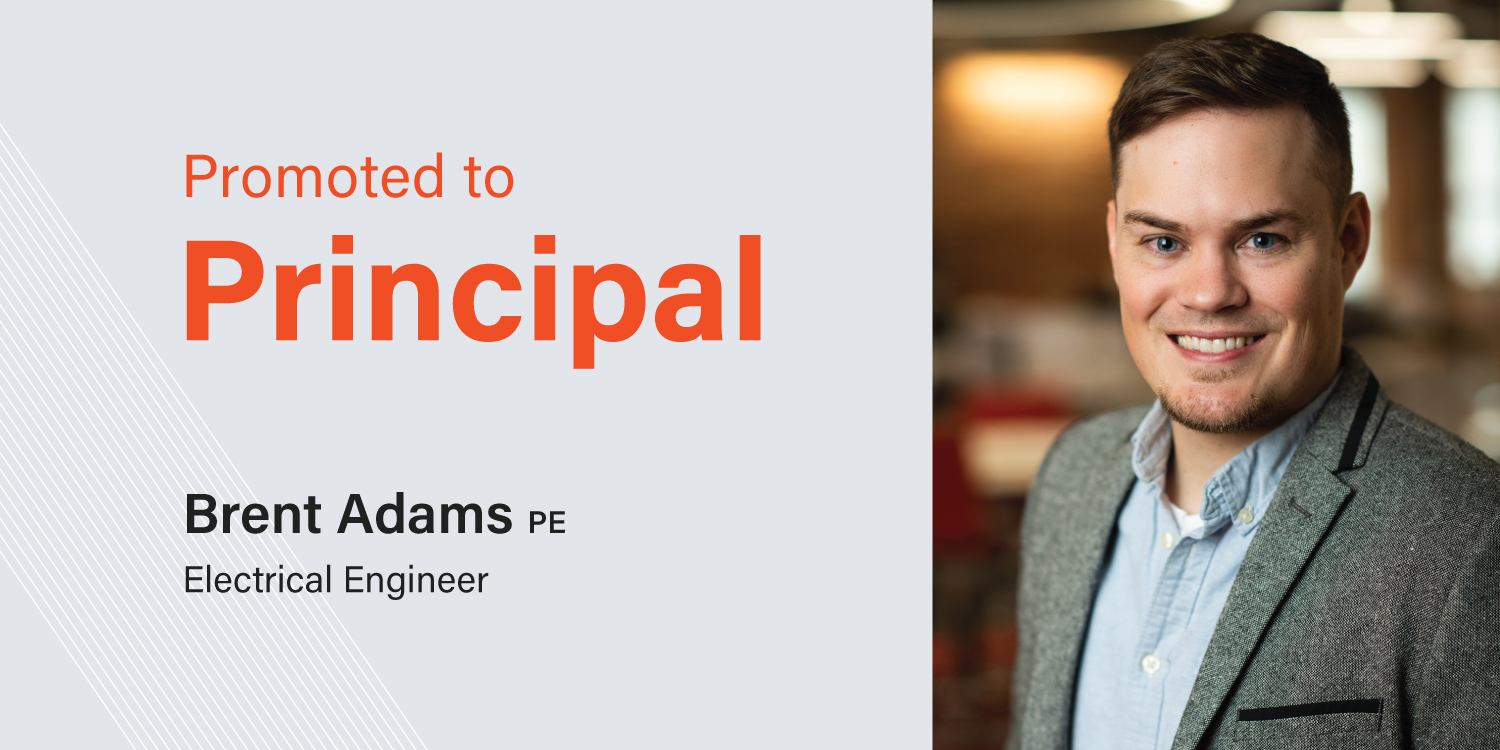 Electrical Engineer Brent Adams Promoted to Principal
Clark & Enersen is proud to announce that Electrical Engineer Brent Adams, PE, has been promoted to principal in the firm and elected to our board of directors. In his eight years with the firm, Brent has contributed to numerous complex and high-profile projects for higher education clients, including Colorado State University, Kansas State University, University of Kansas Medical Center, the University of Missouri, Missouri University of Science and Technology, University of Nebraska-Lincoln, and government and civic entities, including City of Olathe, City of Prairie Village, Truman Presidential Library, and Johnson County.
Brent has also been a key contributor to several firm-wide initiatives and task forces dedicated to advancing recruitment and hiring, observing our 75th anniversary, strengthening industry relationships, enhancing our brand and identity, and improving the construction administration process. He is also the leader of our Kansas City office's electrical engineering team and now, as a board member, he will play an important role in guiding the future of the firm.
"Clark & Enersen has a long history of fostering strong client relationships through a collaborative leadership style. I look forward to stewarding these ideals while advancing our design services, and I am honored to do so in this new role as a principal for the firm."
Brent received his Bachelor of Science in Architectural Engineering from Kansas State University in 2012 and is a certified Professional Engineer (PE). Based in our Kansas City office, he began his career with Clark & Enersen as an intern in 2011. He has developed a reputation for being a results-oriented engineer and collaborative leader who understands how to meet the operational and technological requirements of complex engineering projects. He is also highly-skilled at working closely with architects, interior designers, and mechanical and structural engineers to design power distribution and lighting systems that meet the needs current and future needs of clients.
To learn more about the meaningful and impactful projects Brent has been a part of, please visit the Our Work section of our website.
About Clark & Enersen: Clark & Enersen is a leading, full-service design firm serving clients across the nation from its offices in Lincoln, Nebraska; Kansas City, Missouri; Fairway, Kansas; Fort Collins, Colorado; and Portland, Oregon. Founded in 1946, they have provided professional design services for 75 years and offer a comprehensive in-house team with design professionals in the primary disciplines of architecture, interior design, landscape architecture, planning, and mechanical, electrical, structural, and civil engineering as well as experts in commissioning, community and stakeholder engagement, construction administration, grant assistance, laboratory planning, energy modeling, and land development.