Kendra Kottmeyer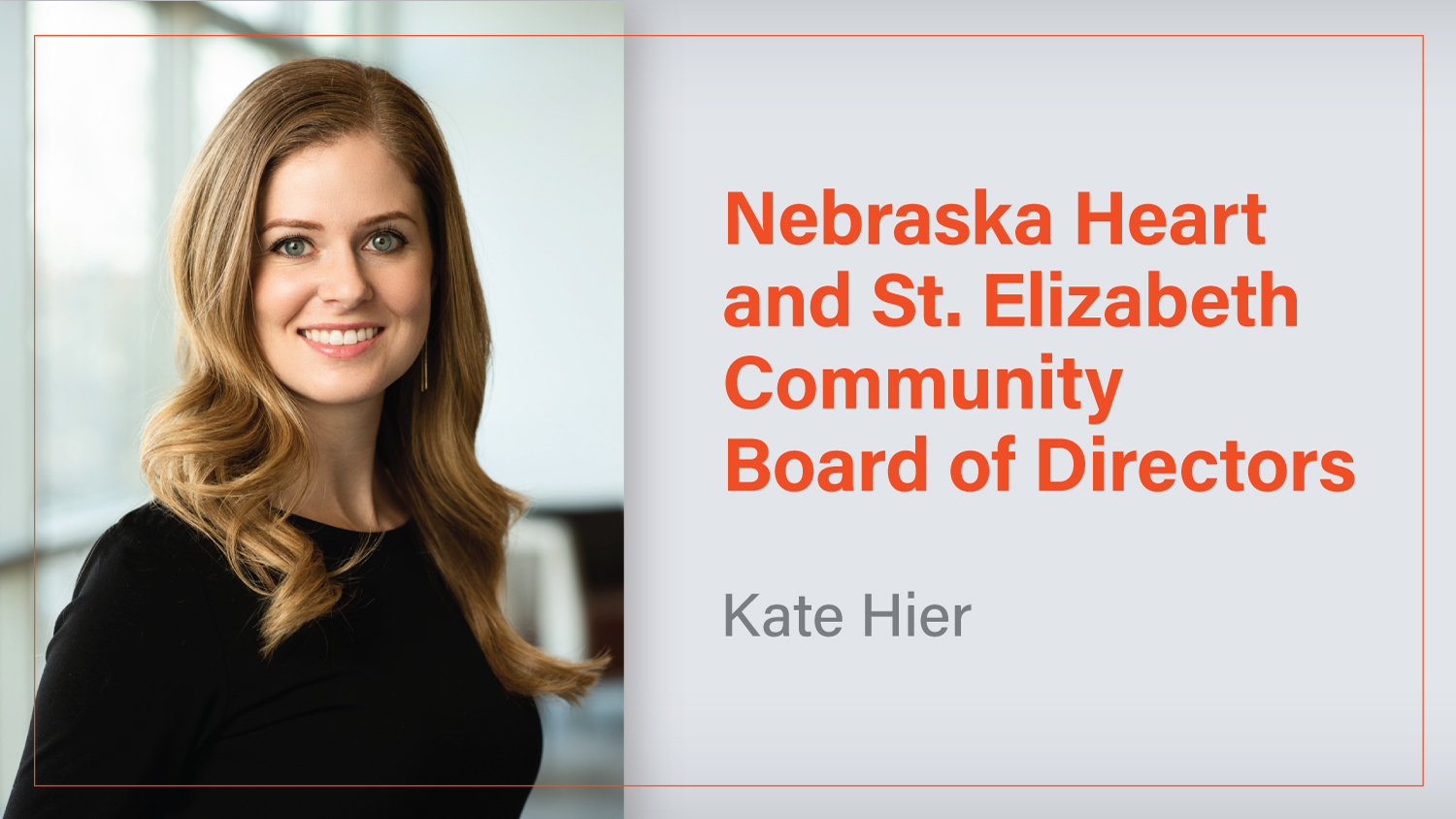 Kate Hier Elected to Nebraska Heart and St. Elizabeth Community Board of Directors
Clark & Enersen is pleased to announce that Principal and Architect Kate Hier, AIA, NCARB, WELL AP, has been elected to the CHI Health Nebraska Heart Hospital and St. Elizabeth Hospital Community Board of Directors. Both hospitals are non-profits located in Lincoln, Neb., that are operated by national healthcare company CHI Health. Board members are selected based upon their leadership qualities and ability to positively impact the organization.
Kate's responsibilities during her three-year term will include:
Leading community outreach.
Approving medical staff credentialing.
Assessing each hospital's financial status.
Reviewing patient experience, safety, and quality.
Evaluating overall performance goals and strategies to achieve them.
Participating in philanthropic endeavors.
"St. Elizabeth and Nebraska Heart are community staples that have touched many lives," says Kate, who has led design on numerous healthcare, health education, and science and technology-focused projects across the nation. "I am humbled and honored to serve alongside this talented group of individuals in supporting the missions of these valuable non-profits."
With a mother who is a physician, and father who is a scientist, Kate grew up in a household that nurtured a sense of discovery and a passion for serving others. These qualities have helped her become an outstanding architect and leader, contributing to impactful Clark & Enersen projects including, but not limited to:
University of Nebraska Medical Center, Davis Global Center for Interprofessional Learning
University of Arkansas for Medical Sciences, Institute for Health Sciences Research and Innovation
Metropolitan State University Denver, Health Institute Simulation Laboratory
Great Plains Health, Primary Care Clinic
Great Plains Health, Brain & Spine Clinic
Colorado State University, Translational Medicine Institute
For more information about Clark & Enersen's expertise planning and designing healthcare and health sciences facilities, please see our Healthcare page on this site and our Health Sciences page on our dedicated Science and Technology Website.
About Clark & Enersen: Clark & Enersen is a leading, full-service design firm serving clients across the nation from its offices in Lincoln and Omaha, Nebraska; Kansas City, Missouri; Lawrence, Kansas; Fort Collins, Colorado; Portland, Oregon; and Charleston, South Carolina. Founded in 1946, they offer a comprehensive in-house team with design professionals in the primary disciplines of architecture, interior design, landscape architecture, planning, and mechanical, electrical, structural, and civil engineering, as well as experts in commissioning, community and stakeholder engagement, construction administration, digital experience design, energy modeling, grant assistance, laboratory planning, land development, and sustainable design.