Kendra Kottmeyer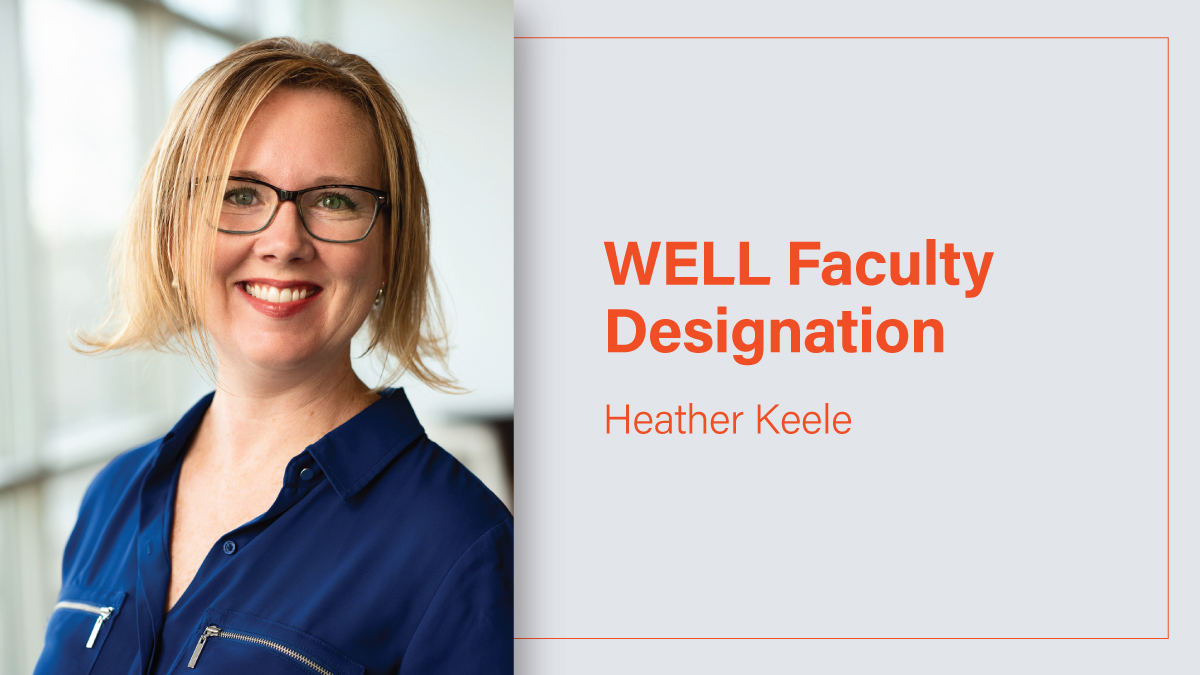 Keele Earns WELL Faculty Designation
Clark & Enersen is pleased to announce that Principal, Architect, and Interior Designer Heather Keele, AIA, NCARB, IIDA, WELL AP, has earned her WELL Faculty designation. The designation denotes leadership in delivering education and training on the WELL Building Standard and industry best practices. Heather is the 86th person in the United States, and the 1st architect in Nebraska, to earn this prestigious designation.
The WELL Building Standard is an evidence-based roadmap for buildings and organizations to deliver more thoughtful and intentional spaces, with the ultimate goal of enhancing human health and well-being. It is based on a set of strategies that aim to advance human health through design interventions, and operational protocols and policies, to foster a culture of health and well-being.
As an architect and interior designer, Heather's focus is on the human experience and the impact the built environment has on people. She has 21 years of experience working collaboratively to implement designs that enrich people's lives and has helped lead some of the firm's largest projects. This includes the new Kiewit Hall College of Engineering building for the University of Nebraska-Lincoln, which has a stated goal of achieving WELL Silver certification.  Additionally, as a member of the Clark & Enersen's board of directors, Heather has led several new initiatives, including encouraging members of the firm to earn their WELL AP credentials.
"Prioritizing the health and wellbeing of those utilizing buildings has become a top priority for clients over the last several years, and the WELL Building Standard provides a performance-based system for measuring, certifying, and monitoring features to ensure they are making a difference," says Heather, who earned her initial WELL AP credential in 2020. "Designing facilities that enhance human health and well-being while also speaking about the positive outcomes of this type of people-centric design has been a true honor and something I look forward to continuing for years to come."
Along with her design work, Heather often speaks locally and nationally, and has presented at numerous conferences on a wide variety of topics related to the health and well-being of facility users. These presentations include:
Community and Campus Planning: WELL Design for Mental, Emotional, and Physical Health – NPZA 2023
People-First Planning: WELL Design for Mental, Emotional, and Physical Health – SCUP National 2022; CAPPA Regional 2022; AIA Nebraska Annual Conference 2022
Kiewit Hall Building Tour – AIA Nebraska Annual Conference 2022
Runza Corporate Headquarters – AIA Nebraska Annual Conference 2018
For more information about WELL and the WELL Faculty designation, please visit wellcertified.com.
About Clark & Enersen: Clark & Enersen is a leading, full-service design firm serving clients across the nation from its offices in Lincoln and Omaha, Nebraska; Kansas City, Missouri; Lawrence, Kansas; Fort Collins, Colorado; Portland, Oregon; and Charleston, South Carolina. Founded in 1946, they offer a comprehensive in-house team with design professionals in the primary disciplines of architecture, interior design, landscape architecture, planning, and mechanical, electrical, structural, and civil engineering, as well as experts in commissioning, community and stakeholder engagement, construction administration, digital experience design, energy modeling, grant assistance, laboratory planning, land development, and sustainable design.