Kendra Kottmeyer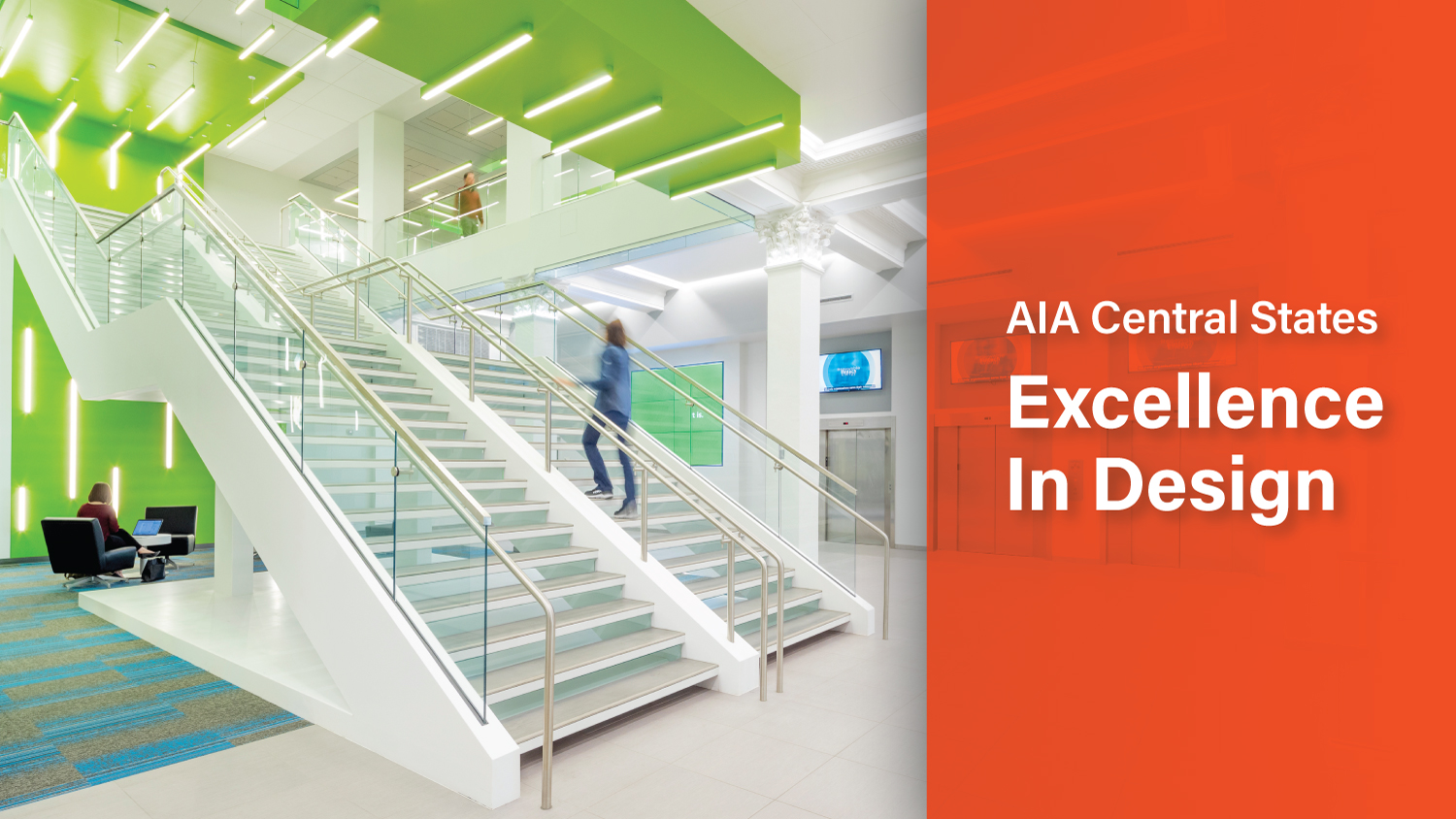 Nelnet Lincoln Square Project Wins 2022 AIA Central States Excellence in Design Award
Clark & Enersen is honored to receive a 2022 AIA (The American Institute of Architects) Central States Excellence in Design Honor Award in the Interior Architecture category for our Lincoln Square Public Space Improvements project for Nelnet.
A jury of architects from Minneapolis, Minn., reviewed more than 350 submissions from firms across Nebraska, Iowa, Kansas, Missouri, and Oklahoma, in categories including Architecture, Interior Architecture, Unbuilt, Regional & Urban, and Build & Unbuilt Design for architecture students and emerging architects. Criteria for the awards included unique design, originality, extended use attributes, sustainability, budget, and use of environmental surroundings. The award will officially be presented at the AIA Nebraska Central States Excellence in Design Gala on Friday, November 4.
"This is an amazing transformation of before and after. The lighting and lightness of the space as well as the accent color transformed this renovation into something truly unexpected."
Jury Comments
Historic Renovation
Our firm completed a series of renovations to the former Miller & Paine Department Store, which was originally built in 1916. The goal of the project was to revitalize these spaces for tenants through brand-conscious design, while at the same time providing new public circulation between the 1st and 2nd levels and creating a brighter, safer, and more welcoming skywalk experience.
A key feature of the renovation is a new staircase that restores a historic connection between levels where there were originally escalators. The open design enhances visibility and safety for users. Our team also used lighting, color, and graphics to brighten and modernize the space in a manner you would expect from a 21st century corporate office.
"The central stair was a key driver for this project," says Lead Design Architect Matt Glawatz, AIA, NCARB, LEED AP. "The opportunity to craft a signature architectural element that captured Nelnet's energy, brand, and vision, while bridging workspace across levels, was especially rewarding. This project is an extension of our previous work with Nelnet, utilizing established design standards to provide continuity between office branches. We are honored and humbled that our team's work within this historic building has been recognized for Excellence in Design by the AIA, Central States. Thank you to Nelnet for choosing us to be their partner on this transformative project."
To learn more about this award-winning renovation, please visit the project page. For more information about other Clark & Enersen corporate projects, see our dedicated Corporate page.
About Clark & Enersen: Clark & Enersen is a leading, full-service design firm serving clients across the nation from its offices in Lincoln and Omaha, Nebraska; Kansas City, Missouri; Lawrence, Kansas; Fort Collins, Colorado; Portland, Oregon; and Charleston, South Carolina. Founded in 1946, they offer a comprehensive in-house team with design professionals in the primary disciplines of architecture, interior design, landscape architecture, planning, and mechanical, electrical, structural, and civil engineering, as well as experts in commissioning, community and stakeholder engagement, construction administration, digital experience design, energy modeling, grant assistance, laboratory planning, land development, and sustainable design.