City of Lincoln, Antelope Valley Union Plaza Park
Michaela O'Neill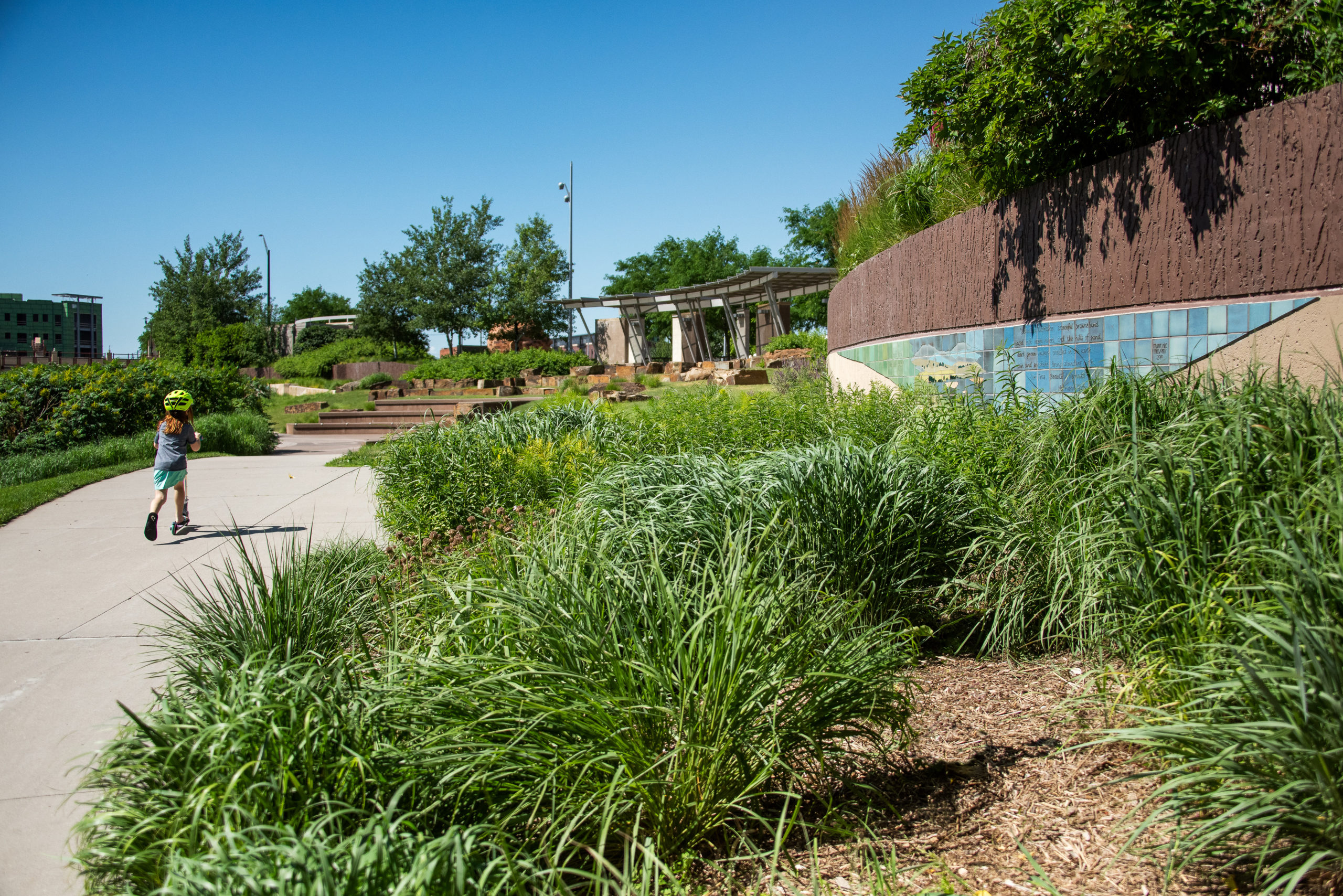 City of Lincoln, Antelope Valley Union Plaza Park
Our team was heavily involved in the design of the six-acre Union Plaza Park, created as part of the $264 million project for Lincoln's Antelope Valley to provide flood control, transportation improvements, economic redevelopment, and community revitalization.
The Environmental Protection Agency (EPA) has since approved the delisting of Antelope Creek, removing it from the Impaired Waters list for E.coli after the implementation of a comprehensive watershed management plan that was developed through 20 years of collaborative efforts with multiple partners and projects. The delisting includes the Union Plaza Park area adjacent to Antelope Creek. In total, only 90 creeks in the nation share a success story like Antelope Creek's.
The park presents a meandering waterway with several crossings and serves as a flood control tool. It also features public art, three fountains, a large plaza, a scenic overlook, an amphitheater with seating for 200, a playground, and paved trails that connect to the city's existing system. The plaza stretches over three blocks and offers amenities for festivals such as restrooms, seating, audio and power sources, recycling/trash receptacles, and lighting.
Our design concept expresses the changing nature of water, conveyed through details such as bollards, planters, and pavement patterns that evoke droplets, splashes, and ripples. The "Cycle of Water" and groundwater themes are represented in the fountains. Sustainable elements include water-conserving nozzles and LED lights in fountains, photovoltaic cells to power lighting, and permeable pavers and Silva cells to manage runoff and support street-side trees.
We also designed the new Jayne Snyder Trails Center inside the park. The two-story building serves as a hub for city trail users and provides a public meeting space (with a "garage style" door to open to the plaza), restrooms, retail space, and offices for a community health organization.
Stats and Results
| | |
| --- | --- |
| Location | Lincoln, Nebraska |
Awards
American Society of Landscape Architects – Central States, Award of Excellence, 2014
American Society of Landscape Architects – Great Plains Chapter, Merit Award, 2014