Nebraska Innovation Campus, Food Innovation Center
Kristen Ornduff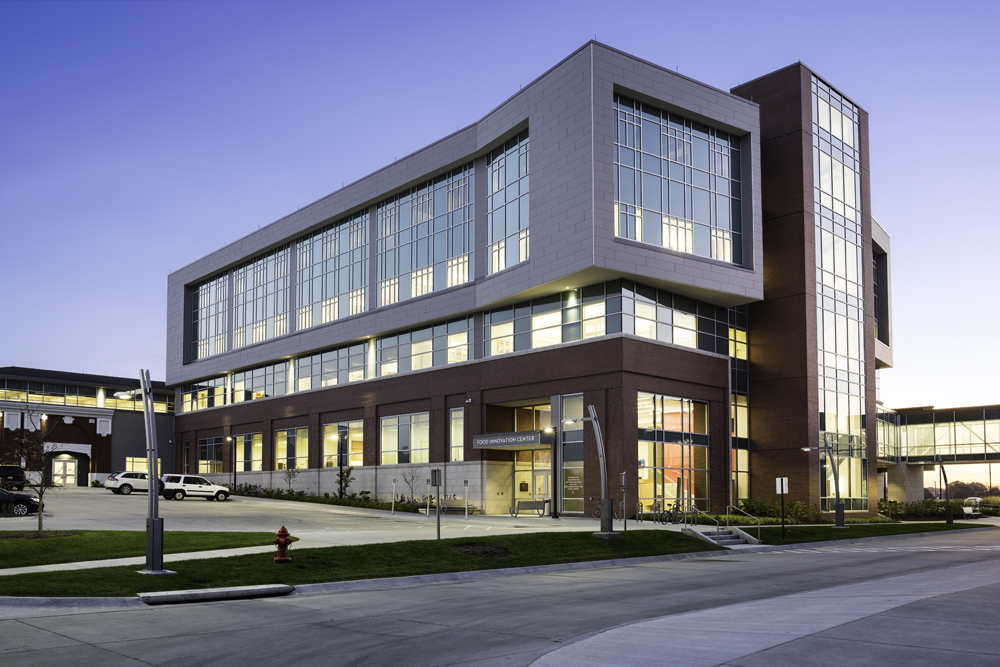 Nebraska Innovation Campus, Food Innovation Center
Our team assisted in the infrastructure master planning for the University of Nebraska-Lincoln's (UNL) Nebraska Innovation Campus (NIC), a premier private/public research and technology development center. We also provided architecture, laboratory planning, site planning/landscape architecture, interior design, and electrical, mechanical and structural engineering for the laboratory-related projects on campus.
Food Innovation Center
Our first project was the new four-story, 92,000-square-foot facility, which houses UNL's Food Science Technology Department and other private enterprises focused on the food industry such as ConAgra—one of North America's largest food companies.
The facility has leasable space on four floors with a one-story penthouse for mechanical system equipment. Spaces for UNL's Food Science Program include analytical and microbiology laboratories, food science teaching laboratories, graduate office spaces, food chemistry laboratories, food allergy research laboratories, product development laboratory to prepare new foods, a clinical laboratory, and a sensory kitchen with sensory testing facilities. The building contains glassware washing and sterilization rooms and walk-in cold and freezer rooms on each of the three research floors. The facility was completed in 2016.
Industrial Arts Building Renovation
The first floor of the IAB includes a pilot plant and food innovation facilities spaces for UNL's Food Science Program consisting of food grade processing, non-food grade processing, extrusion, milling, and testing laboratories. The second floor of the IAB includes the Food Allergy Research and Resource Program Laboratories, UNL faculty offices, two large classrooms, a distance learning lecture hall, and student interactive space. This building also contains a loading dock and large walk-in cold and freezer rooms for processed storage.
Stats and Results
| | |
| --- | --- |
| Location | Lincoln, Nebraska |
| Square Feet | 260,000 |