Kendra Kottmeyer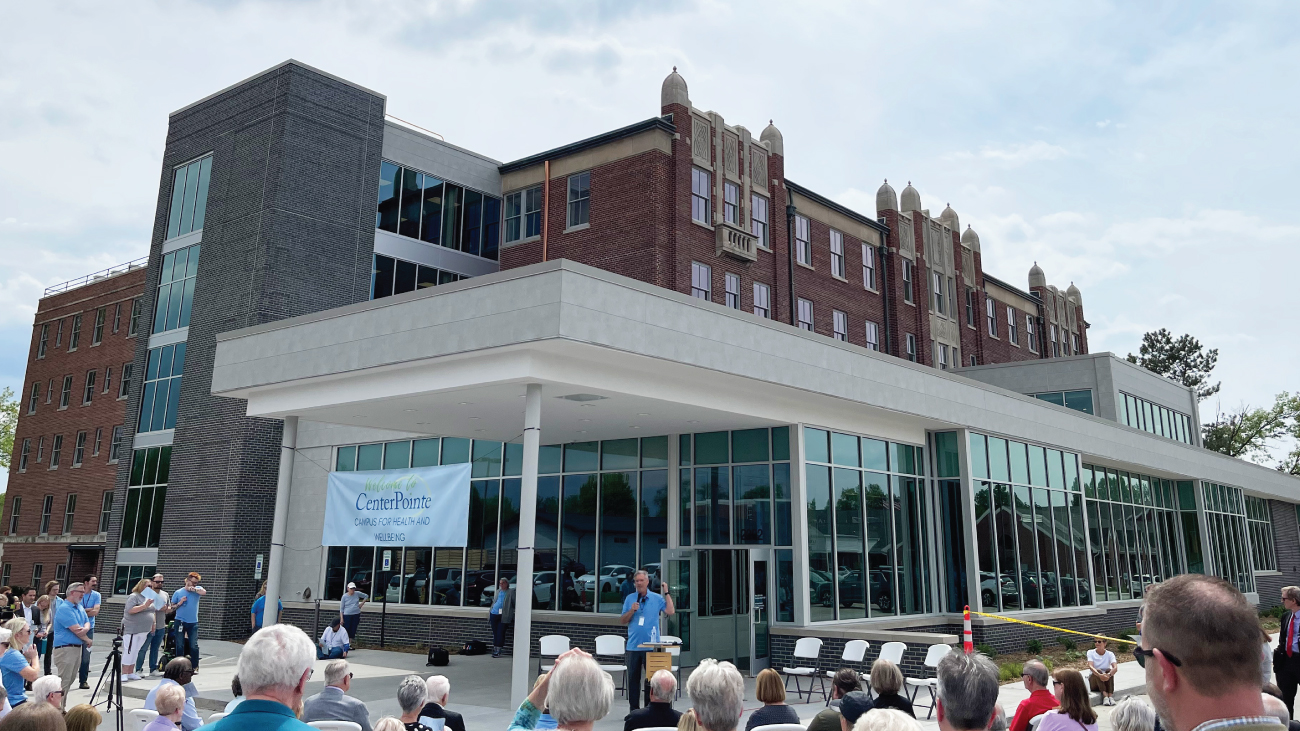 CenterPointe Celebrates Campus of Health and WellBeing Opening with Ribbon-Cutting
The CenterPointe: Campus for Health and WellBeing in Lincoln, Neb., is officially open. The nonprofit organization, which is dedicated to addiction and mental health treatment, hosted a ribbon-cutting ceremony on Thursday, May 15. In attendance were CenterPointe President and CEO Topher Hansen; National Council of Mental Wellbeing CEO Chuck Ingoglia; and several local and state government representatives. Following the ribbon cutting, the community was invited to take self-guided tours of the facility, followed by a celebration with food trucks and live music from Josh Hoyer & Soul Colossal.
Topher Hansen, who led the ribbon-cutting ceremony, said the project developed "because people joined hands and the community came together to support the development." He then thanked donors and partners who made it possible for the facility to open "with no debt service on the building," as well as Clark & Enersen and the larger project team for "a great effort."
Attendees from Clark & Enersen who designed the project included Principal-in-Charge and Lead Design Architect Jeff Chadwick, AIA, LEED AP; Architectural Designer William Pokojski, Associate AIA; Lead Interior Designer Stacy Spale, NCIDQ, IIDA, EDAC, LEED AP ID+C; and Interior Designer Maggie Coolidge. Also in attendance were Construction Administrator Gordon Ruzicka, and Commissioning Agents Byron McFee, PE, CxA, LEED AP O+M, and Nomar Guerra.
The CenterPointe: Campus for Health and WellBeing was a monumental undertaking that involved a 100% "gut" renovation of Trabert Hall – originally built in 1928 – and a major addition. The facility features conference, cooking, and crisis space on the garden floor; a main clinic and pharmacy; a private staff level; and studio-style transitional housing units, each with its own bathroom. Our team also designed a new ADA-compliant entryway that includes acoustical ceiling clouds, artwork from Anne Burkholder, and a winding pathway that evokes the feeling of a walk in the park.
Learn more about the design of CenterPointe by visiting our dedicated project page. For more information about Clark & Enersen's healthcare design experience, please see our Healthcare page.
About Clark & Enersen: Clark & Enersen is a leading, full-service design firm serving clients across the nation from its offices in Lincoln and Omaha, Nebraska; Kansas City, Missouri; Lawrence, Kansas; Fort Collins, Colorado; Portland, Oregon; and Charleston, South Carolina. Founded in 1946, they offer a comprehensive in-house team with design professionals in the primary disciplines of architecture, interior design, landscape architecture, planning, and mechanical, electrical, structural, and civil engineering, as well as experts in commissioning, community and stakeholder engagement, construction administration, digital experience design, energy modeling, grant assistance, laboratory planning, land development, and sustainable design.