Kendra Kottmeyer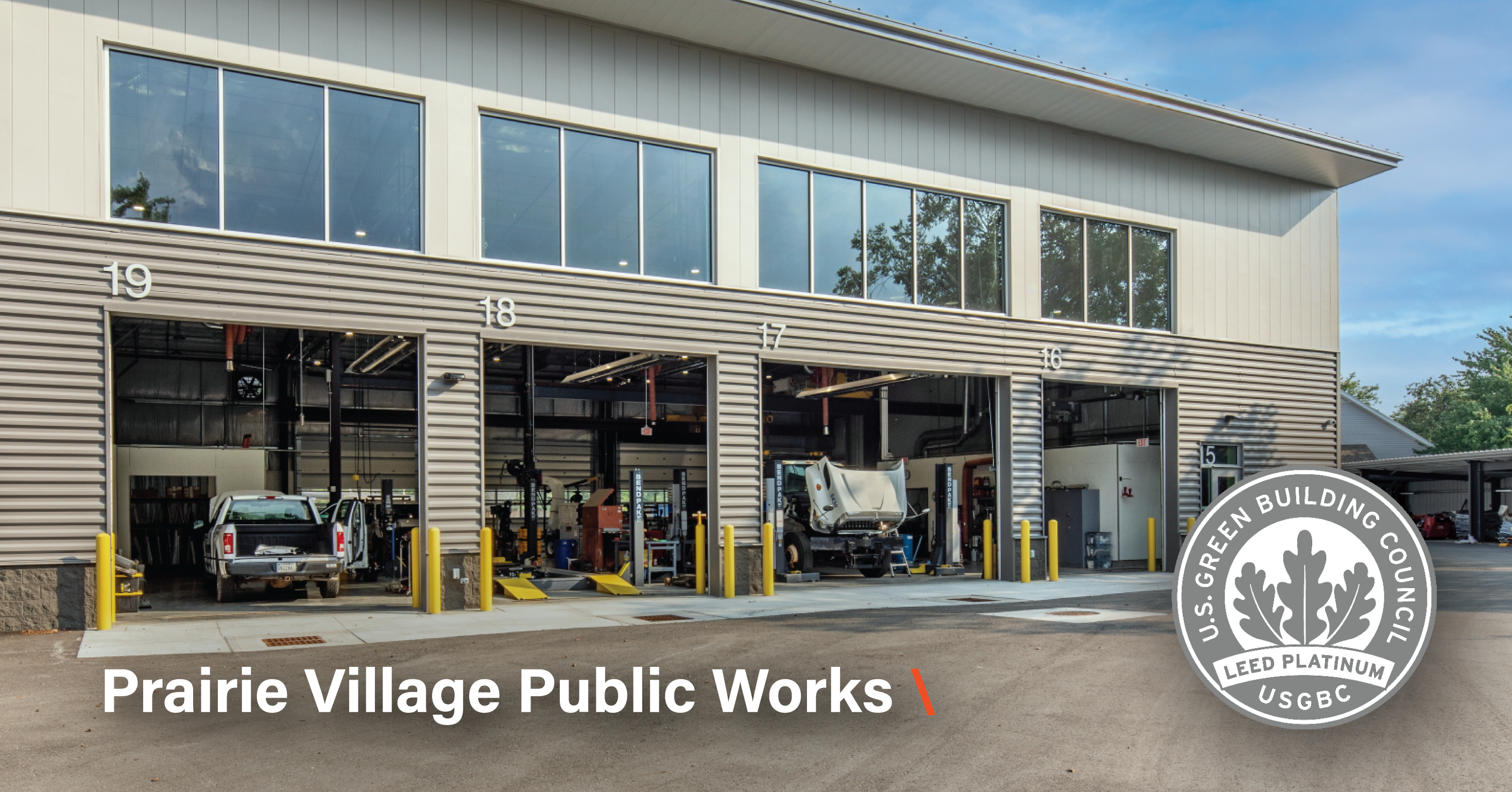 New Prairie Village Public Works Facility in Kansas Achieves LEED Platinum Certification
Clark & Enersen is pleased to announce that the recently-completed Prairie Village Public Works facility in Prairie Village, Kan., has officially achieved LEED Platinum certification, the highest level of the LEED rating system. In the LEED Version 4 rating system, 80 LEED credits are required to attain LEED Platinum certification. Our team actively perceived 83 points for this project and was awarded all 83.
"We are honored to have helped the City of Prairie Village attain LEED Platinum Certification with its public works facility," says Architect and Sustainable Design Specialist Andrea Anderson, AIA, NCARB, LEED AP BD+C, WELL AP. "Achieving LEED certification is challenging at any level, but this project in particular required close collaboration and adherence to established project goals throughout the process to reach LEED Platinum. Thank you to the City of Prairie Village, everyone from Clark & Enersen who contributed to this project, McCownGordon Construction, and our many other partners and stakeholders who made this major achievement possible."
Other project partners included Energy Studio, Braun Intertec Corporation, Accutec Services Inc., Greenwood Consulting Group, and Catalyst Partners.
Designing a LEED Platinum Facility
The Prairie Village Public Works facility is home to the administration offices for the Public Works and Building Codes departments. It was designed with a number of sustainable considerations in mind, including the use of low-flow fixtures and ENERGY STAR®-rated appliances; native landscape species; roof-mounted photovoltaic solar panels; demand-response technologies; and low-emitting materials and products with Environmental Product Declarations.
With the goal to attain LEED Platinum certification, there were three main focus areas that drove the design and construction of the facility: water efficiency, energy efficiency, and waste reduction.
Water use reduction methods utilized within the building resulted in a 76% reduction in water compared to similar buildings, enabling the project to receive an Exemplary Performance credit within this category.
Through the utilization of LED lighting, energy-efficient systems, and solar panels, the new facility has an overall 78% modeled energy cost savings compared to a baseline model, with the photovoltaic system expected to power over 50% of the facility's day-to-day electricity needs.
The design and construction teams were also able to divert 88% of construction and demolition waste from landfills and incineration facilities throughout the project.
"This is an incredible accomplishment for Prairie Village and our firm and shows our commitment to sustainable design solutions," stated the project's Principal-In-Charge Rick Wise, AIA, NCARB, LEED AP. "It also is a testament to the depth of our knowledge of the LEED rating system, commitment to the Owner's goal/expectation that the building be Platinum certified, and ongoing due diligence to ensure we were taking all necessary steps to meet the certification standards. Special thanks to all who worked on the project."
For more information about Clark & Enersen's expertise in sustainable design, please visit our dedicated Sustainable Design page, where you will also find several other examples of LEED projects completed by our firm.
About Clark & Enersen: Clark & Enersen is a leading, full-service design firm serving clients across the nation from its offices in Lincoln and Omaha, Nebraska; Kansas City, Missouri; Fairway, Kansas; Fort Collins, Colorado; Portland, Oregon; and Charleston, South Carolina. Founded in 1946, they offer a comprehensive in-house team with design professionals in the primary disciplines of architecture, interior design, landscape architecture, planning, and mechanical, electrical, structural, and civil engineering, as well as experts in commissioning, community and stakeholder engagement, construction administration, digital experience design, energy modeling, grant assistance, laboratory planning, land development, and sustainable design.