Hastings Public Library, Addition and Renovation
Michaela O'Neill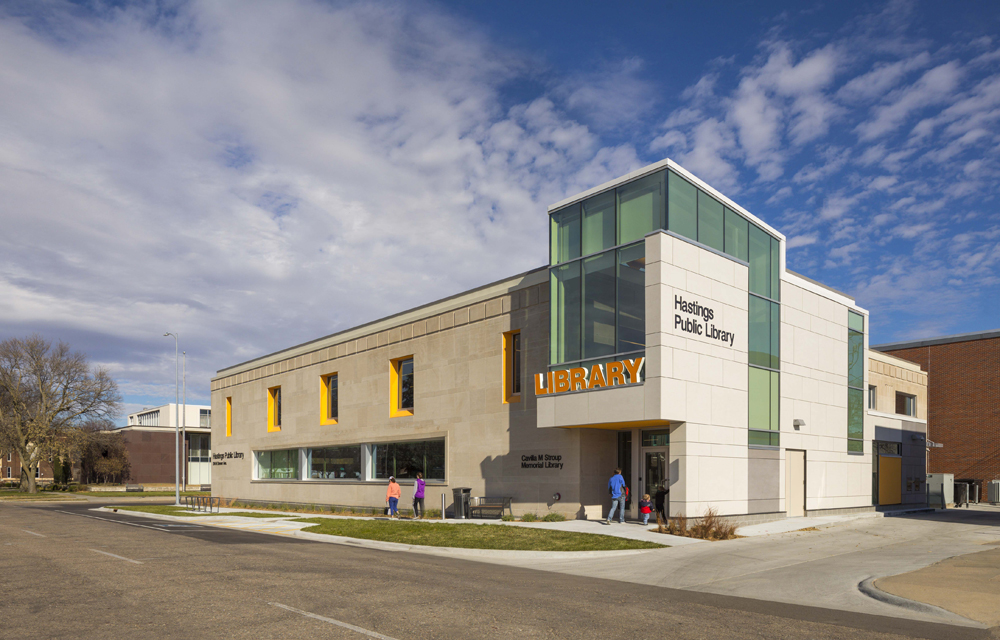 Hastings Public Library, Addition and Renovation
This award-winning library renovation and addition brought transparency and light to an aging 1960s-era building, transforming the Hastings Public Library into a beacon of education in the city's downtown area.
We renovated the existing 29,000-square-foot (SF) library while adding 2,500 SF of additional space. The floor plan was reconfigured to help the library meet 21st century standards for technology and programming, improve energy efficiency, and meet all life safety requirements.
While the site provided little room for expansion, each floorplate was gutted to maximize flexibility. Additions to the library's north and south sides drastically improved circulation and the library's overall appearance. The relocation of the main entrance to the southwest corner eliminated the need for steps, improved thermal performance, and provided a dynamic new face for the building. The project reallocated space to maximize staff efficiency and improve patron wayfinding, giving the library both intuitive navigation and a modern identity.
Re-envisioned collection spaces boost their browsability, and an entire floor is now dedicated to the young readers' collection with age-specific technology and programming space. The library also has nearly 3,000 SF of flexible makerspace, a 150-person sub-dividable community room with warming kitchen, an outdoor patio, storage areas, and archives.
Sustainable features were critical to improving building performance. After energy modeling and exploring several options for the mechanical systems, the team replaced 10 loud and inefficient rooftop units with a single variable-speed, gas-fired unit. Inside, low- and no-VOC materials and sustainably sourced wood round out the finishes.
Stats and Results
| | |
| --- | --- |
| Location | Hastings, Nebraska |
| Square Feet | 31,500 |
Awards
Library Journal, AIA/ALA Library Building Award, 2018