South Dakota State University, Animal Disease Research and Diagnostic Laboratory
Kristen Ornduff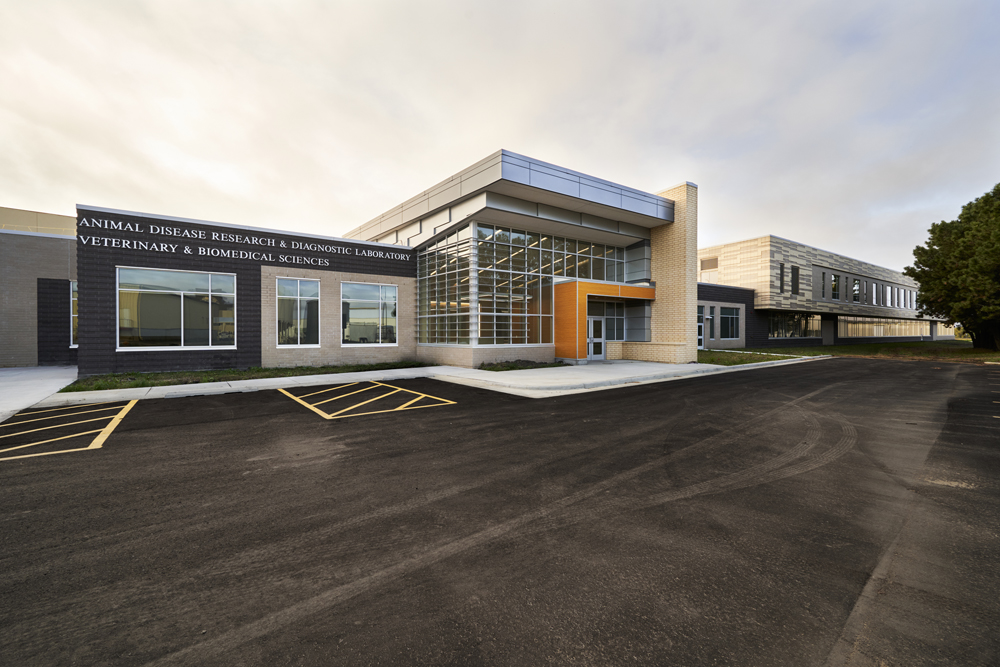 South Dakota State University, Animal Disease Research and Diagnostic Laboratory
In 2015, we were selected to lead the programming, design, and documentation services to update the state veterinary diagnostic laboratory serving South Dakota. The Animal Disease Research and Diagnostic Laboratory (ADRDL) is located on the campus of South Dakota State University (SDSU) in Brookings and was last updated in 1993.
The scope of the project was to expand and modernize the current facility and associated research space while providing added capability to deal with suspected select agents and pathogens. The project featured an 81,000-gross-square-foot (GSF) addition housing all new diagnostic laboratories and necropsy space, including a new BSL-3 laboratory, a BSL-2 enhanced containment necropsy floor, and an incinerator for disposal of hazardous waste. The existing diagnostic facility was renovated to expand research functions associated with the institutional mission and provide additional educational space for partnering with regional veterinary schools in the Midwest.
After completion of the initial program, our firm assisted SDSU and the South Dakota Animal Industry Board with fundraising and awareness campaigns spanning two successive terms of the state legislature. Funding was granted and the new facility was completed in November 2019, at which time a 10-month renovation of the existing 55,000-gross-square-foot facility commenced.
We were the lead firm providing all design services in architecture, laboratory planning, structural engineering, landscape architecture, interior design, civil engineering, and construction administration services.
Stats and Results
| | |
| --- | --- |
| Location | Brookings, South Dakota |
| Square Feet | 135,000 |
| LEED Certification | Silver |